Link Copied Successfully
Born in Hyderabad but served over 2000+ Companies. We are the Best Social Media Marketing Agency In Hyderabad.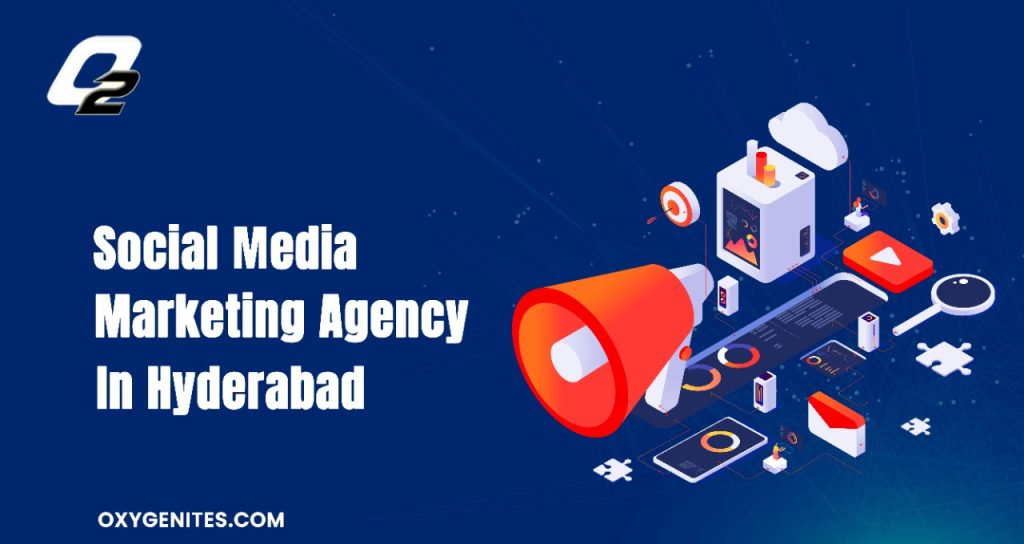 Social Media Marketing Strategy
There are no signs of stopping in the world of social media marketing. With billions of people on Facebook, LinkedIn, Twitter, YouTube and other networks, there is no better time than now to be an SMM strategist.

From setting up your strategy to managing your campaign, we will help you build your brand identity by publicizing it through these platforms.
Our Services
Oxygen is a social media marketing agency that provides top-notch services at reasonable rates. We specialize in Facebook, Instagram, Twitter, YouTube, and many more. We've been at it for over 15 years now, and we know what we're talking about.
Facebook Marketing Services
We provide comprehensive Facebook marketing services in Hyderabad that help you get more likes, comments, shares, and followers on your page.

Our marketing company will create customized campaigns that will tailor to your budget and business needs.
YouTube Marketing Services
Our YouTube marketers in Hyderabad cater to all levels of skill in order to offer an optimal user experience for every business owner. Whether you're just starting out with video or have been doing it for years,

Our oxygen team has the skills needed to help you succeed in the ever-changing YouTube landscape.
Instagram Marketing Services
We offer a variety of services on Instagram such as creating, curating and managing Instagram posts on behalf of clients, handling brand's

Instagram account to ensure higher engagement rates and reach more customers, etc.
Twitter Marketing Services
We have highly trained social media experts who are masters in Twitter Marketing Services.
Quora Marketing Services
For businesses looking to tap into the Quora community for lead generation, we provide expert-level Quora marketing services.

From answering questions in a company blog to optimizing company pages for search engine ranking.

Our oxygen team will give you everything you need to succeed on Quora.
We do Social Media Marketing differently
Oxygen is a Social Media Marketing Agency that provides services in Hyderabad. We use the best-in-class technology and analysts to help you go from zero to hero on social media. And also we provide you with our services and how we can help in your SMM.
Social Media Marketing Services
Oxygen offers a wide range of services from basic social media management to comprehensive marketing solutions. We can handle all your monthly tasks or come up with a custom plan just for your needs.

We have a team of the best social media experts in Hyderabad who work tirelessly to bring you quality content that your audience deserves. You can depend on us for a hassle-free social media marketing campaign.
Social media made easy
We've got the right strategies for your business, whether you're looking to increase brand awareness or boost sales. Get in touch with us today to find out more about our Social Media Marketing Services in Hyderabad!
Digital Marketing Services
We provide all the services you need under one roof — from SEO to social media marketing to content marketing, we've got you covered! And our company in Hyderabad will always bring the latest idea to boost your sales.
Optimize your online marketing
Oxygen will track all your social media accounts, analyze them accordingly and propose a comprehensive marketing plan.

This Social Media Plan will help you to bring amazing results to your business. And the best out of your social media strategy for your future.
Get the best ROI
It's never been easier to get the best ROI on your social media marketing efforts.

Our team will help you understand your competition and the changes and AB testing. They are making to achieve their targets through social media.

Oxygen helps you optimize your social media presence by fully understanding your business goals

And by providing the right content for the right audience, at the right time.

This way, you will see an increase in ROI as well as a significant rise in engagement rates.

We offer cost-effective Social Media Marketing packages, so you can get the best results for your budget. Moreover, our strategy has an increased conversion rate (up to 3x) which will increase your ROI.
We're Your One-Stop Shop
Oxygen is a full-service social media marketing agency that specializes in strategy, execution, and measurement. We're here to help you grow your business using social media channels like Facebook, Twitter, LinkedIn, and more.
Turning Your Business Into A Successful Brand
We believe in being an extension of your team and will work with you to help implement our strategies for success. It's time to take your business to new heights on social media!
Expertise from a group of professionals
We have been in this industry for more than 8 years, and we know what works and what does not. We have an expert team of professionals who will deliver results for your business.
The best in class technology
We use the best-in-class technology for our social media marketing services. This ensures that our service always stays on top of the competition and always provides the best quality of work.
Helping you go from zero to hero
Oxygen has a team of experts and analysts in Hyderabad who can help you go from zero to hero with social media marketing.

We are giving you the competitive edge that's needed for today's market.

Campaigns for your business on these channels by creating marketing campaigns with specific goals in mind.
Lead generation at its finest
Get more subscribers on your email list, convert them to customers, and cross-sell products through campaigns that are specific to their needs and interests. Our Social Media Marketing Strategy will bring potential customers to your business.
Personalized services – tailored to suit your budget
Choose from our affordable packages that best suit your needs and budget – whether it is a set fee or a monthly retainer. Get started today by contacting us!

We will keep sending you updates while running the campaign.

We are one of the best and fastest growing Social Media Marketing agencies, and we have helped many businesses with their SMM strategies.
Leverage our expertise
Why do all the hard work when we can do it for you? All you need to do is fill in our simple form, and we'll take care of everything else.
Let us help you grow your business
Oxygen is a reliable team of professionals who offer social media marketing services. We work with you to achieve your goals through customized strategies and actions.
Your Social Media Success Is Our Mission
At Oxygen, success is the only metric we care about. Our Social Media Marketing team knows what it takes to generate leads and increase conversions. Because we've done it for our clients time and time again. We work tirelessly to help you succeed online, so you can focus on your business's most important aspect – generating revenue!

It may be Product Promotion, Video Marketing or Branding we are always here to deliver the results with our optimization strategies.
Why choose OXYGEN?
If you're looking for a Social Media Marketing Agency in Hyderabad, then hire us. OXYGEN has everything new for you. Whether it's strategy, analytics, or execution. We have it all under one roof. Our Social Media methods are high quality. They constantly deliver traffic on your website and improve your branding and result.

Your Customer will love the campaigns that are been set by our Social Media Service.
Check Out Our Reviews:
We have got amazing feedback from our clients. They are happy with our Strong Social Media Planning and received amazing sales.
We're here to help
Our team of experts can help you make the most out of your campaign, and we offer a FREE consultation to show you how. We will bring traffic to your website. We will understand your business requirement according to that we will make good to medium strategy. Since your business profile wants.

We're always available to answer your queries and to offer our expert advice. We're just a phone call away, so feel free to drop us a line at any time. If you are busy then you can send us an email. So, we can reach you whenever you are free.

We will work to create a custom plan for your business based on the goals and target you set! Contact us today to get started!
SEO services In Hyderabad:-
Apart from Social Media Marketing services, we do offer SEO Services In Hyderabad. If you are looking for a quality Search Engine Optimization Service then you contact us. Our SEO services are as well as good compared to our Social Media Optimization service.

By a combination of these two services, you can increase your branding and bring tons of sales to your website.