Creative and Branding agencies can be provided in any creative industry, such as publishing, design or advertising. They may include providing new product ideas, directing marketing campaigns, or consulting for businesses.

They are also called marketing or design agencies. As consultants or creators, their services can provide for various industries, including fashion, entertainment, publishing, and restaurants.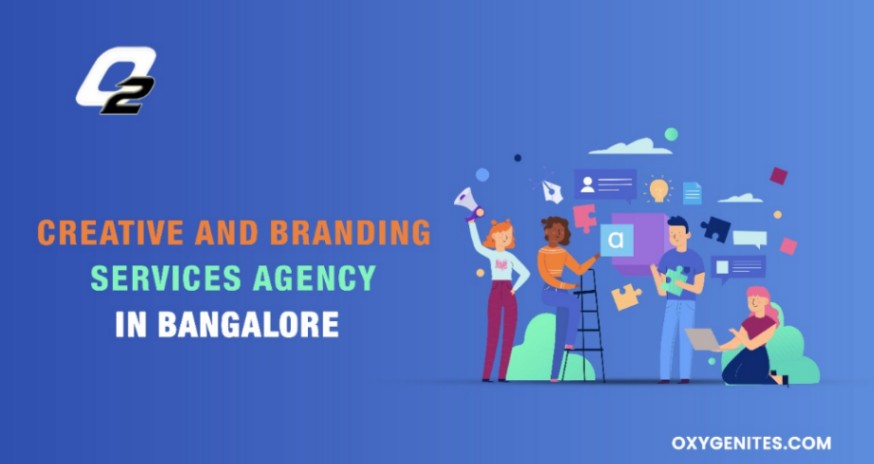 Creative and Branding Services in Bangalore is a company that integrates creativity, design, marketing, and SEO for its customers.

They offer professional photography, digital marketing, social media management and website development services that are smart, savvy and entertaining. Its goal is to provide services in sync with its customer's needs.

Oxygen is a creative and Branding services agency in Bangalore, India. Our team comprises experienced professionals with backgrounds in advertising, design, Branding, and marketing. 

Our Advertising agency Bangalore focuses on Branding and communication to deliver the best results. We want to ensure that you have a great experience with us and are always satisfied.
Our Creative and Branding services
We are big believers in original ideas and will work with you to deliver the best services possible. 

Our services include branding strategy, identity design and digital marketing. We also offer web design. We are passionate about what they do and always willing to help.
Branding And Visual Identity
Brand awareness deals with how a brand is represented in the outside world. It includes how a company's products are marketed and how people perceive the company itself, its mission and its vision. 

It includes the company's visual identity, including everything from its corporate logo, colour scheme, and font to its marketing and promotional materials.

Branding is essential to have a set of guidelines that will guide you through your branding journey. This will allow you to begin telling your story engagingly and strategically.
Web Design And Development
Web design and development combine design, art, and science to create user-centric websites and give them a unique and appealing style. 

Websites are designed to be visually appealing and easy to navigate, making users want to return and learn about the company or product.

Your website will connect your audience with your brand by being user-friendly, beautifully designed and focused on your purpose. It will also help you to implement your lead generation strategy. 

WordPress, the web's most versatile content management system, is what we use to create websites. 

We optimize them for conversion and make sure that they're search engine optimized so you can consistently get where you need.
Print Design And Product Packaging
Print Design And Product Packaging (CDP) is an important step for a business. It helps to sell your products to the customers in the best way. 

Many brands don't know how to sell because clarity about the right medium – print, digital, or both – isn't clear yet. 

Since small businesses, startups and nonprofits typically have smaller budgets, and they sometimes use inefficient marketing and advertising techniques to save money. 

This can ultimately lead to less ROI (return on investment) than if they had chosen to invest in more effective methods.

Packaging and print design can make your brand more memorable and increase the likelihood of your product being remembered. Sometimes, it is the outside that matters.

Packaging labels and materials meet legal and industrial standards, and creatives are exciting and correctly formatted.
Digital marketing
Digital marketing is a marketing technique which uses a digital platform to reach a targeted audience. It uses various digital means and resources to reach a targeted audience using digital marketing channels globally.

Digital marketing could be defined as using online and traditional channels to communicate with customers and prospects. It is a marketing discipline that is constantly evolving and changing.

We believe that catering to the right audiences is more about thoughtful and effective approaches. We will give you exactly what your customers and clients want.

All things Branding, from social media and Keyword analysis, our top branding agencies are available in Bengaluru, India.
Advertising
In the advertising industry, ads are designed to advertise a product or service, urging customers or viewers to purchase or use it. 

In addition, advertising can promote a person, idea, or organization. 

The former type of advertising is typically done by companies and normally pays them for using their infrastructures. 

The latter type of advertising is typically done by the government or other nonprofit organizations and normally doesn't pay the company.

Clients from all over the world highly recommend our ad agencies. We can assist you with advertising and marketing your Business. 

Creative ad agencies in Bangalore, India, can ensure your security. We follow a specific process that has been discussed with you.
Why are Creative and Branding services important for your Business?
Creative and Branding services make up a significant part of a business. Ensuring that your brand and identity are intact with the modern technological world is important. 

A few things lead to better brand visibility, like a consistent design and image. 

Having a successfully developed website, print advertisements, and digital marketing strategies help your Business acquire the people it needs in the market. 

Creative and Branding services make it easy for your Business to be easily identifiable without many expenses. 

Creative and Branding services can help you explore different concepts that may be unfamiliar but could be beneficial for your business. 

By experimenting with various options, you can find the best solution for you and your company.

Advertising is essential for any business. Advertising and brand building go hand-in-hand. It is necessary to create a company brand before you can have better marketing.

You can give your brand a human face with good Branding. This will help customers relate more to you than a strictly business company.

When customers come into your business, they will get an idea of what you have to say based on your branding and design services.

Your company can also benefit from Branding. You want your employees to enjoy working for your company and feel part of a cohesive team.

Branding is a way to establish relationships with your audience and eventually convert them into loyal customers. You can build a brand that people love and help businesses succeed.
What are the Benefits of hiring Oxygen as your Creative and Branding services agency in Bangalore?
Oxygen's Creative and Branding services can help turn your business into a more successful venture by developing a beautiful, brandable, and professional front. 

With a high return on investment, you can trust us to ensure your company is getting the best digitally, visually, and advertising possible.
Plan & Organize
First, we meet you face-to-face (or via email if preferred), then we get to know you and your company through an exclusive discovery session. 

This allows us to learn about your Business, understand your needs, and better understand your brand essence. 

We do our research and get to know both you and your competition.
Conceptualize & Create
We can confidently get into design once we have a good understanding of what is expected. 

We have succeeded in a method that allows us to write, design and create over the past years. 

We'll keep in touch through regular meetings, check-ups, and phone calls to ensure we follow your instructions and meet your expectations.
Creativity & Design
Our ideas are brought to life in all marketing collateral, including naming, creative concepts and logo design.

Our editing team will work on your finalized copy to make it easy to understand, interesting, and clear.

We can design your packaging based on your handmade goods using various platforms such as Word Processing, Impress, Illustrator, Photoshop, and In-Design.
Strategy and Execution
We develop the master plan to ensure success in publishing Brand Architecture and Brand Planning. Re-branding, Positioning. Brand Communication strategy.

To ensure your success with your brand's strategies, we work together.

Contact us for a quote about our Creative and Branding services agency in Bangalore.