Digital marketing is a process of online promotion and advertisement for products or services. The main aim of Digital Marketing services in Bangalore is to increase the website's visibility and generate more leads.

Whatever you do, you have to have a website to promote your business, and then you can use social media for digital marketing.

There are a lot of digital marketing services available in Bangalore when it comes to ways to promote your business in the digital world.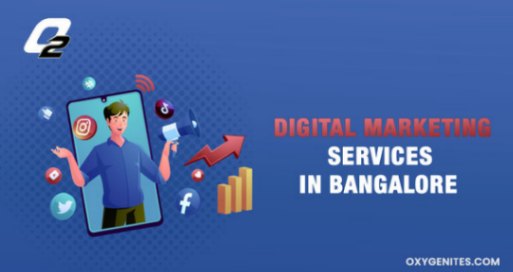 Oxygen is a digital marketing agency in Bangalore, India. We are a team of young professionals passionate about helping businesses grow online through effective digital marketing solutions. We are a one-stop shop for all your online marketing needs.

Oxygen will help you set up your website, do branding and advertising for you, and design and implement powerful SEO-friendly strategies.

We will arrange for you regular reports to measure the success of your efforts. Every client receives personal and attentive service.
Our Digital Marketing services
Search engine optimization (SEO), search engine marketing (SEM), social media marketing, content marketing, website development, etc., are among our digital marketing services in Bangalore.

We have helped clients from all industries achieve remarkable results through our cutting-edge digital marketing solutions.

We work with businesses of all sizes – from small to large enterprises. Our goal is to provide world-class digital marketing solutions that help our clients achieve their business goals.
Search Engine Optimization (SEO)
The goal of search engine optimization (SEO) is to increase the website's position within major search engines like Google, Bing, and Yahoo.

SEO increases web traffic and lead generation. It helps to establish higher online visibility. It enables organic search engine optimization (SEO).

Oxygen offers full-service SEO (search engine optimization) and online marketing. Our clients can avail a variety of services, from SEO consulting and audits to link building and PPC administration.

The oxygen team comprises highly-skilled professionals committed to helping clients reach their online marketing goals.
Social Media Management
Social media is a form of social interaction on the internet. It is the most popular and widely used medium for internet users to interact and share their opinions, ideas, interests, and preferences.

As a result, Social media has become an alternative communication channel alongside emails, telephone and telex. Websites like Twitter, Facebook, YouTube and blogs are examples of popular social media platforms.

A social media manager is responsible for the growth, optimization and sustenance of the social media brand on social media platforms.

We create and manage social media campaigns to increase brand awareness, drive website traffic, and generate leads.

The marketing experts at Social Media Experts will guide you by creating the right strategy for your company. They will monitor your account activity, engage with your followers, and ensure success.
Website Development
Website development includes all of the different tasks involved with creating a website. This includes everything from code and graphical design to user interface design and search engine optimization.

A well-functioning website must design and tested carefully to meet the needs of users and business owners.

Oxygen has a solution for customers' problems because its executives understand the customers. So need not worry about any website problems.

We focus on the development part only, Website Creation. Our team of website creation experts in Bengaluru will turn your creative ideas into reality.
Brand Design & Strategy
Brand design is designing all elements of a company, especially its logo and brand identity, maintaining the same essence and consistency across all campaigns.

Branding is the method of creating a distinctive identity for a business that defines who the company is and differentiates it from its competition.

Oxygen helps customers to build the business from the ground up. Our digital marketing experts in Bangalore help our clients to increase their sales and take their business to the next level.

We work with all sizes of digital marketing companies in Bangalore, including established businesses and startups. Our team includes experienced brand builders, strategists, marketers, and designers.
Email Marketing
Email marketing utilizes email as a marketing tool to reach and engage with prospects.

It involves using email marketing tools (usually email marketing platforms) and targeted email campaigns to create, nurture, and maintain ongoing relationships with target audiences.

At Oxygen, we believe that email marketing is the most efficient and effective way to reach your target audience.

We offer a variety of customizable email templates designed to help you engage your customers and increase sales.
PPC Marketing
PPC (pay-per-click) is a process of internet marketing in which advertisers pay a fee every time an ad is click.

The simplest way to explain it is that you only pay for advertising if your ads are click on. This is an effective and successful way to buy visits to your website. It also drives organic traffic to your site.

Oxygen, a full-service PPC marketing agency, offers pay-per-click (PPC). We have worked with many clients over various companies in Bangalore to develop and manage profitable PPC campaigns that drive traffic, leads, and sales. We are passionate about helping clients reach their marketing goals.
Content Marketing
As the name implies, it involves creating various educational and entertaining content on a website and sharing it with the world. The idea is that you create content that would interest your target audience.

When someone clicks on your website, they might also become future customers through you sharing your website.

Furthermore, content marketing usually contributes to or reinforces trust for your company, brand or product.

We create and distribute content that educates, inspires, and entertains people across the web. Whether it's writing for a blog, developing marketing collateral, or creating social media content,

We help our clients share their stories in a way that engages their audience and drives results.
Mobile Marketing
Mobile marketing is the marketing of goods and services, primarily through mobile devices. This marketing can be quite powerful and cost-effective when done properly.

Mobile marketing can help businesses learn more about their consumers through data collection. This is possible because mobile devices are easy to use and carried with consumers everywhere they go.

This digital marketing strategy is used to brand and promote a product, company, or service. It includes promotion on mobile devices such as phones and tablets.

Oxygen is an award-winning mobile marketing company in Bangalore that helps businesses connect with their customers through creative and innovative mobile solutions.

We specialize in developing engaging and effective mobile marketing campaigns that help businesses connect with their customers and boost their bottom line.
Video production
Video production is mixing different types of media to produce a motion picture. Other media types are uses for video production, including video, color and black-and-white images, still images, animation, and 3D computer graphics.

They design the video and seek out talent, props, wardrobe, and videographer to bring their project to life.

We design video content for businesses and brands of all sizes. We specialize in video marketing, social video and corporate communications.

Our creative professionals work together to produce both creatively and effectively videos that can help you achieve your communication and marketing goals.

Oxygen'oxygen's video production team takes care of everything, from ideation to the final product. This allows you to focus on running your business.
Online Reputation Management (ORM)
ORM is the process of collecting and curating the most important views about an entity and then representing them on a digital platform.

It can also be the process of managing and monitoring company reputation, customer perception, and customer reviews posted publicly.

This can be on social media, such as Facebook and review websites.

With our deep knowledge of traditional and digital media landscapes, we help people and businesses to protect and improve their online reputations.

Oxygen provides expert support for any ORM issue, from helping businesses to manage their online presence to supporting them during crises.
Why Choose Oxygen As Your Digital Marketing Services Agency In Bangalore?
With Oxygen, your business can primed for success online and even offline. We provide an array of effective digital marketing services in Bangalore.

We have the ideal person for you. To establish a strong customer support team, it is essential to understand modern customer behavior, especially in the social sphere.
Data-driven Digital Marketing Services
Business success is dependent on data and research. With Oxygen's results-oriented online marketing services in Bangalore, you can reach the right audience at the right time using the right platform.

To analyze your brand's strengths and weaknesses, opportunities, and threats (SWOT), we create actionable metrics and provide insights.
Digital marketing experts
Oxygen's digital marketing professionals with more years of experience. We keep an eye on the latest trends, innovate and create goal-oriented strategies. Our campaigns also comply with search engine guidelines.
Generate High ROI
We have the skills, tools and market expertise to transform your brand's marketing strategy. Our team of marketers and creative people create fresh content every week.

This increases ROI and helps your brand build credibility, engage with audiences, and drive customer acquisition while reducing the onus on you.
Campaign Monitoring
To determine the success of your strategies, Oxygen establishes campaign metrics. We also monitor and evaluate them regularly.

We use Google Analytics data to modify your online marketing strategy and improve your approach toward audience targeting to make you more financially secure.
Competitive Pricing
Oxygen is the best digital marketing agency in Bangalore that focuses on customer-centric digital marketing. We design our internet marketing services according to your industry, online needs and financial ability.

Our Digital marketing services in Bangalore help you get the attention you need online without breaking the bank.

We help you understand how our core digital marketing Company in Bangalore can help your business grow.