Digital marketing is an evolving and complex industry, which can be difficult to navigate for businesses of all sizes. It can be difficult for health care centers to reach their target audience through the digital channels that matter most.

This is where a specialist digital marketing agency can help. Digital media experts can help healthcare centers connect with more patients, increase awareness of their services, and improve their bottom line. Their understanding of the health care sector and expertise in digital media can help centers achieve their goals.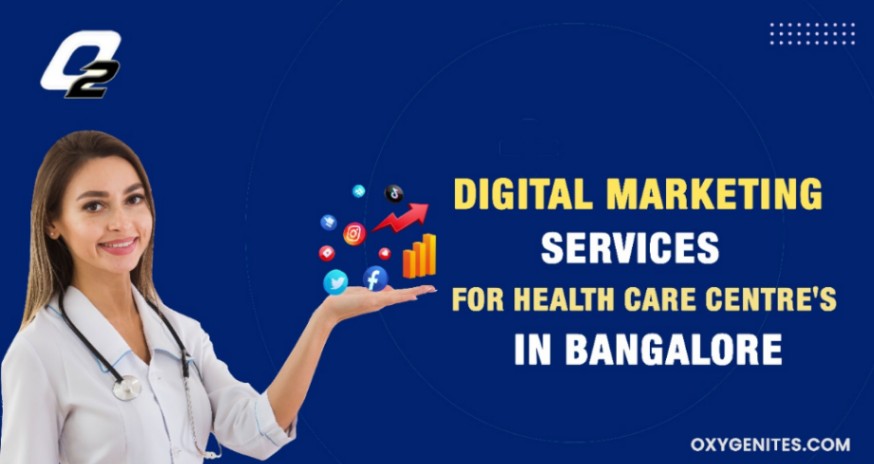 Google reports that over 77% of patients use search engines to find healthcare information and book appointments.

In Bangalore today, digital marketing services have replaced traditional marketing methods, and patients are turning towards online portals to conduct their research.

You can trust Oxygen as your digital marketing agency in Bangalore. Many health professionals and service providers have seen remarkable results from our innovative online marketing methods.

Oxygen has helped numerous customers to get better results. Today, Digital Marketing Services for Healthcare Providers in Bengaluru have more powerful ways to promote their jobs, services, and business online.

Oxygen Digital Marketing services in Bangalore believes in the power of Online Business and Healthcare Digital Marketing. Our Digital Marketing in Bangalore will help you with comprehensive digital marketing services to help you grow your business online.

Among the best skills Oxygen Digital Marketing employs are Google Analytics, E-mail Marketing, Social Media Advertising, Search Engine Optimization, Social Marketing, and SalesForce.
Our Healthcare Digital Marketing Services
Oxygen is a digital marketing agency that helps healthcare centres in Bangalore reach out to more patients online. 

We present a range of services such as website design, social media marketing, search engine optimization, and content marketing. Our goal is to help healthcare centres in Bangalore grow their patient base.
Search Engine Optimisation (SEO)
 Search Engine Optimization is the most effective strategy to get your online business to rank higher on the search engine results. Your search engine rankings are a key indicator of your credibility. 

This is how medical and healthcare service providers online. A higher rank on search engines means a better online identity. Your status will bring more traffic to your site and thus more leads. Ranking higher in search results is the first step to success. 

As well as its young, dynamic and rapidly growing company, Oxygen Healthcare provides world-class Search Engine Optimisation (SEO) services to hospitals.

We are one of India's leading SEO companies in Bangalore, with a strong clientele base in the Healthcare industry.
Web Design and Development
Healthcare providers quickly realize the importance of having a website as part of their overall marketing strategy. A website can provide information about the center, such as its services, staff members, hours of operation, special events, etc.

In addition, a well-designed website can help to improve the center's online presence and help to bring in new patients.

Oxygen's web design and development company focused exclusively on the healthcare industry. We build powerful, intuitive web applications that make it easy for healthcare centers to connect with their patients and manage their businesses.
Social Media Marketing (SMM)
Social media marketing for healthcare centers can be a great way to connect with potential patients. 

Social media allows you to share information about your center's services, post images and videos of your work, and interact with patients and followers.

Additionally, social media can monitor patient satisfaction and gather feedback about your center.

Our team of social media managers knows how to attract new patients and grow their relationships with your organization.
Pay Per Click (PPC)
PPC for Healthcare centers is a form of advertising that allows you to place sponsored ads on search engines like Google, Yahoo, and Bing. When a user clicks on your ad, they are taken to your website, and you are charged a predetermined amount for that click. 

PPC for Healthcare centers is a great way to drive traffic to your website and increase brand awareness.

Oxygen is the Pay Per Click (PPC) division of a digital marketing agency in Bangalore that focuses exclusively on healthcare centers. We develop and execute successful PPC campaigns for medical practices of all sizes. 

Identifying the right keywords and targeting the right patients are crucial to generating quality leads and driving conversions for our clients.
Content Writing
Healthcare content writing is a specialized form of writing that helps promote and inform the public about all aspects of healthcare. Writing about issues can range from reporting on treatments available to people to giving health advice.

In addition to being educational, healthcare content must also be engaging and interesting to read. While this may seem daunting, it is crucial to reach as many people as possible.

Oxygen provides custom content for healthcare centers in Bangalore. Our services include website copy, blog posts, and social media content. We understand that the best content is key to attracting and retaining patients.

We perform intimately with our clients to create engaging and informative content that helps them stand out from the competition.
Why Choose Oxygen as Your Healthcare Digital Marketing Company in Bangalore
Oxygen in Bangalore is a healthcare digital marketing company that delivers results. Our professional internet marketing services have been available for many years. Our digital marketing campaigns brought amazing results to our partners.

These are just a few tips for why you should partner up with our company for healthcare digital marketing:
Digital Marketing Specialists
Oxygen provides dedicated digital marketing professionals to help you make the right decision. We all work together to devise data-driven strategies. We love growing businesses and have been doing it for over a decade. Oxygen has become a trusted choice for top Doctors and Hospitals in the medical field.
Data-Driven Solutions
All our solutions are built on extensive data analytics. Oxygen uses the best digital marketing tools and software. Our team can design the best solution to help you elevate your business. 

OXygen data-driven insights to health care centers to improve performance and patient care. Our only product provides real-time data about health care facilities based on staffing, revenue cycle, quality of care, and more.
Transparent reporting
No delays are allowed when we present reports. We appreciate how important it is to you to have transparency about your marketing investments. We are happy to discuss how we can help your company achieve the best results.
Custom Online Solutions
There is no reason to settle on digital marketing agencies that offer lower rates. Oxygen can tailor online marketing packages to fit your needs and your budget. We provide customized campaigns for our clients that are tailored to deliver results.

Contact us today to learn more about how we can help you grow your healthcare business online!