Email marketing is a method businesses use to send promotional messages to existing or potential customers. This is a popular form of digital marketing that small and large companies use.

The type of content and the subject you choose for your e-newsletter is important. 

Email marketing sends promotional messages, often called e-newsletters, typically to recipients. It is sometimes known as direct email marketing.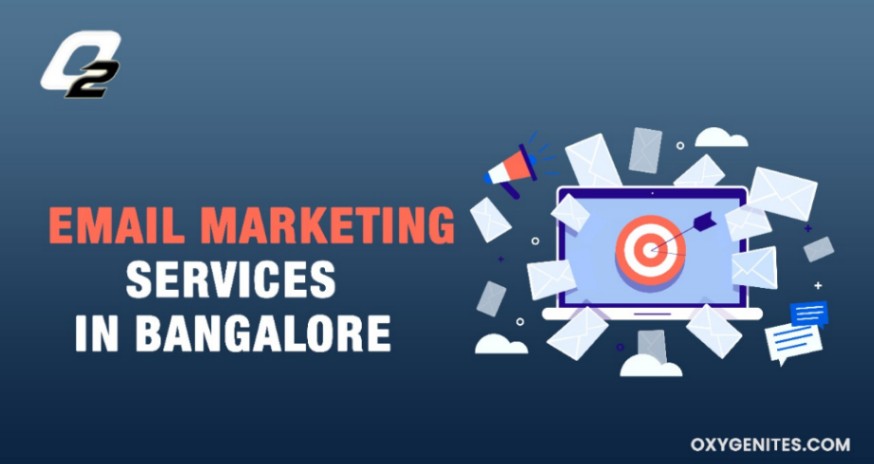 The recipients are known as subscribers. Marketers use newsletters or e-newsletters to send updates about their products and services, such as advertising in a magazine or an online newsletter. 

Oxygen tries to make mailers that reflect the corporate brand image or help develop a brand-new rule. Our structure experts create predictable email interchanges after an extensive audit of the existing site, markings, and other promoting materials. 

The review found that two-thirds of three major brands use weekly, monthly, and quarterly email marketing campaigns. Email advance is a practical and effective way to work with existing and future customers.
Our Email Marketing Services
We provide real-time email marketing services in Bangalore. All you need to do is pay a small amount of money. Then, you get an email client, which handles the emails you want to send out. You need to design the email, user your information, and send it.

We manage all the emails, provide customer support, and make all the technicalities work. We have a free plan based on the number of emails you have sent out. 
Superior Template Designs
A well-crafted email template can make or break your campaign. Get it wrong, and your recipients may never even see your content. But with the right design in place, you can increase open rates and drive more conversions. 

A good email template design makes it easy for your audience to take action. That means using clear CTA buttons, easy-to-read typography, and plenty of white space to create a visual hierarchy. 

Our technologies work in sync with each other to provide a more attractive template design that will help you get targeted leads. Our templates are designed in-house, so they account for your precise needs.

Oxygen Email marketing services and template designs are second to none due to our team's dedication to delivering skills and expertise. Our templates look great, but they also reflect your brand and appeal to your customers.
Create an Email Newsletter
The best way to stay up-to-date on the latest news, products, and services from a company is to sign up for its email newsletter. 

This is an especially good option for businesses that don't have a blog or social media accounts. 

Email newsletters allow you to send updates directly to customers' inboxes, which builds customer loyalty. 

At Oxygen, we believe that email newsletters are a powerful way to keep your customers up-to-date on your latest products and services. 

They are a great way to connect with your audience, but they can also help increase traffic to your website and boost sales. That's why we offer a variety of easy-to-use templates and tools to help you create beautiful and professional email newsletters.
Send your Campaign and Ensure Delivery
Email marketing is critical to any organization's digital marketing mix. It's an open line of communication between customers and prospects. It can build relationships, promote new products, increase website traffic and improve brand awareness.

But email marketing only works if it's delivered to the right person at the right time. Invalid or incomplete email addresses can result in deliverability issues and decreased campaign performance. 

We have email campaigns stored in the cloud to send them. Send your campaign immediately or schedule it. You can directly check delivery in our stats and reports.
Email Strategy
Email Strategy is often overlooked, but it's one of the most important aspects of an email marketer's job. When done correctly, email strategy can help to improve deliverability, open rates, click-through rates, and conversions. 

Oxygen specializes in email strategy. We help our clients increase their engagement, conversion, and revenue through email marketing. Our team has a deep understanding of email marketing and can use that knowledge to create targeted solutions that drive results for each client.
Tracking and Reporting
Email tracking and reporting are an important part of any email marketing campaign. By tracking opens, clicks, and forwards, you can better understand how your subscribers interact.

 This information can help you refine your email marketing strategy, ensuring that your content resonates with your audience and achieves results.

Oxygen is the email tracking and reporting solution that helps you know what's working (and what's not) with your email campaigns. 

We provide insights into who opened your email, what links they clicked, and how much revenue was generated. Oxygen is an essential tool for understanding the ROI of your email marketing campaigns.
Benefits of Hiring Email marketing services in Bangalore
Many marketers are puzzled why email marketing is so important when social media platforms are readily available, and users have increased exponentially.

Email marketing is still important because people continue to check their email to get special offers from brands they like.

There are some of the reasons why email marketing services are important:

1. Email marketing is one of the most effective digital marketing tools businesses can use today. It is more affordable than other forms such as TV or print advertising and has a much higher return on investment.

2. Email marketing allows you to reach and connect with a larger audience than traditional marketing methods. 

3. Email marketing services allow businesses to outsource the creation and execution of their email marketing campaigns. This saves companies time and money and verifies that their email campaigns run smoothly.

4. The growth of the email market ecosystem will continue rapidly. This will allow businesses to spend more on improving their products and less time fixing issues in the email system.

5. Email marketing services continue to grow as a channel for businesses to target consumers and customers. 

6. B2C email services drive many email servers, and more and more people are probably using email through their mobile devices. This increases the amount of data to be stored, processed, and transmitted by enterprises. 

7. Individual users tend to be less sophisticated when managing their internet presence or how businesses or other companies use their data. 

8. Companies tend to pull back from implementing new customer experiences as their customer acquisition costs increase. 

9. The internet has been a valuable tool for companies to communicate with their customers and prospects. It keeps them in touch with their customers and responds quickly to any inquiries or concerns.

10. Companies are improving their customer service because it is a quick and easy way to detect any potential problem or hiccup. 
Why Choose Oxygen for Your Email Marketing Services in Bangalore
Oxygen email Marketing Agency in Bangalore is a top-rated email marketing company that offers the best email service at affordable rates. It doesn't mean you have to believe everything we say. Find out what our clients think about our email marketing services.
Full-Service Email Marketing Campaign
Our email marketing agency in Bangalore offers a complete range of email services. Our email marketing experts can help you with your email marketing needs, including a simple email blast or solutions.
Tailored List Divisions
We know that every client's needs, wants, and the audience will determine the best email marketing service. 

We do extensive research to determine your target audience and use advanced email marketing software to the segment it. This will ensure that your emails reach the right people at the right time.
Integrated Marketing Services
Email marketing can bring in a large ROI for marketers. Combine online marketing tactics to get a higher ROI, efficiency, greater accessibility, and customer loyalty.

Our Email Marketing Agency in Bangalore offers digital Marketing Services such as SEO (search engine optimization), social media marketing (SMM), etc.
Detailed Email Marketing Reports
We will create custom email campaigns to meet your specific needs. We'll manage them and give comprehensive monthly reports, including open rates, traffic to your website, sales/leads driven, and more.

Tracking your email campaign's performance can be done by accessing your Google Analytics dashboard. You can also view your monthly reports. 

You can integrate email campaigns with Google Analytics to gain deeper insights into recipients' interaction with your website.
Experienced Email Marketing Experts
Oxygen's Email Marketing team has many years of experience with various email platforms in Bangalore. 

We constantly research and review new email marketing platforms, strategies, and software to receive the best email marketing service. 

Let us show you how our online marketing services can help your brand grow and be promoted.

Contact us to help you with the Email Marketing Services in Bangalore and lead you to success.