Creative and Branding is a term that covers a wide range of services – everything from creative to communications. 

Some creative and Branding services agencies in India include design, Branding, and branding consultation with an emphasis on being a "One-Stop-Shop."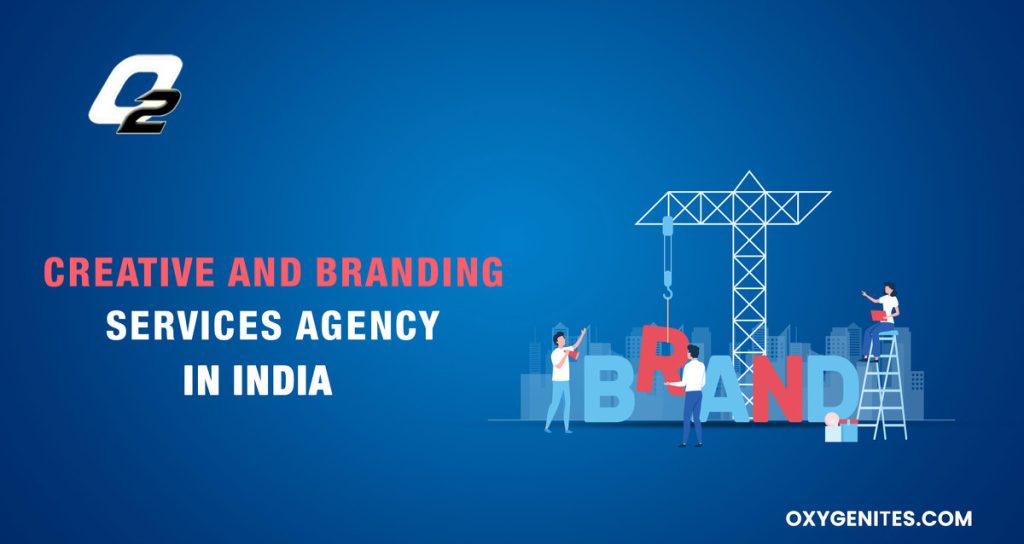 The terms Branding and creative are often interchangeable. Both are different services and serve other purposes. Branding services aim to create a consistent image for a company, while innovative services usually focus on generating new ideas. 

At Oxygen, we believe that your brand is your most valuable asset. We are a full-service creative and Branding agency in India that helps businesses large and small create and build strong brands. 

Our company presents a wide range of services, from Branding and identity to website design and development and everything in between. We attempt to create long-term relationships with our clients and work hard to ensure that your brand is successful.
Our Creative and Branding services
Oxygen is a Creative and Branding services agency in India that works with ambitious entrepreneurs to create strong brands and successful marketing campaigns.

We specialize in web & mobile app development, creative design and social media. To stand out and target their markets, our clients cooperate closely with us to develop innovative solutions.

Our experience includes working with all types of businesses, including high-end luxury brands and tech startups. Our motive is to help our clients achieve their goals through effective marketing and smart Branding.
Brand Positioning
Brand positioning is the procedure by which a brand is placed in the marketplace to be different from its competitors. Brand positioning is essential to create a brand identity that is distinctive and appealing to the target consumer.

The decision to position a brand is a strategic marketing decision based on the brand's strengths and consumer insights.

We help you establish your brand's position in the minds and hearts of consumers. We help you to create a brand image that customers will remember.
Brand Development
A brand development process is the creation of a distinctive identity and image for a company, product or organization.

This involves the creation of a name, logo and slogan that will use to communicate your brand to consumers. Marketing is all about Branding.

We assist you in developing your brand's identity. We use digital platforms to establish the brand.
Logo Design
A logo design can represent as much as a brand or an organization and is often the focal point of this design.

The visual form of communication can help to sell a message or product and create an emotional connection that will elicit the desired action.

Oxygen helps businesses build their brands and create an identity. Our experienced and skilled designers will work with your company to develop a logo and branding package representing your business.
Artworks
The artworks agencies create for clients are part of the creative and branding world. These can range from TV commercials to billboards and website designs.

It is common to use the term "artwork," but it is important to distinguish between them. While artworks refer to the final product of an idea, creativity refers only to the process of developing and executing it.

When it comes to artwork, you need to present it in a way easily understood by the viewer. Oxygen Each design create with authenticity and individual identity in mind.
Visual Messaging
In the digital age, creative visuals enable businesses and individuals to create awareness about themselves.

Visual messaging should visually touch and connect with the viewer. This can be done by crafting engaging and unique visual messages (Sunsets, headlines, graphics, images).

Visuals can promote a message, a product, or a service and establish an emotional connection with the viewers to provoke action.

People enjoy visuals more than text. You can count upon us to provide all the support you require.
What are the Benefits of creative and Branding services in India?
Creative and Branding services can play a major role in the success of businesses in India.

These services help businesses to develop and maintain a strong brand identity. They can also help them attract and retain customers.

1. A Graphic Design Agency is composed of skilled individuals who bring unique, distinctive and creative ideas to the table. This has been achieved through years of practice.

2. Creative Design is the art of placing each element (text, image, video) in the right spot. It takes research and collaboration to achieve the perfect positioning.

3. A group of talented designers will work together to create beautiful, quality designs. This also encourages customers to become involved in your plans. This leads to more sales and traffic to your site or products.

4. A good layout will look beautiful on a smartphone, tablet, laptop, or desktop. The best arrangements are designed with responsive websites. Who can resist a website that adapts to all devices? This is a global trend.

5. Creating great designs will produce feedback and give insight into what works and does not work in your design.
Why choose Oxygen as a creative and Branding agency in India?
Oxygen is a creative and Branding services agency in India that has a reputation for designing unique logos for India-based companies. Our Professional services are required at every stage of a business or organization.

We're the best of the best, with years of experience, Creative and Branding services, Logo Design, Brand Development, Brand Positioning, Design Services, and more.

Oxygen has a history of creating successful brands for major Indian companies in the past and present.
Refine Your Visual Identity
We will help you find your brand's personality and unlock your inbound/content marketing potential.

We will also help ensure your website is seamlessly branded across devices to deliver the best user experience.
Plan & Organize
At first, we meet you (or you can email us), and then we have a discovery session to get familiar with your company.

This allows you to tell us more about your Business and help us to understand your brand. We do our research, and we get to know your competition.
Creativity & Design
Our ideas are brought alive in all marketing collateral. We can design your packaging from your handmade products using different platforms, such as Word Processing, Impress, Illustrator or Photoshop.
Next-Level Story Ideation
With a team combining marketing and journalism, we can discover the truth about your brand and turn complex and technical content into targeted content.
Ready to Take Your Branding Creative to the Next Level. Contact us for more information.