Digital marketing is a constantly evolving and complex industry, which can be difficult to navigate for businesses of all sizes. Specialist digital marketing agencies can help healthcare centers connect with more patients, increase awareness of their services, and improve their bottom line. Their understanding of the health care sector and expertise in digital media can help centers achieve their goals.

Many healthcare providers in India have seen remarkable results from opting for digital marketing methods over traditional ones. Here at Oxygen, we trusted experts in the field and have helped many customers to get the results they need and deserve. 

Digital marketing allows for more powerful ways of promoting your healthcare business online, and many providers are seeing the benefits of making the switch. If you are looking for an agency to trust with your digital marketing needs, look no further than Oxygen.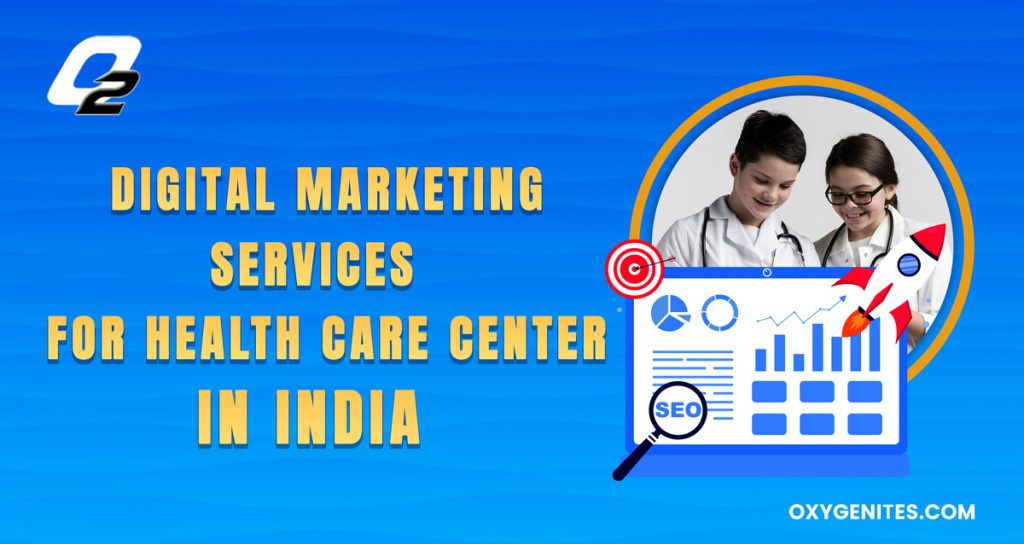 Importance of Digital Marketing Services for Health care center in India
As the internet becomes increasingly prevalent in our lives, it's not surprising that medical professionals and healthcare centers are leaning towards digital solutions. In today's world, if people can't find you online, they will choose the services of your online competitor.

80 percent of patients conduct an online search before booking an appointment

Oxygen Digital Marketing services in India believe in the power of Online Business and Healthcare Digital Marketing.

With the help of Digital Marketing Services, you can easily reach your targeted audience in no time and with great ease. Digital marketing services have proven effective in delivering your message to the target audience.

Local Digital Marketing Services – Increased Exposure with Medical Tourism India To boost your local business and increase brand awareness.

Oxygen has a team of experienced professionals who can devise data-driven strategies to help grow your business.
Our Healthcare Digital Marketing Services
Search Engine Optimization For Healthcare
As a medical or healthcare service provider, it is important to have a strong online presence. One way to improve your online visibility is through data-driven SEO campaigns. Oxygen digital marketing agency offers custom SEO packages to help improve your search rankings. We aim to drive more organic traffic to your website, resulting in a higher search engine ranking. A higher rank is a key indicator of your credibility and online identity.

Oxygen digital marketing agency offers custom SEO packages to increase your online visibility. We aim to improve your search rankings by driving more organic traffic to your website. This is how we provide medical and healthcare providers with a better online identity.
Pay Per Click Marketing For Healthcare
A well-managed pay-per-click campaign can greatly improve your digital marketing campaigns. The oxygen digital marketing agency specializes in creating and launching highly-targeted PPC ads. Our team of certified PPC specialists can put your healthcare services in front of your audience quickly and efficiently!

Oxygen is proud to offer our healthcare clients exclusive Pay Per Click (PPC) services. Our certified PPC consultants specialize in creating and managing campaigns on Google Ads to increase the rate of ROI for healthcare providers. Our team focuses on choosing the right platform and creating laser focus local campaigns. Oxygen is your go-to choice for successful PPC campaigns in the healthcare industry.
Content Marketing
Oxygen is a top digital marketing company that can help you develop an effective content marketing strategy. Our experienced research team will help you create compelling content that will resonate with your audience and move them to action.

Healthcare content writing is a specialized form that helps promote and inform the public about all aspects of healthcare. Issues covered in healthcare content writing include, but are not limited to, reporting on treatments available to people and giving health advice.
Web Design and Development
Oxygen digital marketing agency offers comprehensive web design and development services. Our web development team integrates seamlessly with our healthcare digital marketing consultants to create a bespoke website for your organization optimized for high performance.

In today's landscape, healthcare providers increasingly recognize the value of having a website as part of their marketing arsenal. A website communicates essential information about the center, such as its services, staff, opening hours, and forthcoming events.
Social Media Marketing
Healthcare centers can use many social media channels to connect with potential patients, including Facebook, Instagram, Twitter, and LinkedIn.

Our healthcare digital marketing services include social media marketing and advertising. We help you grow your followers and boost engagement by implementing organic and targeted social media paid ad campaigns.

Healthcare social media marketing allows you to connect with current and potential patients through various online channels. Creating and sharing engaging content can build your center's online presence, grow your follower base, and boost patient engagement. Additionally, healthcare social media marketing can include targeted paid advertising campaigns to reach even more patients.
Why Us?
Oxygen is a company that is results-driven in healthcare digital marketing. We have been providing professional internet marketing services for more than many years. The digital marketing campaigns that we have provided have given incredible results for our partners.

There are many reasons to partner with our healthcare digital marketing company, including:

In the healthcare industry, we have proven to be successful. We specialize in healthcare digital marketing services. We are a team of experienced and dedicated professionals.

Contact us today to learn more about how we can help you achieve your marketing goals.

Digital Marketing Experts

If you select Oxygen as your digital marketing partner, you will work with a team of experienced professionals passionate about helping businesses grow. We use data-driven strategies and work together to create effective plans.

For more than ten years, Oxygen has been trusted by many leading doctors and hospitals in the medical industry.

Data-Driven Solutions

At Oxygen, we believe that data analytics is key to creating successful solutions. We invest in advanced digital marketing tools and software to give our team the ability to create tailored, data-driven plans for our clients. This helps to ensure that our clients can make the most impactful decisions for their organization.
Custom Online Solutions
Don't let low rates be the only deciding factor when choosing a digital marketing agency. Oxygen can create a personalized online marketing strategy that meets your needs and budget. We design custom campaigns for our clients that are proven to be effective.

Transparent Reporting

We always aim to provide full transparency in our reports and never delay releasing results.

Having learned how vital marketing investments are, we're always happy to discuss how we benefit your organization at all times.

If you are interested in expanding your healthcare business online, please don't hesitate to contact us. We would be happy to discuss how we can help you achieve your goals.