UX design plays a crucial role in the overall planning and development of a product. It emphasizes both the visual appeal and functionality of a product in order to create a positive customer experience. By ensuring that products are easy and enjoyable to use, UX design can contribute significantly to a company's profitability through customer satisfaction and loyalty. Our UI/UX Designing Company in India has a huge team of skilled and expert designers to give you the best possible experience.

Well, it is a blend of principles, skills and technologies in defining, designing and modifying webpages and mobile applications. It is all about creating an interactive user experience. The process divided into three basic parts: User Experience Design, Interaction Design and Visual Design.

Oxygen provides a complete range of quality services to help you build your brand image.

Our expert designers can provide print and digital solutions that will give you the best possible experience. Whether you're looking for help designing a website or developing a marketing campaign, Oxygen is dedicated to helping you deliver the best results.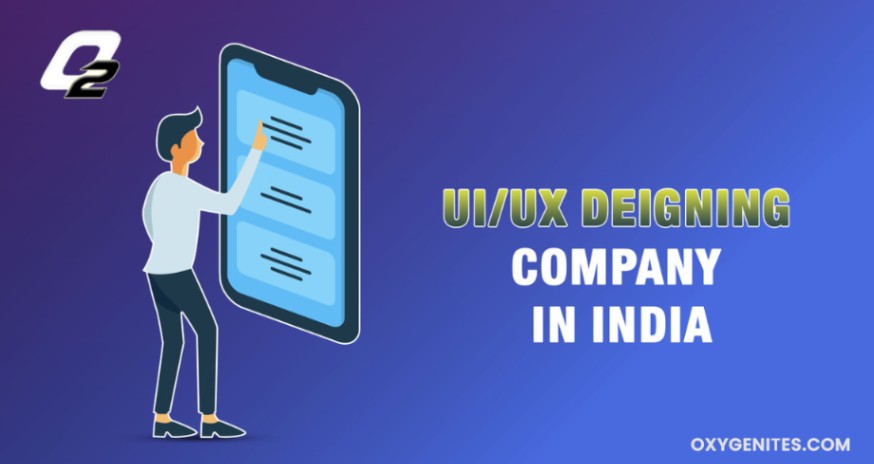 The Best UI/UX Designing Company in India
Our UI/UX design service makes the customer's interaction with your website effortless. Our designer team considers your customers' needs when designing your website's user interface.

Once you approve the design, our developers breathe life into it. Our quality testers assess the functionality of your website on various devices and browsers.

At Oxygen, we believe that product design should be elegant and thought out, not just focused on graphical aspects.

Our experienced team can create a plan that engages with users, creates engaging visual experiences, and drives critical thinking in the user experience.

We're the best UI/UX designing company in India, offering web, logo, mobile app, and graphic designs.
Mobile app design
At Oxygen, we know that mobile app design is crucial for developing a successful app. With over two billion active app users, creating an engaging experience that will keep people coming back for more is essential.

That's why we design and build beautiful, intuitive, user-friendly mobile apps for iOS and Android. We work with startups and established companies to help them create amazing digital experiences that users love.

Our team has experience designing and building apps for various industries, including retail, healthcare, finance, transportation, and more. So no matter what your app needs, we can help make it.
Web design
This website uses a professional approach to user interface design. It showcases the work and passion of people all around the world.

You can run your business more efficiently with platform-specific adaptive web designs that are responsive and responsive to every device, environment, and need.

UX design services can help you design a UX design service that adapts to every device, type, and need.

We present a complete range of services, including website design, development, search engine optimization (SEO), and online marketing.
Graphic design
Graphic design is a form of visual communication that combines symbols and words to create a representation of an idea or message. These can be used to communicate emotions and ideas to an audience.

Graphic designers use different methods to achieve this goal, which begins with understanding the client's business and customers. Once that process is complete, we develop creative solutions that help them stand out from the competition and effectively communicate their message.
Product Design
The product design process is an important part of creating successful products. It is crucial to take the time and design a product that meets customers' needs.

There are several steps in the product design process, and each one is essential to the final product's success.

Designers must understand the customer's needs and come up with innovative solutions.

We make things that people use products, apps, websites, and more every day. Our designers, engineers, and researchers are dedicated to making great products.
UI/UX Design Process
Making a new product or service is much easier if you have the proper software and hardware to simplify the process. As companies invest more time and money in creating tools for creating new software, a designer is required to create a product.

We place great importance on following proven processes and best practices here at our company. Doing so can create custom plans for each client tailored to their specific business needs.

This process includes research, wire framing, design, prototyping, testing, and revision until the client, and we completely satisfied with the final product.
Why do You Need to Hire UI/UX Designers?
In contrast to graphic design, UI/UX design is more difficult to learn and practice. However, because it is a design field that does not require a lot of followers, it will always have demand. If you are a designer, UI/UX design may be a viable alternative, and a range of career opportunities are available.

Oxygen is committed to providing its clients with the best possible user experience, whether they are using mobile, web, or other interactive products. We strive to provide a seamless experience from start to finish, ensuring that our clients are able to achieve their desired results.

The agency is dedicated to creating world-class UI/UX designs that its clients can be proud of. Oxygen aspires to be the leading UI/UX design company in India.

We have the experience and expertise to work with clients of all sizes, from startups to established brands across industries. We understand how to create a great user experience that matches all client needs and expectations. Customers appreciate our dedication to creating better user designs. We believe teamwork and comprehensive planning are essential to success and always strive to promote these values.
Takeaway
Are you searching for reliable UI/UX designers? Look no further than India. UI/UX design is the process that helps create an interface. A method begins every interface, and for the best experience, make UI/UX design company in India.