As the world's second most popular website, YouTube is a powerful platform for businesses of all sizes. While it's possible to generate traffic without using YouTube, incorporating this video-sharing site into your marketing campaigns can greatly boost your results.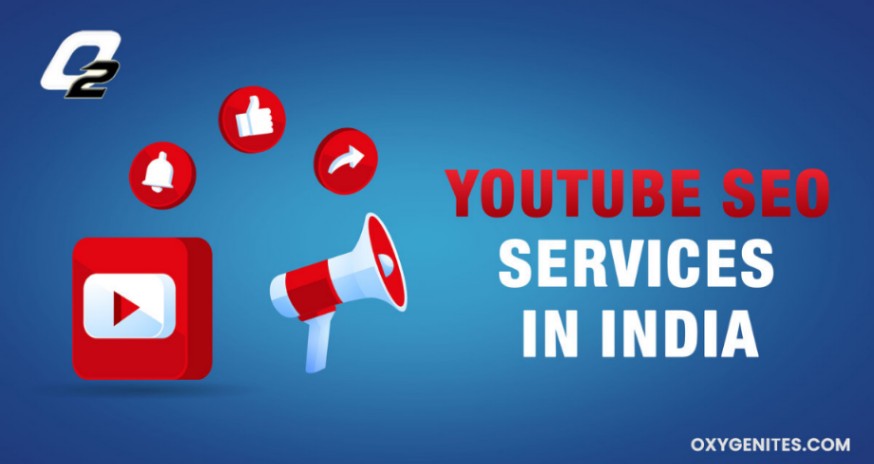 If you're not sure where to start, our team at Oxygen can help. We offer comprehensive YouTube SEO services to help you get more views on your videos, rank higher in search results, and drive sales.

YouTube, the online video giant, is an effective marketing tool for all businesses. Over a billion members are online and over 500 hours worth of video content are added every minute, so companies should consider YouTube marketing.

However, simply creating and uploading videos is not enough. YouTube SEO services are necessary to ensure your videos are seen by your target audience and convert leads into sales.

Oxygen is a digital marketing agency in India that offers SEO, SME, and PPC services. We have a team of experienced professionals who can help you improve your ranking on search engines and increase traffic.
What is YouTube SEO?
Search engine optimization is one of the most important digital marketing strategies you can employ for your YouTube videos.
The right approach can help you improve your video ranking on YouTube and Google. This will allow you to attract more viewers and grow your audience.

The most popular way to improve SEO is to create videos and upload them to YouTube. By optimizing videos for keywords and including links back to the website, businesses can increase traffic and leads from potential customers.

Oxygen is the best SEO company for YouTube. We can help you get more views on your videos and increase your subscriber count. Our experts know how to optimize your videos for maximum visibility in search engines.
Importance of YouTube SEO
Nearly one-third of all internet traffic now flows through YouTube, making it one of the most important platforms for online businesses.
However, few small businesses are taking advantage of YouTube's potential to reach new customers.

To make the most of your YouTube marketing efforts, you need to understand how to optimize your videos for search engines.
Optimize your videos for keywords and use effective titles and descriptions to drive more traffic to your videos and increase conversion rates.

YouTube SEO is important for businesses looking to generate leads and traffic from the video-sharing platform.
By optimizing videos for search, companies can ensure that potential customers more easily discover their content.

Office plants have several benefits beyond simply adding a splash of color or life to a room. They increase air quality, which is particularly important for offices.
They also help reduce stress levels, increase productivity, and provide an overall more pleasant working atmosphere.

Our experts have years of experience optimizing content and driving website traffic through search engine techniques.

Our clients work closely with us to understand their customers. After that, we help clients develop a marketing program to help achieve their goals.
How does YouTube SEO work?
Search engine optimization for YouTube videos is a powerful way to increase views and engagement on your videos.
Optimizing your videos for search can help you ensure they appear at the top search results for relevant keywords. This will increase traffic to your channel.

This is particularly true for YouTube, where optimizing videos for search can be difficult. However, with the right approach and a few key techniques, you too can improve your YouTube SEO and see better results from your videos.

We know the right tactics to improve your SEO to attract more viewers and convert more of them into customers. Our team has the expertise and experience to help you succeed in YouTube marketing.
Our YouTube SEO Services in India
Many factors go into ranking a YouTube video. Some of these factors are directly controlled by the creator, such as the quality and engagement level of the video. Others are outside their control.

For this reason, many businesses and individuals turn to experienced YouTube SEO professionals to help them rank their videos higher in search results.
These professionals can help their clients achieve greater visibility and significantly increased viewership by taking advantage of all the optimizations available. Our YouTube SEO Services are:
Keyword research
Keyword research is one of the most important but often overlooked aspects of SEO. Your site can rank better and attract more visitors if you find the right keywords for your site and optimize your content around them.

We provide keyword research, competitor analysis, and SERP tracking to help you dominate your industry and outrank your competition.
Optimize video thumbnails
Thumbnail images play an important role in online video, as they are the first thing potential viewers see when searching for content.
A well-optimized thumbnail is likely to engage viewers, while a poorly optimized thumbnail may dissuade viewers and cause low engagement rates.

Thumbnail optimization is a simple but often overlooked way to boost views and engagement on your videos. The right thumbnail can entice viewers to click through to your video and watch it to the end.

Oxygen is the best way to optimize your video thumbnails. We make it easy to create beautiful, customized thumbnails that get more clicks and better results.
Optimize your videos' titles
One way to optimize the visibility of your videos is by including strong and relevant keywords in their titles. These keywords will help your videos appear when people search for related topics on Google and YouTube.
You can use Google's Keyword Planner Tool to find keywords related to your case and include them in your title.

Oxygen is the world's first title optimization platform for videos. We help you create optimized titles that get more views, attract more subscribers, and generate more leads.
We offer a simple, easy-to-use platform that takes the guesswork out of video optimization.
Optimize your YouTube description
Optimizing YouTube videos is as simple as optimizing the title. Remember that YouTube video titles can also be Google search engine results.
So make sure to include keywords people might use to find your content. Next, pay attention to the description of your video. SEO is most important in the first two lines of your video description. Make sure to include keywords.

Oxygen is the best way to optimize your YouTube descriptions. Our easy-to-use platform makes it simple to improve your SEO and get more views on your videos.
Benefits of using a YouTube SEO Services in India
There are many benefits of using a YouTube SEO service. When you use a YouTube SEO service, you can get more people to watch your videos. You can also get more people to subscribe to your channel.
When you have more people watching your videos and subscribing to your channel, this can help you to grow your business.

Video marketing is a key component of any marketing campaign. As audiences shift towards consuming content on digital platforms such as YouTube, businesses must ensure their videos appear in relevant search results.

Businesses can improve their videos' ranking on the YouTube search engine and thereby increase the chances of potential customers finding them.

Several reasons using a YouTube SEO Service can be beneficial for your business. By increasing your video's visibility and ranking on YouTube, you can reach more consumers and drive traffic to your website.

Additionally, using a professional service can help you better optimize your videos for search engines and increase viewership. Ultimately, this will help you achieve your business goals and grow your brand.

Oxygen is a YouTube SEO Service that can help your videos rank higher in search results. By optimizing your videos for keywords and providing other marketing services, Oxygen can help you get more views and subscribers.
Why you should Choose Oxygen As Your YouTube SEO Services in India
What makes Oxygen different?
Our key differentiators are our approach to digital marketing, which is data-driven, and our team of experienced professionals who are passionate about their work.
Data-driven marketing
It is our goal to analyze data and gain insights that will help plan and execute marketing campaigns that produce better results.
Passionate team
We believe in working with a team of passionate people about their work and are constantly looking for ways to improve their skills. This helps us deliver better results for our clients.

Contact us today to learn more about our services!