Instagram is the most extensively used social media platform dedicated to sharing images.

There are 500 million active Instagrammers, but many advertisers and social media marketers still don't know how to use this platform for marketing.

You need an Instagram marketing strategy if you want to tap into the maximum power of this social platform. With this strategy, you may have rich content and user-generated activities like videos and photos on your Instagram.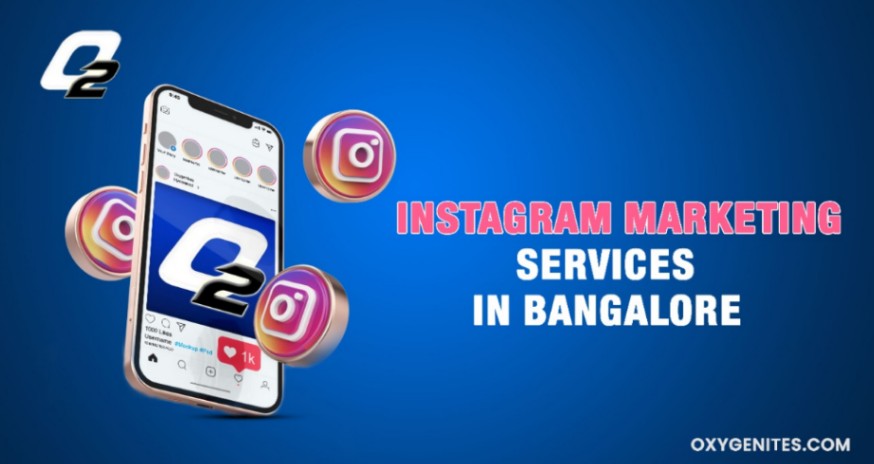 The number of Instagram users will grow to 1.6 billion, and 81% of them use it for liking pictures and checking out others' photos. Instagram is gaining popularity among businesses because it has a status and can satisfy the basic human need of the community. 

Users can use Instagram as a community to feel satisfied and have meaningful interaction in business. Embrace Networking You need networking on Instagram if you want to make contacts. 

We are Oxygen, a full-service Instagram marketing agency in Bangalore, India. Through creative and efficient Instagram marketing campaigns, we help businesses increase their online presence.

We help you promote your online presence, establish your products and services, and reach the right audiences.

We specialize in Instagram, but we also are experts in other platforms like Facebook and Pinterest and other social media channels.
Our Instagram Services
We will help you make your product or service stand out from the competition and reach your target audiences. We will help you get more followers and promote your services and products to increase your revenue.

Our services include hashtag research, content creation, account management, etc.
Instagram Listening
It can be challenging to find out what your customers are saying about your brand with over 1 billion users. Small marketing teams may find it difficult to search Instagram hashtags or read through user conversations.

Social media strategists can identify and assess what is said about you and your products. Your social media strategist can help you develop and nurture your customers according to your goals.
Instagram Content Development
As social media platforms evolve, so must the content that brands post on them. 

Instagram, for instance, is now a significant source of traffic for businesses. There are over 200,000,000 active users who share an average of 95 million videos and photos per day.

This number will only grow as Instagram rolls out new features like its Live Video option. 

We will use your Instagram marketing strategy to guide us in creating high-quality content for your business. We will create a content calendar that you can review and approve to ensure you are happy.
Instagram Ad Management
Instagram advertising uses a pay per click management. The bidding algorithm places your ads within the feeds and stories of Instagram users. 

Facebook Ad Manager can cut your audience into segments for precision campaigns. We help brands and agencies manage, monitor and optimize their Instagram ad campaigns with ease. 

You can oversee all your campaigns, measure their performance, and get insights that help you improve your results from one simple dashboard. 

With Oxygen, you can focus on what's important – creating great ads that reach your target audience and achieve your business goals.
Instagram Monitoring
Use the Instagram monitoring app for finding influential people on social media. You can also build a mutually-beneficial relationship with them. 

You can contact the influencer via their Instagram page or website, usually in the Instagram bio.

Our Instagram management services offer real-time monitoring. We monitor all Instagram activity, including direct messages and comments. 

Our Instagram marketing professionals will be monitoring your pages during regular business hours. They will respond to all activities that require attention in 24 hours.
Instagram Page Growth
In the era of social media, business owners are always looking for new and innovative ways to grow their Instagram pages. It can be dense to know where to begin. Here are some tips on how to do just that: 

Our experts can accelerate the growth of your Instagram account and blog. We will monitor your account activity and make sure to migrate your followers to your new tab so that you can have instant exposure. 

We can also link your Instagram account to your Facebook page or website so that you can have an integrated strategy. Press Release and Marketing Plan Creation: We can successfully launch your new product, engage your audience, and create interest in your business. 
Instagram Management Reporting
Instagram is an effective visual marketing tool that businesses can build brand awareness, drive engagement, and convert leads into customers. But, with so much activity on the platform, it can be hard to track and measure success. 

That's where social media management reporting comes in. You can identify areas of strength and weakness by analyzing Instagram data, making it easier to focus your efforts and improve results.

Each month you will receive an Instagram report showing your follower and engagement growth. 

Our Instagram marketing specialists will review your reports and make necessary adjustments to optimize your campaign. 

You will have access to our Instagram reporting platform 24/7. This software allows you to track the status and progress of your campaign.
How can you use Instagram for your business?
Leveraging the right audience is imperative to the success of any business, and Instagram has become the go-to place for social media for most. There are over 1.1 billion active users on Instagram today, and it has a ton of potential to reach beyond that. Here are some tips on how to do just that: 

1. Create a strong profile that showcases your brand. 

2. Post interesting, engaging content that people will want to share. 

3. Use hashtags to reach a wider audience. 

4. Run promotional campaigns on Instagram.

5. High-quality content is shared.

6. Highlights are a great way to highlight the best aspects of your business.

7. Be sure to pay attention to captions.

8. You can use Instagram Live continuously.

9. Increase your DM consumption.

10. Keep track of your analytics.
What are the benefits of using Instagram Marketing?
Benefits of using Instagram Marketing include increased brand awareness, increased customer retention, a stronger online presence, and increased revenue. 

Businesses of all sizes look to Instagram as a marketing tool to help them grow. With the help of Instagram Marketing Services in Bangalore, you can take your business to the next level. 

Thousands of new customers use social media to connect and engage with brands every day. Social media is a powerful tool to reach and retain customers.

When a social media manager has the right tools and can do the job, they can then focus on creating successful marketing campaigns.

You can capture the interest of your target audience with beautiful images, videos, texts and moments in your posts. 

With the help of Instagram, you can Personalize your content designed to stand out from the crowd. You can define your account to show a specific niche or brand with the right filters and tags. 

You can Create themes and share articles by topics to increase traffic. Manage your mailing lists and follow up with VIP friends, followers, and groups of followers. 
Why companies trust Oxygen for Instagram Marketing services in Bangalore
At Oxygen, we understand that Instagram is more than just a photo-sharing app. It offers a powerful platform for businesses to reach out to new customers and build relationships with current ones. 
Customized strategies
We believe in quality than quantity, so you can be assured that our marketing efforts will be tailored specifically to you and your company. 

We also utilize only the latest and most effective techniques, so you can ensure that your investment in Instagram marketing will pay off.
Advanced marketing technology
Oxygen offers some of the most advanced marketing technology in the industry, giving you an advantage in the competitive online landscape.

You can be sure that our social media services reach your targeted audience, no matter where they live.
Industry-leading experience
Our experts can help make the most of this potential with tailored Instagram marketing services to support your business goals.

Our experts are happy to help your business reach new heights and grow.
Proven results
See our clients succeed in every industry, even in highly competitive and saturated markets. We believe being first and offering the best service is better than being ahead. Therefore, we continue to innovate to help our clients reach their goals quicker than their competitors.

Please call us to learn more about our Instagram Marketing Services in Bangalore.