It is not the same thing as Product marketing. This marketing strategy promotes a product. Instead, performance marketing is a marketing strategy to build brand awareness and loyalty.

It involves establishing a trade-off between behavioural actions, measured outcomes, and marketing activities that return on investment (ROI).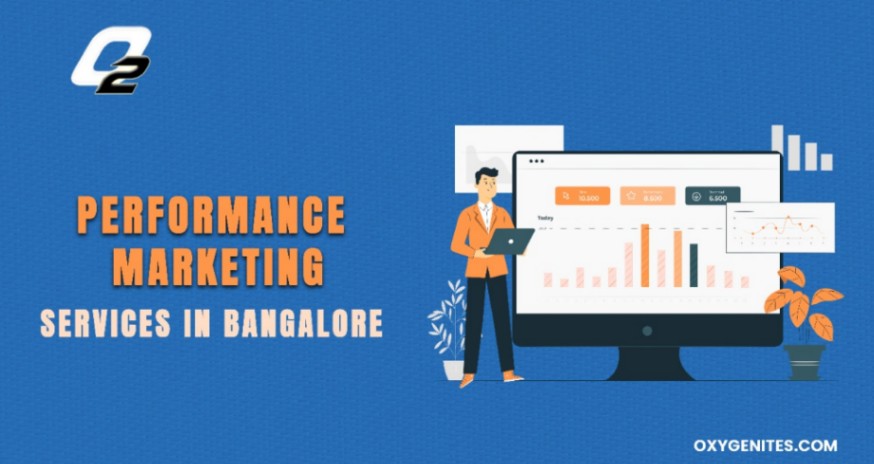 It combines the targeted traffic and the specific offer tailored to the customer's individual needs and interests. In short, it is an indirect form of advertising that is big on brand awareness and aims to build loyalty. 

Career options in performance marketing Industries that require skill and experience are advertising agencies, pharmaceutical and manufacturing companies, and large/small-scale manufacturers. 

If someone has enough expertise and experience with performance marketing, they can find a standard position in an advertising agency or industrial marketing. Internet marketers can join this industry, too, as minimal skills are required.

Oxygen is a performance marketing agency in Bangalore that helps brands and businesses in Bangalore achieve their marketing and sales goals. 

Search engine optimization (SEO), search engine marketing (SEM), web design and development, content marketing, social media marketing, etc. are our services.

Our experts are dedicated to helping our clients achieve their desired outcomes through innovative and effective marketing techniques.
Our Performance marketing services
Which channels are most effective for performance marketing? To drive traffic, there are five types of performance marketing that advertisers and agencies can use:

Our Performance marketing services in Bangalore come with a guarantee to help your business grow with Performance marketing solutions.

We will help you maximize your ROI by reaching your audience on the platforms that matter the most to them. 
Banner (Display) Ads
Banner (Display) Ads You have probably seen a lot of display ads lately if you have been browsing the internet. 

Your Facebook Newsfeed or any news site you have recently visited will display ads associated with each of these ads.

Even though display ads are gradually losing their appeal, experts say banner blindness is growing. 

Many companies continue to succeed with display ads that include interactive content, videos, and engaging graphic design. 

If you want to create a banner ad that will get noticed, write something important to your audience.

 Oxygen is a performance marketing company that operates globally. We supply web and mobile banner advertising through our ad networks and a partner network of premium publishers.

Our focus is on delivering high-quality traffic and conversions for our advertisers while ensuring a great user experience for our publishers.

We hope to be able to help you with your banner ads placement and content placement. We aim to do this while considering the role of your brand.
Native Advertising
Native advertising uses the natural appearance of a web page or website to promote sponsored content. Sponsored video might appear in the section "Watch Next" on a YouTube site. 

Native ads can also be found on e-commerce websites. Perhaps you have seen them on Facebook Marketplace. 

Native advertising works because your sponsored content can be seamlessly integrated with other organic content. 

It's common for users not to distinguish between these types of content. This allows you to promote your brand in natural ways.

Oxygen can help you reach people who are particularly interested in similar products or services to yours, or who are visiting your website.

And because our platform is built for performance, you can track and optimize your campaigns to get the most out of your investment.
Search Engine Optimization
SEO is the technique of positioning your website higher up on a search engine result page (SERP) to increase traffic. 

The goal is to rank on Google's first page for the search terms that matter most to your target audience.

We offer our clients comprehensive search engine optimization services to which your website will be optimized for maximum exposure on the web.

We provide affordable search engine optimization services for businesses of all sizes. Our objective is to get your site to an "A" or top position in the search engines. 

We are aware of the market challenges that small and medium-sized companies face today. Our SEO strategy is designed specifically to help your website rank well in search engines. Our goal is to make your business as competitive as possible.
Social Media Marketing
Social Media has many benefits for performance marketers. It provides the opportunity to reach users and drive them to your site. 

Users can also organically share your sponsored posts, expanding your reach beyond the original posting. 

Facebook has the most comprehensive service list for performance marketers. But, other platforms like LinkedIn and Instagram offer many options to reach new clients.

Our social media marketing agency operates in the performance marketing space. We work with clients to help them generate leads and sales from their social media campaigns. 

Our team is well-versed in social media and uses the most up-to-date tools and techniques to assist our clients in achieving their goals.

Whether you're looking to grow your Facebook page likes, get more website traffic, or generate leads and sales, we can help. 
Content Marketing
Content marketing is about educating your audience. Content marketing helps keep your audience connected to your brand and your product. It educates and informs them, and makes them feel like part of the group.

You also save money by building strong relationships with your audience. They will be more likely to identify with your brand and purchase your product.

Our content marketing agency helps performance marketers reach their audiences through compelling, data-driven content. 

Oxygen's team of journalists, designers, and researchers develop content that engages users and helps brands convert leads into customers. 
Why is performance marketing important for businesses?
When it comes to marketing, businesses have a lot of options. They can focus on building their brand, targeting specific demographics, or advertising their products and services through different mediums. 

However, one of the most essential – and often overlooked – aspects of marketing is performance marketing. 

Performance marketing uses data to track the results of specific marketing campaigns and then adjust those campaigns accordingly. 

In addition to brand strategy, marketers need to focus on signals, metrics, and KPIs (key performance indicators) their customers are taking in.

Maintaining a high level of customer retention is a key part of good performance marketing. The companies that develop the most effective retention campaigns have huge customer pipelines. 

Maintaining a certain amount of performance marketing services is crucial to sustaining business growth. Consider this important function of a business as a way to stand out in the market and beat the competition. 

Performance marketing must be successful, and businesses seeking to gain market share must be competitive and well versed in performance marketing methods.

Paid performance marketing encompasses search engine marketing (SEM), paid social media ads, and programmatic buying. 

Organic performance marketing comprises search engine optimization (SEO) and social media optimization (SMO). Because performance marketing drives conversions and ROI, it is an essential element of any B2B content marketing plan. 

Paid performance marketing is the best way to increase traffic as long as you are targeting the right keywords, and ROI is your purpose. 
How can Our performance marketing help your business in Bangalore?
Bangalore is one of the most important Indian cities, both in terms of its economy and its population. This makes it a key market for performance marketing.

Our company has extensive experience in this field, having worked with clients from various industries in Bangalore. We have the knowledge and the resources to help your business grow quickly and effectively. 

We can help you become visible to a larger segment of customers in Bangalore. The Bangalore and Karnataka markets are some of the most densely populated regions globally, and as such, the whole population is relatively "connected." 

If you are followed and opted in by a few of your customers, you are likely already being seen by the largest possible audience. 

As a result, we can help you reach your customers in Bangalore better and with fewer costs than other marketing mediums. We can optimize your advertising in the Bangalore market and help you get noticed by more customers. 

We partner with organizations to assist them in reaching their customers and prospects in the Bangalore market with the most effective tools available. Your role in the market is always that of deciding between the best option and the easiest option.

Contact us for more information about Performance marketing services in Bangalore.