Performance marketing is a type of advertising that uses web analytics, advertising anywhere to communicate with consumers.

It helps businesses make an impact on their marketing and promotions. Digital advertising has revolutionized the marketing industry, and traditional advertising is no longer the only way to create interest in a product or service.

Traditional advertising now often combines digital advertising methods to reach a wider audience more quickly. However, some businesses still find success by focusing on only one form of advertising at a time.

Additionally, performance marketing is more cost-effective because it targets specific customers with little or no chance of increasing the product's price.

Oxygen is a performance marketing services agency in Mumbai, India. We work with our clients to achieve their marketing and business goals through search engine optimization, paid search, social media marketing, and web analytics.

We keep ourselves updated on the latest trends and technologies in digital marketing so we can maximize our clients' online marketing campaigns.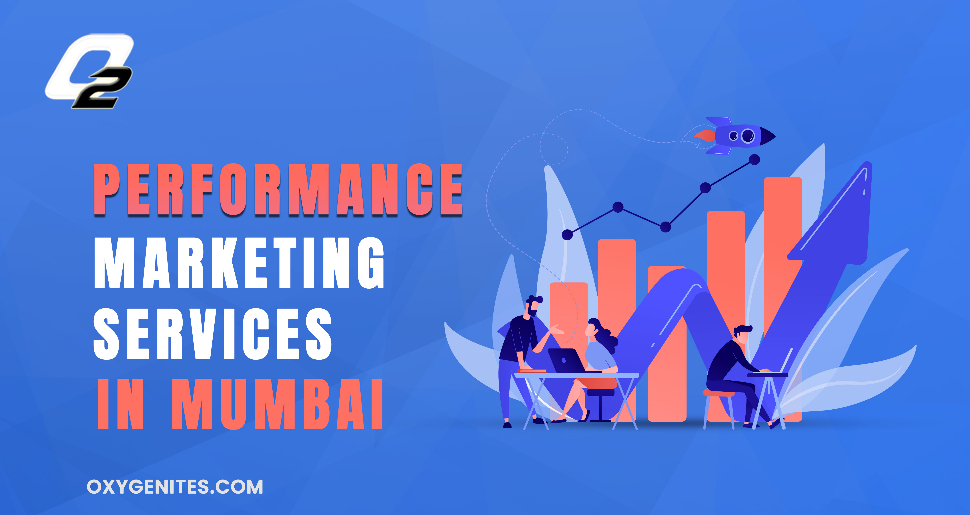 Our Performance Marketing Services
Having grown as a company, we're well-versed in helping brands drive qualified traffic and conversions through paid search, social media, and email marketing.

Our team is customized to understand your unique business needs and implement customized solutions that deliver results.

We use cutting-edge technology and data-driven insights to optimize your campaigns and exceed your growth goals.

So whether you're looking to increase leads, sales, or brand awareness, we've got you covered.
DIGITAL STRATEGY CREATION
Your business must have a comprehensive and effective digital marketing strategy to succeed in performance marketing.

This strategy should encompass all aspects of your online presence, including website design and development, search engine optimization (SEO), paid search engine marketing (PPC), email marketing, social media marketing, and conversion rate optimization (CRO).

A well-designed digital strategy can help you achieve desired business outcomes such as increased website traffic, higher conversion rates, and increased sales.

Oxygen creates digital strategies for performance-driven marketing.

We work with enterprising brands and businesses who want to achieve their objectives through the power of digital media.

Our services include lead generation, SEO, PPC, social media marketing, and web design & development.
LEAD GENERATION & SALES CAMPAIGNS
Performance marketing relies heavily on generating leads and executing sales campaigns. Often, businesses will invest in activities designed to attract new customers.

Once leads are generated, it's important to run successful sales campaigns to convert them into paying customers.

We help brands and agencies drive more leads and sales from their digital campaigns.

Our team has deep expertise in digital marketing, including display advertising, lead generation etc.
SEARCH ENGINE OPTIMIZATION
SEO is the process of optimizing a website for Google search to earn higher web traffic levels and improve the site's visibility.

The SEO component of performance marketing is an aspect of a marketing strategy that includes paid search, display advertising, and Social Media Marketing.

We provide a suite of SEO services to help businesses achieve their online goals.

We understand that every business is different, so we offer a range of solutions tailored to meet each client's specific needs.

Our professionals have years of experience in SEO, and we are dedicated to providing our clients with the highest quality service possible.
PAID MEDIA MANAGEMENT
A campaign's paid media management is one of the most important components, and it describes how to plan and execute a paid advertising campaign.

Business owners can increase conversions through paid media channels like search engines, social media platforms, and online advertising networks.

Oxygen builds, operates, and optimizes paid media programs for its clients.

We deliver scalable customer acquisition through paid search, social media, and retargeting channels.

Our focus on data-driven decision-making allows us to optimize program ROI for our clients.
SOCIAL MEDIA MARKETING
Social media marketing is now an inevitable part of any performance-based marketing campaign. There are billions of active social media users, and this number will only increase in the years to come.

It has become progressively important for businesses to establish a strong social media presence, connect with potential customers and promote their products or services.

Oxygen partners with brands and agencies to generate leads and sales through social media.

Our professionals drive measurable results through influencer marketing, paid media, and organic social campaigns.

Our motive is to help our clients build better businesses by maximizing their return on investment in social media.
Display advertising
Display advertising is a key part of the online marketing mix, allowing you to reach a large audience with your advertising message.

Performance marketing is used for online marketing that focuses on achieving specific goals, such as increasing sales or leads. When combined, these two channels can be extremely effective in achieving your business goals.

Oxygen will help performance marketers reach their target audiences across the web by building custom audience segments and targeting them with relevant ads.
Benefits of performance marketing
It is an advertising firm that focuses on driving users' specific actions, such as purchases or signing ups, rather than generating impressions or clicks.

Marketing styles can greatly benefit e-commerce companies as they can measure ROI (return on investment) for each dollar spent on advertising.

Instead of guessing which campaigns are working best, performance marketing helps business owners hone in on the tactics that deliver the most value.
Optimum Performance
After selecting performance marketing strategies for your business, you will gradually notice changes in your overall profit and increased business value.

Our Marketing automation tools can help your business save a great deal of time and money.
Measurable ROI
You can trace the precise performance of your ad campaigns through performance marketing reports.

These reports show you an accurate return on investment for your campaigns to adjust your spending accordingly.
Tweak strategies in real-time
The most successful performance marketing agencies in Mumbai offer you the ability to change your advertising strategies in real-time.

This allows you to constantly monitor your tools and methods to ensure the best possible experience for your users.
Affiliate strategies
The performance-based marketing strategy of using affiliates allows you to benefit from innovative affiliates' creativity and marketing tactics.

Our performance marketing experts will assist you by getting the best affiliates for your product or service.
Takeaway
Performance marketing services in Mumbai provide higher ROI but can be pricey. When choosing a performance partner, it is important to think about the goals, pricing, and audience.

Contact us for more information about Performance marketing services in Mumbai.