Link Copied Successfully
Paid search ads are a wonderful way of growing your business and increasing your brand awareness. People search the Internet, they'll see your ads on search engine results pages (SERPs).

Oxygen is a PPC agency in Hyderabad that helps you maximize your digital spending. We provide digital marketing services and help you grow your business by targeting the right audience.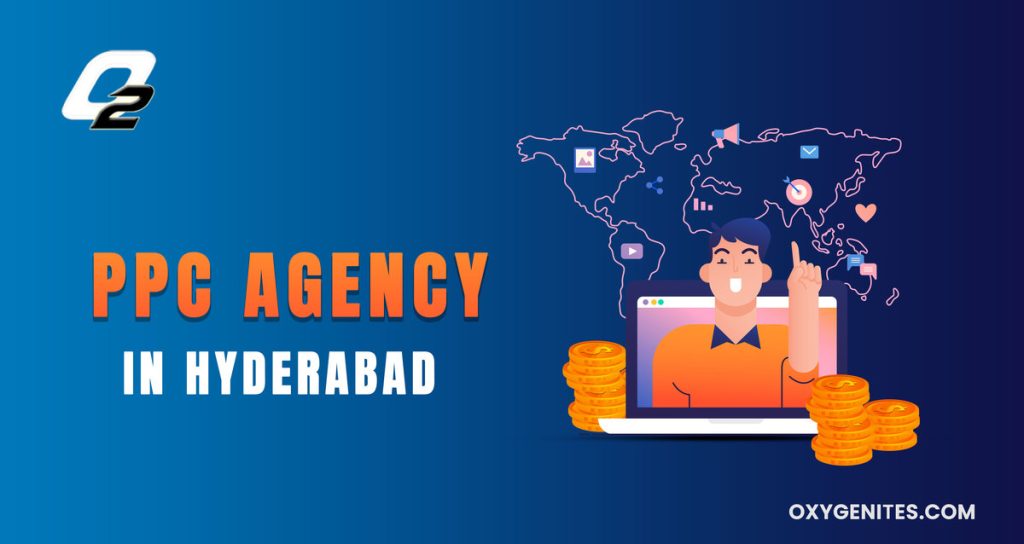 What Pay Per Click means, and How It Works?
Pay per click is a type of internet advertising that enables companies to promote their business on the Internet. It is one of the largest and most unique varieties of online advertising.

And it can be used for along with seeking engine optimization, social media advertising, and different online advertising strategies…

PPC has many advantages over its rival services and is one of the most effective ways to market online.

PPC can help you connect with the right customers who are actively looking for your products or services at the proper time and place.

Each time their ad clicked, the business promoting it pays the publisher (typically a website owner).

Online advertising is a great way to reach potential customers, as businesses only have to pay when someone clicks on their ad.

Compared to other online marketing methods, such as cost-per-thousand impressions (CPM), this type of advertising is often seen as less risky.

Oxygen is a PPC (pay-per-click) advertising agency in Hyderabad, Telangana. The Oxygen team of experienced and highly skilled digital marketing professionals uses the latest tools, technologies and strategies to achieve your goals.

We offer our customers an ongoing foundation to create compelling online campaigns. That assists them in attaining their audience at the proper time & place.

Many businesses have benefited from our years of experience in this industry by generating high-quality leads via PPC campaigns. We use advanced SEO tools to deliver visible results from day one.
How many types of PPC Ads?
A few different PPC ads can be broadly classifieds into two categories: search and display.

Generally speaking, search engine ads are triggered when someone types in a specific keyword or phrase on a search engine like Google. Display network ads, meanwhile, show up on websites.

Within these categories, there are also several different types of ads. For example, there are three main ads within the search category: sponsored links, expanded text ads, and products.

Here are some different types of ads and their advantages.
Search Ads
Search advertising is a form of online advertising that allows businesses to place ads on search engines like Google, Yahoo, and Bing. Your ad might be one of the top results when someone searches for keywords related to your business.

Search engine ads (SEA) may often be an afterthought in the digital marketing mix.

Focus on Intent Marketing: As a result, many advertisers miss outs on a huge opportunity to better their Intent Marketing with their target customers.

Today, most people use search engines as their first stop when they want to buy something or need information.

Mobile advertising: Google search ads are a form of mobile advertising that appears as text-based links at the top of mobile search results.

Advertisers can bid on ad placements for specific keywords, and the ads are displayed automatically to users who have tapped into them.

Google's search engine with those keywords. Advertisers only pay when users tap on their ad and take to the advertiser's website or app.
Display Ads
Display ads are one of the former and most common forms of online advertising. Typically, they appear as banner ads or pop-ups and are intended to generate clicks or impressions from users.

Display advertising can achieve various marketing objectives, such as increasing brand awareness, generating leads, or driving sales. As a result, it is important and necessary to plan and test carefully.

Visual – You can use visuals or rich media to grab your audience's attention.

Awareness – You can increase awareness by promoting your products and services and building brand awareness. …

Targeted – There are some targeting options that search marketing doesn't offer.
Social Ads
As social media platforms have become progressively popular, advertisers have flocked to these channels to promote their products and services.

The most effective way to do so, has been founded, that through social ads. Unlike traditional advertising methods, social ads allow advertisers to target their audience through demographic information and interests specifically.

Social ads can also give businesses insight into how people react to their ads, whether they are being ignored or engaging with them.

This improves brand awareness. …

Allows you to reach a targeted audience. …

Drives Quality Traffic …

Foot Traffic Increased …

Increases Content Visibility …

Marketing costs are lower …

Better Brand Recall …

Conversion rates rise.
Remarketing Ads
Retargeting is a great way for small businesses to recapture lost business and boost conversion rates. It reminds customers of the products they are interested in and encourages them to complete a purchase.

Remarketing ads are delivered by companies to target customers who have demonstrated interest in your product or service.

Retargeting is a great way for small businesses to recapture lost business and boost conversion rates.

It reminds customers of the products they are interested in and encourages them to complete a purchase.

Remarketing is cost-effective.

Remarketing can help keep you connected with your audience.

It offers higher ROI (Return-on-Investment)

Remarketing allows you to increase your ad relevance.

It will help you reach a targeted audience.

It helps customers remember the brand.
Google Shopping Ads
Google Shopping Ads is a cost-effective way to get your product in front of buyers as they search for items on Google.

As the name suggests, these ads appear as part of the Google Shopping results. There are a few advantages of a Shopping Ads campaign:

Google Shopping Ads will boost your CTR. They locate together the top and side of Google's search results page. …

Reach customers at all stages of the purchasing process:

You may appear multiple times in the search engine:

Higher quality leads

Increase your site's traffic
In-stream Ads
In-stream advertisements are video and image ads which play before, after or during your videos. These ads can help you to make money on Facebook.

Creator Studio allows you to manage in-stream advertisements. You can place ads in particular videos or enable in-stream ads to all videos on your Facebook page.

Introduces a brand-new product on the market

Expansion of the market

Sales growth

Fights Competition

Enhances good-will

Informs consumers

Elimination and replacement of middlemen

Higher quality products
Gmail Sponsored Promotions (GSP)
GSP is an ad type that appears only in a personal Gmail box (it doesn't show up in Google Business apps email boxes). It can set up the promotions tab. The ad includes two creative elements, a teaser ad and an expanded unit.

GSP ads provide more flexibility than traditional Display advertisements. They have also been proven to be as efficient or better than regular Display ads.
Local Services Ads
Local Services ads can help you reach people searching Google for the services you provide. Your ads display to customers in your region, and you only have to pay if a customer contacts them directly via the ad.

Local Services ads are more visible and get more clicks. …

Local Services ads allow you to only pay for qualified leads. …

Your Local Services ads can be targets exactly to where they are displayed. …

LSAs allow for cost transparency by displaying the cost per lead.
Amazon PPC Ads
Amazon Pay-per-Click (or pay-per-click) is an ad-hoc auction-style system where advertisers place bids on keywords. Amazon customers will search for products and bid on the best keywords.

It helps to rank product listings higher on Amazon SERPs.

This allows products to be seen by a larger audience.

It puts the products at the top of the page and not below them.
Pay Per Click (PPC) Marketing
PPC stands for "pay-per-click. This internet advertising model requires that advertisers pay a fee when an ad is clicked.

It is a technique of purchasing visits or staying with your website rather than trying to "earn" them organically. PPC via search engine advertising is a popular form of PPC.
How Does PPC Marketing Work?
A PPC bid, or keyword bid for marketing, is. It's a bid made in a pay-per-click auction to secure a top position in search results.

Online businesses can bid on keywords and keyword groups to get ad space for key terms relevant to their business.
PPC Marketing Services
Our PPC marketing Services in Hyderabad have been a great experience. Our team is very professional, and they have great knowledge of the industry.

Oxygen is the best PPC service in Hyderabad. We make it easy and simple to advertise on search engines, social media, display, mobile, etc.

We furnish our clients with a varied range of advertising services, including search engine marketing, social media marketing, remarketing ads, etc.
Pay-per-click advertising
We provide the best PPC Advertising services in Hyderabad by giving campaign targeting options for both broad-based and niche search terms.

Our PPC experts and professionals were sure that your ads were shown to the right people at the right time.
PPC Advertising Google
Google Ads is the most popular and well-known Pay Per Click advertising service, and it's also one of the most effective ones available.

We are PPC experts who have been working on Google Ads, Bing Ads, Facebook and Instagram ads. We use these platforms to drive traffic and sales to our clients' online stores.
Display advertising
Our DISPLAY-ADVERTISING experts help you get your brand noticed through our high-impact banners across high-traffic websites. We have various package service options to choose from, so you get just what you need for your budget.
Mobile advertising
We make it simple for you to advertise on Mobile Ads through various channels, including app installs and in-app ads. With tailor-made packages that suit the needs of different businesses, we'll help your business grow!
Search Engine advertising
We are a Search Engine Advertising company based in Hyderabad. In the early days of the Internet, search engines were the only way to find information or companies.

Search engine advertising allows you to get your business seen by your potential customers with ease and comfort.
Social Media Advertising
Targeted at an interest-based audience, Social Media Advertising is an US$ 8.4 billion market and growing.

We work with companies of all categories and help them reach their target audience on Google, Bing and Yahoo search engines.

We also build and supervise PPC campaigns for clients running on Facebook, Twitter, LinkedIn and other social media networks.
Why does PPC Marketing Works For Your Business?
PPC is a powerful tool that can help you reach many business and marketing goals. These goals can range from brand awareness and thought leadership to hot lead submissions or e-commerce sales.

Almost any kind of conversion goal can easily be tracked. PPC can be used to align website traffic drivers with end goals.

PPC can be a great tool for companies that want to quickly generate income or take advantage of short marketing windows (such as a holiday).

Product launches, seasonal sales etc.). PPC is crucial for broad advertising strategies. It is the central part of a longer-term and long-term digital marketing plan.
Why oxygen's PPC Services Are Better Than the Rest
We're experts in online marketing and advertising with 10+ years of experience. We always know what's best for your company!

Our years of experience and occurrence in this field mean that we are well-equipped to manage a successful campaign for you.
Increase traffic with PPC advertising
We are one of the experts in search engine optimization and Google Ads campaigns (PPC). It's our mission to make sure that your company is finding success online via our strategic placement of keywords.

Our team of Google Ads Certified Professionals and Experienced PPC Management Companies. We have been working as a PPC Agency in Hyderabad for Years. We provide you with all types of Services which we have mentioned.
What do we offer?
We offer SMEs high-quality, affordable, and reliable paid search campaign management services. Reaching out to a customer base with ease has never been easier.

We offer professional advice and consultation to suit your budget and business needs.

– Provide expert guidance on generating higher ROI for your business with the best strategies, methods, and techniques.

We Help You to Improve Your Quality Score and Generate More Online Revenue
Increase customer-focused spending to grow your business
PPC marketing is all about putting your money where it matters. Our experts will help you identify which customers are most likely to purchase your product or service and invest in them, boosting your ROI.

We will provide 24/7 customer support to always find help when you need it most.

– Guarantee transparent pricing with no hidden costs or fees so that you can budget effectively for your campaign
We are reaching customers at the right time, at the right place.
The oxygen team has a deep understanding of customer behaviour and what it takes to create successful campaigns. We offer a PPS advertising strategy that spotlights your brand and gets you conversions.
Our team of experts helps you grow and develop your business.
Whether you want to increase traffic to your website or optimize your search engine ranking, we have the expertise to achieve these goals. Our team has the tools – and we have the experience – to help your business grow.

We offer Search Engine Marketing and Pay Per Click Services to brands across the globe through our network of offices spreads across India,

We will offer our clients a quality product as a company specializing in PPC services. This means providing them with the right keywords for their business,

They were creating high-quality landing pages and appealing ads with captivating text and images. And optimizing their accounts for conversions.

These need to be done promptly to provide value to your clients and ensure a steady flow of leads.
Boost Your Brand Recognition and Scale-Up Quickly
Scaling up your business is hard enough – but it's even more difficult when you're not generating the right traffic. That's where we come in.

Oxygen is a full-service PPC agency in Hyderabad that can help you get the right visitors to your site quickly and efficiently.

We have the experience and proficiency to help you boost your brand recognition and scale up quickly, regardless of your industry or size.
Pay Per Click FAQs
Are people clicking on PPC ads online?
Pay-per-click advertising is one of the important and most common, and effective online marketing practices.

It's a form of advertising where an advertiser pays a publisher (typically a website owner) for each time someone clicks on an ad.

Many business owners and marketers still question whether people click on PPC ads despite this effectiveness.

Recent studies have shown that over 50% of people click on Google Ads when exploring purchase decisions. This number is even higher when the product being searched for is expensive, or the purchase is time-sensitive.
Where will my PPC ads be displayed?
PPC ads may appear on multiple platforms. These include the following:

Google Search Network: When someone searches using keywords related to yours.

Their ad might appear right next to the organic search results.

Google Display Network: You can have your ad placed on a network of sites all over the web as display ads.

Google Partner Network: Some examples include AOL, Amazon and NY Times.
What is Search Engine Marketing?
Search engine marketing (SEM) is a form of internet marketing that involves paid advertising on search engines.

SEM helps businesses reach potential customers searching for products or services related to the company.

Businesses can target more people by placing ads on search engine result pages (SERP). This results in a higher return on investment (ROI).
Why is SEM Important in Digital Marketing?
When it comes to digital marketing, SEM is one of the most effective ways to reach consumers. Search engine marketing is an acronym that stands for search engine optimization. It refers to using different online channels to drive visitors to a website.

These channels can include search engines like Google, social media platforms like Facebook, and advertising networks like Yahoo! or Bing Ads.
What does keyword bidding mean?
Keyword bidding means determining which keywords are most relevant to your business's offerings. To place your ads in search results, you will need to bid.

After a term that includes one of your keywords has been searched for, bid amounts are reviewed.

Only the highest bidders will be able to rank for the best positions within the search result.
Statistics of Pay Per click
65% of customers click on PPC ads

54% of advertising expenditures will be online

Google AdWords' average cost per click across all industries is $2.69

More than 50% of all ad clicks occur on mobile devices.

With over 2,000,000 websites, the Google Display Network leads PPC.

Google AdWords and Facebook are the most used PPC platforms.

SocialMediaToday reports that more than 7,000,000 advertisers have invested $10.1 billion in PPC ads.
Final words
PPC advertising works well for fast-moving consumer goods, where the success of campaigns can be measured in weeks rather than months. It is also more suited to companies with smaller budgets.

PPC services are a great way to get the word out about your business. If you need PPC services, we're here to help.

We can handle keyword research and campaign creation ad copywriting, and management. And Our team has many PPC professional experts available in the market.

Who will help you bring your business to the top of search engine rankings by providing cost-effective and complete solutions? We have a decade of experience working with local businesses and getting them the results they deserve.

PPC Services in Hyderabad are very helpful in getting your business online. We help you make your brand popular and increase leads.