We are leading PPC Agency In Hyderabad that has been optimizing your clicks into Sales.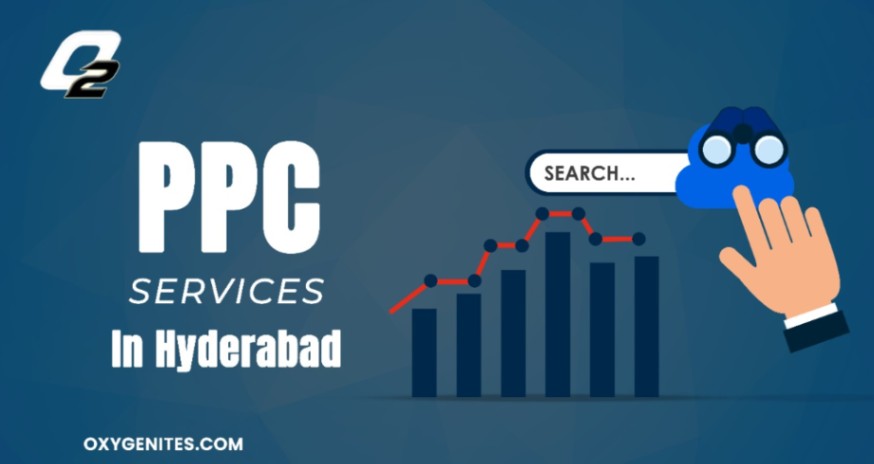 Paid search ads are a wonderful way of growing your business and increasing your brand awareness. When people search the Internet, they'll see your ads on search engine results pages (SERPs). Our PPC Agency in Hyderabad is Capable of Delivering awesome results for your business.

PPC is an online advertising model that requires advertisers to pay a fee for each ad click.

Marketers create ads and then place bids on search phrases in the online auction. It allows them to display their ads on search engine results pages.

It charges a small fee for each click of an ad, which sends the visitor to the landing page or website.

It's a targeted way to buy website visits that could lead to conversions.

Advertisers can bid to be placed in sponsored links on search engines when people search for keywords related to their business offerings.

Oxygen is a PPC agency in Hyderabad that helps you maximize your digital spending. We provide digital marketing services and help you grow your business by targeting the right audience.

Oxygen is a PPC (pay-per-click) advertising agency in Hyderabad, Telangana. Oxygen team of experienced and highly skilled digital marketing professionals uses the latest tools, technologies and strategies to achieve your goals. 

We offer our customers an ongoing foundation to create compelling online campaigns.

That assists them in attaining their audience at the proper time & place.
Why Pay Per Click?
Pay per click is a type of internet advertising that enables companies to promote their business on the Internet. It is one of the maximum unique place varieties of online advertising.

And it is able to be used along with seeking engine optimization, social media advertising, and different online advertising strategies…

PPC has many advantages over its rival services and is one of the most effective ways to market online. PPC can help you connect with the right customers who are actively looking for your products or services at the proper time and place. 

With our years of experience in this field, we have helped numerous businesses generate high-quality leads through PPC campaigns. We use advanced SEO tools to deliver visible results from day one.
What we do:
Setup Google Ads and Facebook campaigns for new or existing clients
We will Set up retargeting campaigns on Facebook and Google
Optimize existing PPC accounts by increasing Quality Score, reducing cost.
Our PPC Services
Our PPC Services in Hyderabad has been a great experience. Our team is very professional, and they have great knowledge of the industry. 

The best PPC services in Hyderabad. We make it easy and simple to advertise on search engines, social media, display, mobile and more.

We offer our clients a varied range of advertising services, including search engine marketing, social media marketing, remarketing ads, and more.
Pay-per-click advertising
We provide the best PPC Advertising services in Hyderabad by giving campaign targeting options for both broad-based or niche search terms. 

Our PPC experts ensure that your ads are shown to the right people at the right time.
PPC Advertising Google
Google Ads is the most popular and well-known Pay Per Click advertising service, and it's also one of the most effective ones available.

We are PPC experts who have been working on Google Ads, Bing Ads, Facebook and Instagram ads. We use these platforms to drive traffic and sales to our clients' online stores.
Display advertising
Our DISPLAY-ADVERTISING experts help you get your brand noticed through our high-impact banners across high-traffic websites. We have various package service options to choose from, so you get just what you need for your budget.
Mobile advertising
We make it simple for you to advertise on Mobile Ads through an array of channels, including app installs and in-app ads. With tailor-made packages that suit the needs of different businesses, we'll help your business grow!
Search Engine advertising
We are a Search Engine Advertising company based in Hyderabad. In the early days of the Internet, search engines were the only way to find information or companies. Search engine advertising allows you to get your business seen by your potential customers with ease and comfort.
Social Media Advertising
Targeted on an interest-based audience, Social Media Advertising is an US$ 8.4 billion market and growing.

We work with companies of all categories and help them reach their target audience on Google, Bing and Yahoo search engines. We also build and manage PPC campaigns for clients running on Facebook, Twitter, LinkedIn and other social media networks.
Why choose us?
We're experts in online marketing and advertising with 10+ years of experience under our belt. We always know what's best for your company!

We have years of experience in the industry and know how to run a successful campaign for your business.
Increase traffic with PPC advertising
We are one of the experts in search engine optimization and Google Ads campaigns (PPC). It's our mission to make sure that your company is finding success online via our strategic placement of keywords.

Our team of Google Ads Certified Professionals and Experienced PPC Management Companies. We have been working as a PPC Agency for Years. We provide you with all types of Services which we have mentioned.
What do we offer?
We offer SMEs high-quality, affordable, and reliable paid search campaign management services. Reaching out to a customer base with ease has never been easier.
We offer professional advice and consultation to suit your budget and business needs.
– Provide expert guidance on generating higher ROI for your business with the best strategies, methods, and techniques.
We will provide 24/7 customer support always to find help when you need it most.
– Guarantee transparent pricing with no hidden costs or fees, so you can budget effectively for your campaign
Our team of experts can help you grow your business.
Whether you want to increase traffic to your website or optimize your search engine ranking, we have the expertise to achieve these goals. Our team has the tools – and we have the experience – to help your business grow.

We offer Search Engine Marketing and Pay Per Click Services to brands across the globe through our network of offices spreads across India,

As a company specializing in PPC services, we will offer our clients a quality product. This means providing them with the right keywords for their business,

And developing high-quality landing pages, creating attractive ads with compelling text and images and ensuring that their accounts are properly optimized for conversions.

All of these needs to be done promptly to provide value to your clients and ensure a steady flow of leads.
Statistics of Pay Per click
65% of customers click on PPC ads

54% of advertising expenditures will be online 

Google AdWords' average cost per click across all industries is $2.69
 More than 50% of all ad clicks occur on mobile devices.
With over 2,000,000 websites, the Google Display Network leads PPC.

Google AdWords and Facebook are the most used PPC platforms.

SocialMediaToday reports that more than 7,000,000 advertisers have invested $10.1 billion in PPC ads.
Final words
PPC advertising works well for fast-moving consumer goods, where the success of campaigns can be measured in weeks rather than months. It is also more suited to companies with smaller budgets.

PPC services are a great way to get the word out about your business. If you need PPC services, we're here to help.

We can handle keyword research and campaign creation to ad copywriting and management. And Our team have many PPC professional experts available in the market

Who will help you bring your business to the top of search engine rankings by providing cost-effective and complete solutions? We have a decade of experience working with local businesses and getting them the results they deserve.

Our PPC Agency in Hyderabad is very helpful to get your business online. We help you make your brand popular and increase leads.