Link Copied Successfully
Choose the Best PR Service In Hyderabad
We are one of the leading PR agencies in Hyderabad that will help you to secure amazing Branding On the Internet from useful sources. Our PR service in Hyderabad is the best on the internet.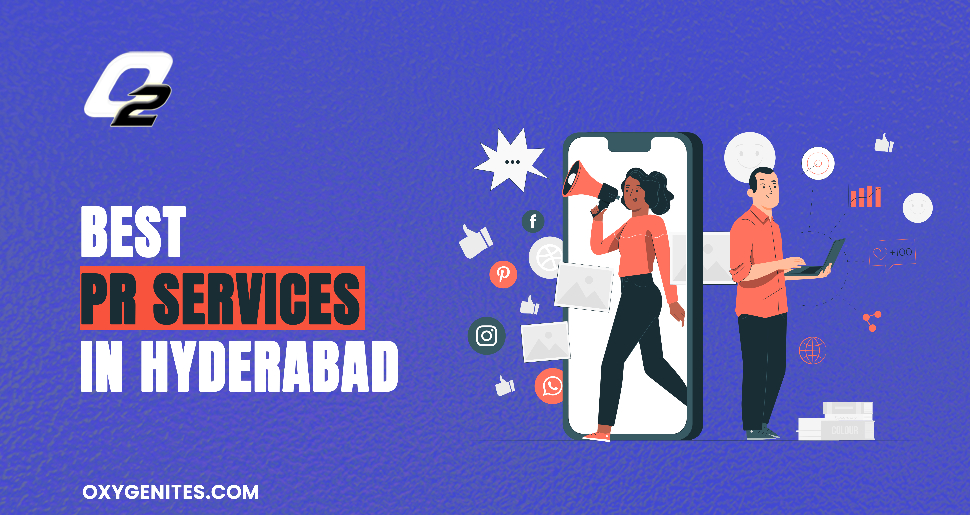 The most important thing to do is find the right PR agency with the experience and expertise to help you reach your goals. How do you know which one is the best choice with dozens of PR services in Hyderabad?

We're a full-service agency.

We offer a wide range of services that can be utilized to meet any PR need. Including but not limited to press release writing, media outreach, social media management, crisis communications, event management and more.
What does a PR firm do?
Public relations (PR) manages the spread of information between an organization and the public. It is the practice of creating a relationship with the public and managing communication through various channels. PR services can be extremely valuable for businesses of all sizes. It is the practice of creating a positive image for a company or individual in the eyes of the public. Many PR services can help your business with various aspects of communication.

PR campaigns are not just created by us, they are built on creative and skillful storytelling to engage your audience and begin a conversation. Media coverage is never meant to sit on a page that looks pretty.

The focus of our work is creating memorable memories of genuine consumer interest that foster profitable conversations. It builds awareness, appeal, and favourability for the brand.

We identify social causes and partnerships that work with brand purposes, and together with stakeholders and influencers, we assist with cause-related programs. Social education and awareness campaigns were supported by us to reinforce brand DNA in favour of fostering trust and brand value.

PR Service In Hyderabad we offer you have many benefits you can't deny using our service.
Some of the most common services include Media Relations.
It involves working with journalists and editors to get your company or client mentioned in news articles, crisis communication. It helps you respond to and manage.

Many different PR firms are available, so it can be difficult to determine which one is right for your business. It is very important to do your analysis and ask questions before deciding.

Most of the PR agencies in Hyderabad offer different services. It is essential to find the right PR agency to help you with your specific needs. Some of the best PR services in Hyderabad include:

1. Crisis management

2. media relations

3. social media marketing

4. online reputation management

5. event management

6. Outreach

7. Internal copywriting.
1. Crisis Management :
When a business is having a crisis, they need to manage their reputation and the situations that affect their reputation—PR firms in Hyderabad.
2. Media Relations :
It is important to have a journalist covering your every move. Most PR firms in Hyderabad have a very good media relations team. They can talk to. There are many ways to build your company's reputation and get your name out there – one of them is through the media. PR firms can help manage the relationship between your company and the media. Tactics include pitching journalists and influencers to get mentions in industry news and increase media coverage.
3. Social Media Marketing :
There are different ways that PR agencies can build your brand on social media. Some of the major ones are content marketing. Maintaining your social media accounts is important for reputation management. It's a great way to communicate with your audience and build your brand. It would benefit if you also considered engaging with influencers in your niche on social media.
4. Online Reputation Management:
Public relations firms offer a wide range of services, one of which is reputation management.

We will be creating and sending email newsletters, messaging on website copy and blog content, managing social media accounts. Responding to reviews, and engaging with followers is vital.

Maintaining a positive reputation is essential for any business. Online reviews can assemble or break a company, and one negative review can spiral out of control. The best manner to manage your reputation is by observing online reviews and responding to them quickly and professionally. You can also create a crisis management plan in case of a disaster. By being proactive about your reputation, you can ensure that your business thrives online.

Track Your Social Media Activity Monitoring your social media activity is essential to managing your reputation online. You want to make sure.
5. Event Management:
Planning, production or exhibit design What are you going to do with your next vacation? How are you going to run your business? Event planning can be great marketing and public relations tactic to help promote your brand, product, or service. If your company hosts events to improve your brand image, you might work with a PR agency. A PR agency can help communicate with key stakeholders and the public, get media coverage for your event, and plan everything out.
6. Outreach:
How are you proceeding to reach out to the public about your event? It's a popular tactic for event planners, and there are usually many of these, including social media.

Consider working with a PR agency. If you want to ensure that your company is visible in your niche's community also including at trade shows and events.

PR firms use outreach to build brand reputation and increase brand awareness.
7. Internal copywriting:
Internal copywriting is a key public relations tactic that PR agencies use to communicate with employees. Employees are a vital stakeholder and public of your company, so it's crucial to manage that relationship effectively. You might need to share with them frequently to discuss major changes, build morale, or celebrate successes. An internal copywriter helps staff articulate and express what your company is about, boost sales and reach more employees. You might also reach out to current.

An internal copywriter helps staff articulate and express what your company is about, boost sales and reach more employees. You might also reach out to current.
Our Objectives
Our goal is to make your PR(public relations) strong. Reviewing your company's PR strategy, frame, position, and brand image will take some time and care. The final results will make your company popular with the audience by improving its PR performance. We will also help your company make a successful story for its audience. Our services promote staffs and managers to learn about the advantages and the process of PR.
Our Success Story
Boost your PR results by getting PRs for your business and growing your online presence. Once you've accomplished this, you can concentrate your time and energy on what you do best, which is running your business.
What makes us unique
Companies want to create their public image and make a difference in the market, and it requires a lot of money, resources, and effort. The key to the success of any company lies in how they manage and execute their PR. Having visibility is a key component of success, which comes in all forms. Research has found that good PR leads to increased shareholder outcomes, leading to a successful business.
Why choose Oxygen PR?
We have delivered successful campaigns for our clients for close to a decade. We employ a team of talented professionals with over 10 years of combined experience in all facets of marketing communications.

Oxygen is Hyderabad's best PR Services company. We provide creative and innovative public relations solutions for businesses of all sizes.

Our services include media relations, brand development, crisis management, social media marketing, and more. We are a group of skilled professionals passionate about helping our clients achieve their desired results. We believe in providing attentive and personal service, and we work tirelessly to exceed our clients' expectations.
Takeaway
We are turning potential clients into sales and leads–successful public relations: always a challenge. Press Release India is here to make the journey easier and simpler. With over ten years of experience in successful public relations. OXYGEN has the knowledge and expertise required to generate leads, increase sales, and make the PR process more effective and successful.

We are the best PR agency in Hyderabad. We want to help brands get results with their PR campaigns. Please find out more additional about our services and why we're the best choice.
Best people, best service
At Oxygen PR, we have the most talented team of people who work hard to deliver the best service possible for our clients. 

This blog is all about finding the best PR services in Hyderabad.

You came to the right place for a reliable and experienced PR agency to promote your business in Hyderabad.

We are one of the top list PR firms in Hyderabad.

Thank you for choosing our blog, and we hope you find the perfect PR agency to help you reach your business goals. 

We do also provide SEO services in Hyderabad. You can contact us about that.