Oxygen is a product marketing Services in Hyderabad, India. We offer a range of services including product strategy, market research, business planning, product marketing, user experience design, and web development.

Marketing is an activity by which a product or service is introduced and promoted to potential customers. It helps create customers demand for products or services, and the marketing effort often continues even after the Product is launched.

We are a well-known SMM company in Hyderabad to improve your overall performance and conversions.

The purpose of marketing is to increase the sales and profits of a company. In this competitive world, it has become essential for businesses to focus on their marketing strategies to stay ahead of their competitors.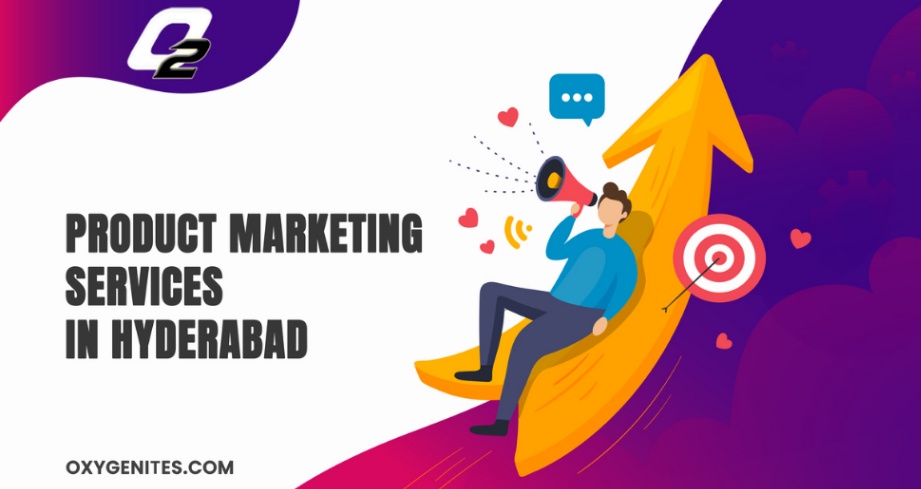 We provide marketing services to help you create and implement successful product marketing campaigns.

Our team has extensive experience in product marketing, and we know how to help you get the most out of your products.
What is product marketing?
A product is more than just an item sold to a customer. A product has a story to tell, and it is the job of product marketing to make sure that story is heard. Product marketing is creating and managing the marketing mix for a product or service.

This includes developing the branding, pricing, and promotion strategies that will ultimately increase sales. It can be a challenging role, but it is also one of the most important in ensuring a company's success.

The first thing to understand about product marketing is that it's not the same as marketing a product. While marketing targets on advertising and PR, product marketing has a broader scope that includes market research, positioning, pricing, and even packaging.

Create a unique selling proposition for a product and then communicate that to current and potential customers. It's about understanding what a product is, what it does, and why someone should want it. In essence, it's about creating a desire for a product.
Importance of product marketing services
There are many important aspects to a successful business, but product marketing is often overlooked. A product that people love and needs are key to a successful business. Then, market it in the best way possible.

This is where product marketing services come in. They help businesses identify their target audience, create a marketing strategy, and execute that strategy to reach as many potential customers as possible.

The quality and efficacy of products are key factors in a company's success. Businesses must focus on product marketing to be competitive in an ever-growing market.

Product marketing is creating awareness and demand for a product or service through various channels such as advertising and public relations.

It is an essential part of a company's overall marketing strategy. It helps define the Product or service, set it apart from others in the market, and create customers interest.

Effectively promoting a product is essential to its success in the market. A good product marketing strategy will identify and target the right customers, create excitement around the Product, and generate demand.

Oxygen is a marketing services company that helps innovative technology and consumer product companies grow and succeed.
We provide a complete, integrated range of services to help companies tell their stories, reach their target markets and grow their businesses.
Our Product Marketing Services
We provide a suite of product marketing services to help companies launch and grow their products at our company.

We offer market research, positioning and messaging, branding, website design and development, lead generation and conversion optimization, and public relations. Our experienced team is committed to helping clients achieve their goals.
Product Launch strategy & planning
Launching a new product is no easy task. For a successful product launch to succeed, it takes hard work, dedication and planning. Several steps need to ensure that your product launch goes off without a hitch. The steps need to be taken to plan and execute a successful product launch.

Oxygen is a product strategy and planning consultancy. We build better products through better planning. We help startups, enterprises, and government organizations design and execute product strategies, roadmaps, and launch plans to succeed in the market.
Content Marketing
Content marketing is one of the most effective and efficient ways to retain consumer and attract new ones. By creating and distributing valuable content, businesses can capture the attention of their target audiences, establishing trust and credibility in the process.

Ultimately, this helps to foster long-term relationships with customers, leading to increased sales and profits.

We believe that great content is the key to success in today's digital world, and we're passionate about helping our clients create it.

Our services will help you achieve your marketing goals, including strategy and planning through execution and optimization.
Social media marketing
Social media marketing offers many benefits. It allows you to build relationships with your customers and followers, but it also helps create brand awareness, increase sales and drive website traffic.

Your SMM campaign's effectiveness will be maximized if you have a strategy that matches your business goals and targets. You must also allocate the resources necessary to create high-quality, engaging content for your followers to attract new ones.

Oxygen is an SMM agency that helps businesses grow their brands and reach new audiences online. We offer all kinds of services, from content marketing, web design development and social media management.
Demand Generation
Demand generation is creating or identifying potential customers and persuading them to buy products or services.

Through digital marketing techniques, a company can generate leads, which are people who have expressed some level of interest in a product or service.

Demand generation differs from lead generation. Marketing by demand generation addresses brand awareness and encourages customers to buy or use products or services when they aren't actively searching for them.

We have a proven track record in helping our clients achieve their goals through an integrated approach that leverages marketing automation, lead management, search engine optimization (SEO), pay-per-click (PPC), lead generation websites, content marketing and email marketing.
Website Design & Development
Creating an effective website is a delicate balancing act. You need to make sure that it looks good and functions well while also optimizing for search engines and ranking high in relevant results.

Additionally, you will need to ensure that your website is responsive to looks good on all devices.

Oxygen is a web designing and development service provider specializing in creating beautiful, effective websites for small businesses.

We believe that every small company should have representing its brand accurately. And we are passionate about helping them do that.
UI/UX Design & Development Services
UI/UX design and development has become a pivotal part of any mobile project. By focusing on the user's interaction with the Product, good UI/UX design can enhance the user experience while driving conversions.

Businesses are placing greater emphasis on this field and hiring experts. Companies need to be aware of the many benefits of UI/UX design and how they can be used to improve their bottom line.

Having an eye for computers is what allows skilled designers and developers to create interfaces that are visually appealing, easy to use, and enjoyable.

We work with clients from all over the world, helping them create beautiful and engaging digital products that stand out from the competition.
Advantages of choosing product marketing services in Hyderabad
Product marketing services in Hyderabad offer a wide range of advantages to businesses. By outsourcing this strategic function, companies can target on their core competencies and leave the marketing and promotion of products to experts. 

Hyderabad offers excellent opportunities for product marketing, with a large and diverse population to target.

Additionally, the city provides ample resources, including an educated workforce, numerous technology parks, and a strong infrastructure. 

Additionally, the city is well-connected to the rest of the world through its international airport. Finally, marketing services in Hyderabad are cost-effective when compared to those in other major cities in India and around the world. 

Oxygen is a full-service product marketing agency with extensive experience in launching and growing products for some of the world's most well-known companies. 

We provide a range of services, from market analysis and strategy development to branding design and user experience. We help entrepreneurs and startups build long-term relationships and consumer.
Why choose Oxygen as a product marketing company and their Product
Oxygen provides a full-service product management company which delivers consistent and engaging product experiences across all channels.

Our team has extensive experience in technology and B2B products, consumer packaged goods, and retail.

We partner with you to develop a product marketing plan that drives awareness, engagement, and conversion throughout the buyer's journey. From market analysis to go-to-market strategy, we have the skill set and passion for helping your Product succeed.
Take away
Product marketing services in Hyderabad offer an integrated marketing mix of advertising, branding, and branding. If you would like to benefit from these services, contact a brand agency specializing in international product marketing.

We can help you get to the top of your business. Call us today!