OXYGEN offers high quality SEO Services for Architects and Interior designers In Bangalore.
We offer Creative SEO Services for Architects and Interior Designers In Bangalore,India.

Bangalore is a flourishing city and has amazing architectural marvels. This is the town's principal among India's most reputed interior designers. 

So, to elevate their business, these interior designers have access to a wide range of SEO services for Architects in Bangalore.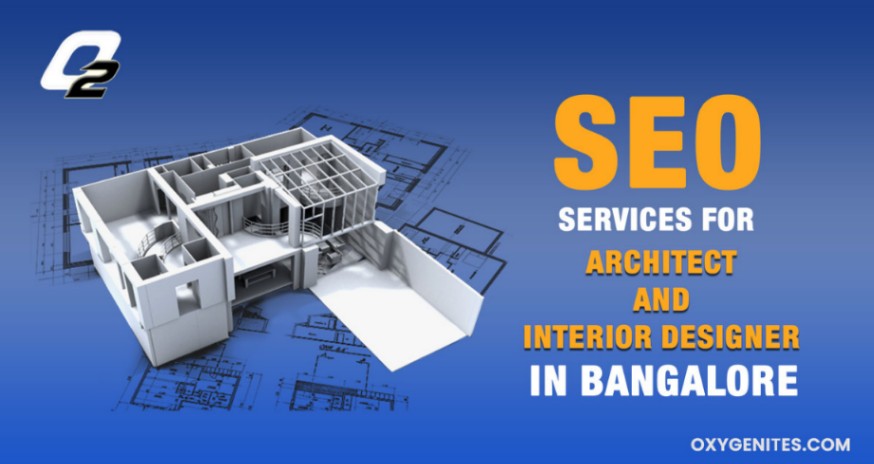 SEO Services for Interior Designers in Bangalore With the maturing of interior designing, the industry has become a multi-billion dollar brand. There has been a lot of remodelling in terms of coding, trends and design. 

Our Link building technique will bring brand wareness for your company.

It will help your company development to extreme level.

As a result, the demand for interior designers in Bangalore has gone up. And these interior designers have become busy keeping up with the order consistently. 

With so much competition, you need good SEO services to survive and grow for Architects. 

We are recognized as one of the most reputed SEO agencies in Bengaluru because of our reliable services.

Here, we will give you some basic findings on SEO agency for Architects in Bangalore, India. 
Our SEO Services for Architects and Interior Designers
We are SEO Experts offering SEO Services for Architects and Interior Designers in Bangalore. We provide our services through a panel of SEO professionals who help you demand SEO services to get more clients. 

Our SEO services for architects ensure you are the envy of your competitors. Oxygen SEO experts are always up to date with leading SEO techniques to provide the most beneficial SEO services to our customers. 

We use foolproof methods to serve you with the best possible SEO services.
Website Designing
A website must be designed in such a way that not only looks appealing to the eye but is also easy to navigate. 

This is designing a website with a specific look and feel to suit a particular niche or your clients in general. 

It includes ideation, conceptualization and research, and development of the website design from website conceptualization up to the final product. 

Oxygen specialize in designing beautiful, intuitive websites for architects and interior designers. 

Our focus on typography, layout, and color ensures your website looks great and functions well. We understand the importance of creating a great user experience.

We also offer branding and marketing services to help you establish a strong online presence and reach new clients. 
Branding
Branding isn't just for large businesses. Interior designers and architects can brand their work to create a sustainable and profitable business. 

You can set yourself up for success by creating a logo, name, and overall visual identity that clients will remember. A strong branding strategy can also help you attract the best partners, employees, and vendors.

At Oxygen, we help architects and interior designers build their businesses and create beautiful, effective marketing materials. 

Our price is affordable without sacrificing quality, as great branding and design should be accessible to everyone.
Digital Marketing Service
Digital Marketing Service has become an important and integral part of the Architecture and Interior Designing industry. 

It is a process that helps companies promote and sell their products or services through digital channels. 

It can include several activities such as website design, online advertising, email marketing, search engine optimization, and social media marketing. 

Using digital marketing techniques, businesses can reach a wider audience with greater efficiency and lower costs than traditional marketing methods.

Oxygen offers all the necessary knowledge, tools, expertise and professionalism to help you grow your online presence via various digital marketing tools. These tools drive new customers for your interior designing company.
Pay Per Click (PPC)
PPC for architects and interior designers is an advertising service that allows you to place ads on Google and other search engines. 

When someone clicks on your ad, you have to pay a small amount of money to the search engine.

Advertising for interior designers and architects won't cost you a cent, as it's a paid service. The main goal of "pay per click" advertising is to reach the right audience. 

PPC increases your business's exposure to people searching for your services. Consequently, it can increase your sales and improve your online and offline marketing campaigns.

Google Ad Words is a way to market your products or services online. Our certification as a Google partner gives us an advantage over our competitors. 

PPC makes it easy to get more interior design leads. These leads can be converted into customers by using different target metrics.
Social Media Marketing
Social media marketing can be used to reach new clients and grow your company.

It would be best to have a social media strategy as an interior designer or architect.

We offer all kinds of Social Media Marketing Services, including brand monitoring and custom profile design. 

And custom designing, page creation, page optimization, social content posting, influencer cooperation, and many more. 

We offer services on Facebook and LinkedIn and, Instagram, and Pinterest. Twitter, YouTube, YouTube, and other platforms. We also provide services for specific social media platforms.
What are the Benefits of SEO Services for Architects and Interior Designers in Bangalore?
Search engine optimization (SEO) optimizes a website for Google search to earn higher web traffic levels and improve ROI. 

The benefits of SEO service for architecture and interior design businesses in Bangalore are significant: 

1. increased web traffic and visibility; 

2. improved brand awareness; 

3. increased leads and conversions; 

4. reduced marketing costs; and 

5. improved website usability and user experience.

6. increased brand awareness and online visibility.

7. more website traffic and higher conversions.

8. the ability to gain a competitive advantage by bypassing the number one search engine.

9. You will likely see increased website traffic and conversions if you use the right keywords in your Google AdWords campaigns.

10. Using the right keywords, you can ensure that your ads target potential customers interested in what you have to offer. 

In addition, using the right keywords can help increase traffic to your website and boost conversions.
What Makes Us the Successful SEO Services for Architects and Interior Designers in Bangalore?
In Bangalore, Our SEO Services are delivered by a dedicated team of professionals who use the latest techniques to improve your website's ranking.

We also use various methods to increase traffic to your website, including search engine optimization, social media marketing, and pay-per-click advertising.
Performance Guarantee
Our work is guaranteed as the best SEO Services for Architect and Interior Designer in Bangalore. Our strategies and functionality will ensure that you achieve the desired results.
Dedicated Specialists
Oxygen also has a team that handles interior design, architecture, and business clients. Our experienced specialists work together to deliver quality in the given timeframe.
Customized services
We don't believe a single strategy works for all businesses. Our team will estimate your business needs and give you a custom quote to help you start your interior designing business. 

We are honest when we quote you. We never go beyond what is mentioned, unlike many others.
100 Percent Transparency
We offer live operations, reports, and status updates open and transparently. 

The report is simple to understand, and you can easily compare the benefits. You will also be kept informed of the latest marketing trends.
Super Savings
We offer our clients multiple deals from time to time. We guarantee that you will save a lot of money once all your digital needs are taken care of. 

Oxygen presents a wide range of services within the digital marketing sector. Get in touch to learn about our current deals. Our prices are low without compromising quality.

Get in touch with us today to learn how Oxygen can help your business in SEO Services for Architects and Interior Designers Bangalore.