Looking to get more out of your online presence?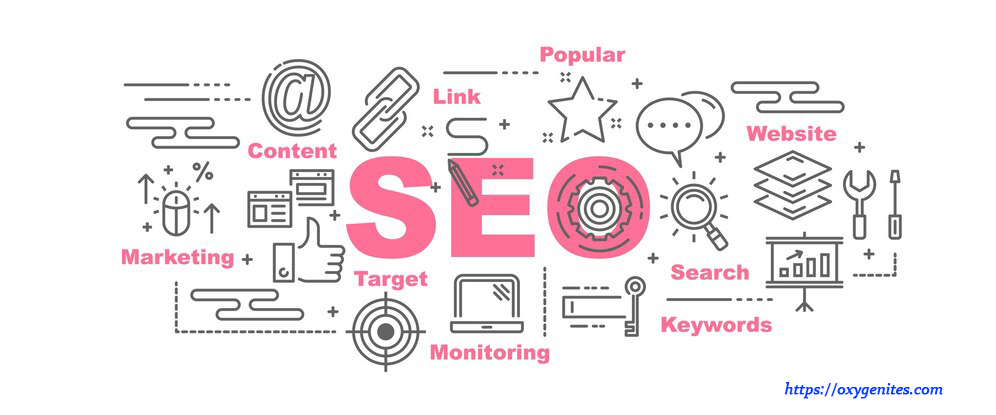 The days are gone when you could just build a website for your business and watch the conversions roll in. These days, you are competing with dozens or even hundreds of other websites for traffic and leads.
There is a way you can stand out from your competitors, however, and that is to enhance your SEO.
Oxygenites make it easy. We boost your SEO through a combination of website optimization, quality backlinks, email outreach, local search, and other sophisticated techniques.
That way, you can focus on offering great products and services while we help bring customers through your door.
SEO Service Benefits
SEO stands for "search engine optimization." It is the process of improving the overall quality of your website with respect to on- and off-page practices. The goal of an SEO service is to improve organic search engine rankings and traffic.
With an SEO service on your side, you can:
Bring targeted, organic traffic to your website.
Increase your leads, and potentially also your conversions and revenue.
Build a reputation as an authority in your niche.
Create brand awareness.
Spend less time managing your website, social media, and other aspects of your online presence, and more time developing and providing your products and services.

In short, SEO is what keeps you visible and competitive online. But if you try to do it all on your own, you will quickly find out that it is a full-time job.
Oxygenites can take the hard work of SEO off your plate so you can get back to building relationships with your customers or clients.
An SEO Service for Every Need:
SEO isn't just one practice. It is a combination of practices that produce synergistic benefits for your business.
Here are the SEO services we offer:
On-page SEO service. We can optimize your website by enhancing technical aspects such as load times, navigation, and responsiveness. We also can improve your site content, ensuring that you are not only providing value to visitors but also targeting long-tail keywords that will help you rank for relevant queries.
Link building. To improve your off-page SEO, we build SEO backlinks to your site. These include links on Wikipedia pages, guest posts on niche blogs, premium editorial links, infographic placements, and more. All links feature relevant anchor text and high-quality content. We only post on authoritative domains.
Local search. Do you run a local business? To help you target traffic in your geographical area, we can optimize your local SEO. That way, when potential customers look for the services you offer on Google Maps, your business will appear among the results.
Social marketing. Managing even one social media channel for your business can be a time-consuming task. We make it easy to "set and forget" by taking care of posting for you on websites like Facebook, Twitter, and Instagram.
Email marketing. To this day, email outreach remains one of the most powerful marketing techniques online. Oxygenites can develop and manage your email marketing campaign, saving you time and boosting your conversions.
PPC. While our main focus is organic SEO services, we also manage pay-per-click (PPC) ad campaigns. By optimizing your campaigns, we can help you spend less money on ads while bringing in more targeted traffic.
SEO Service: How It Works
What can you expect when you contact our SEO agency? Our process is fast and easy, but also fully personalized to your needs. Here is how it works:
Schedule your consultation.
Providing SEO services is an incredibly individualized process. So, it all starts with a consultation.
During that conversation, we discuss your business goals and needs. You can tell us about the obstacles you are facing and the opportunities you are seeking.
This conversation gives us the context we need to come up with a customized plan to enhance your SEO.
We perform a comprehensive SEO audit.
The next step is to audit your on- and off-page SEO. Our specialists will consider your current campaign from every angle, and will explore your website, social media pages, and existing backlinks in-depth.
During this stage, we also will be performing competitor analysis. We want to find out what strategies your competitors are using successfully so that we can help you surpass them. Keyword research is another critical part of this research phase.
We come up with a personalized plan.
Based on our audit and your objectives, we will craft a custom SEO service plan for you. This is a collaborative process where your input is essential. We want to make sure that the strategy we create for you is going to meet your budget while helping you achieve your business goals.
We optimize your on-page SEO.
Our next step is to optimize your site architecture, title tags, meta descriptions, internal links, images, navigation, load times, responsiveness, and more.
Taking these steps not only enhances your SEO, but also improves the quality of the user experience on your website. That can help reduce your bounce rate.
The more time visitors spend on your website and the easier it is for them to navigate through your content, the more likely it is they will convert.
We build quality backlinks for off-page SEO.
After we optimize on-page SEO, we start building quality backlinks that improve your off-site SEO.
We build these links in a natural way so that they appear organic to search engines.
By placing links only in relevant, high-quality content on authoritative websites, we send a positive message to search engines while also sending more targeted traffic to your site.
We manage your email marketing campaign, social media channels, PPC ads, or perform other ongoing services you have requested.
As we are working on improving your backlink profile, we also can begin managing other aspects of your marketing campaign.
During this time, we might be building a list of targeted prospects for an email marketing campaign, posting regularly for you on social media pages, or performing other services to help spread the word about your business.
We generate reports so you can measure your progress.
To ensure transparency throughout the process, we provide you with monthly reports showing your rankings and traffic for the keywords you are targeting. Depending on the services you order, your reports may also include information on social media views and engagements, PPC ad performance, email opens and clicks, and more.
We continuously test improvements and enhance your campaign going forward.
SEO optimization is a continuous process of research, testing, monitoring and adaptation. In fact, we will be split-testing different strategies on a regular basis so that we can continue to fine-tune the strategies we use for your business over time.
That way, your return on investment continues to grow the longer you invest in our SEO service.
SEO Service FAQ:

Here are a few quick answers to some frequently asked questions about the SEO service we provide.
Q: Which SEO services should I order?
A: That depends entirely on your needs. If you are not sure, that is something we can help you figure out during your SEO service consultation.
Q: How long does it take to see results?
A: The amount of time it takes to see results from any SEO service can vary. But in general, [timeframe] is typical for our services.
Beware of SEO companies that claim they can bring you results overnight. They may give you a rapid boost to your rankings, but it will be short-lived. Once search engines catch onto their shady practices, you are sure to see a rankings drop.
Oxygenites SEO service takes a more gradual approach, but the results can last much longer. Our practices are built around giving search engines what they want, not trying to get around their rules.
Q: Are results guaranteed?
A: No. There is no way to guarantee a specific ranking or conversion target will be met. Companies that do this are not being honest with you. There is no way to directly control what search engines do; we can only follow best practices.
Oxygenites has extensive experience ranking sites, however, and we feel confident that we can boost your traffic and help you to achieve your goals.
Q: How long do I need an SEO service?
A: That is entirely up to you. Some of our clients work with us briefly to get an SEO boost at a critical time, such as when they are starting up their businesses.
Others have long-term contracts with us so that they can "set and forget" while we handle the daily work involved with managing their SEO. That way, they can stay at the forefront of their niches while remaining focused on other aspects of running their businesses.
Choose Your SEO Service Plan:
Ready to get started with Oxygenites SEO Service? Pick your plan below, and we will be in contact for your consultation. Let's boost your search engine rankings, traffic, and leads!