Link Copied Successfully
Social media marketing has become an important part of online marketing. It is used to attract customers and promote products or services through social networking sites like Facebook, Twitter, and LinkedIn.

Social media marketing agencies can help businesses harness the power of social media to reach their target markets and achieve their desired outcomes.

The Social Media Marketing Agency in Hyderabad offers marketing support and services to assist companies with their online strategy and optimization.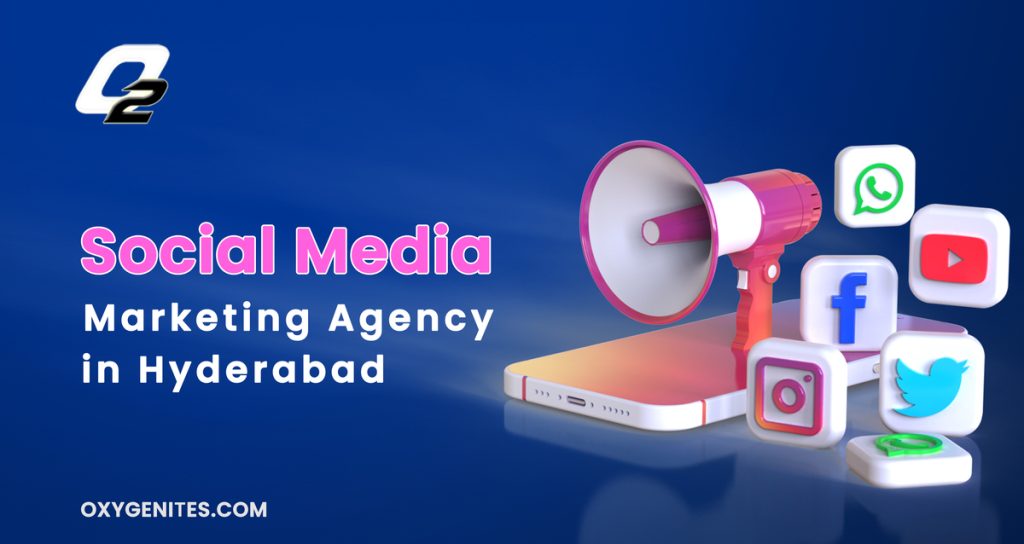 At Oxygen, our social media marketing specialists are here to help you get started with your campaign. It's important to remember that not everyone is familiar with B2C and B2B social media marketing, so we're here to explain it all.

Oxygen is a social media marketing agency that helps small businesses in Hyderabad grow their online presence.

Oxygen offers different services, such as social media management, content marketing, and online reputation management.

Social media should not be used to sell products, but build relationships with customers. Our goal is to create engaging content that resonates and connects with your target audience.

We also use proven techniques to improve your website's search engine ranking and increase traffic.
Social Media Marketing Services
Social Media Marketing Strategy
Our social media marketing experts can help you create a strategy to boost your engagement and get you more ROI.

We'll use analytics and data-tracking tools to identify your target audience and determine what keywords and topics are relevant to your brand.
Social media campaign
As social media platforms continue to increase in popularity, businesses are looking for ways to utilize them more effectively to reach their target audience.

It's important to track the success of a social media campaign for this purpose, but it's crucial to determine its effectiveness.

It is important to select the right method for your business and your goals to track the results of a social media campaign.
Paid and Organic Team
Currently, 77 % of businesses utilize more than one channel for reaching their customers. This has become increasingly difficult in an increasingly digital landscape.

Paid social media advertising is quickly becoming an essential piece of the marketing puzzle for businesses trying to reach their target consumers.

It can be difficult to know which paid social media channels are worth allocating marketing budget towards with algorithms and feeds constantly changing.

At Oxygen, we believe that a great customer experience starts with a great team.

Our paid and organic search marketing services help your business find new customers and keep coming back for more.

We use the latest techniques and tools to improve your website's visibility and attract more visitors to Search engines like Google, Yahoo and Bing.

And once they're there, we make sure they stick around by using the latest techniques in conversion optimization.

So whether you're looking to increase traffic, leads, or sales, we can help. Contact us today to learn more!
Marketing Experience
Oxygen is a marketing experience company that helps brands connect with their customers more meaningfully.

We believe that marketing isn't about shouting your message at people. It's about finding the right way to connect with them.

We offer a full range of marketing services, including strategy, creativity, web design & development, and marketing automation.

We work with brands across all sizes and industries, so we have the experience and expertise to help you achieve your marketing goals.
Onboarding Process
Oxygen is a social media marketing agency that helps businesses grow their online presence through extensive onboarding and training. 

We have a team of experienced social media managers to help your business grow and reach new customers.
What are the Benefits Of Social Media Marketing Agency in Hyderabad
Online Exposure
Social media marketing evolves, making it a powerful tool for companies and brands to reach their audiences online.

Platforms such as Facebook, Twitter, LinkedIn and Instagram can help increase exposure and interest in your business.

You can interact with a wider online community by creating engaging content and using social signals like likes and shares.
High Search Rankings
The current state of the internet means that search visibility matters more than ever for companies.

Search engines like Google and Binge use web crawlers to evaluate a company's online presence and determine how relevant they are to users.

The company with high-quality content that is back up by other customers and users is likely to be near the top of search results.

This means that social media marketing benefits include increased visibility online, resulting in more people seeing and using your business.
Improve Brand Authority
Brand authority refers to how trustworthy consumers perceive your business or brand.

Establishing yourself as an expert on your products and services within your specific industry can help you build brand authority for your business online.

The more active and engaged you are on social media, the more you interact with users, and the higher your brand authority.

Having a high brand authority can help you attract more customers, grow your reputation, and expand your business.
Higher conversion rate
Social media marketing has many benefits. However, it allows brands to appear more human and relatable to their followers, creating loyalty and trust.

Social media marketing generally results in a higher conversion rate than other online advertising tactics.

So if you're looking to build trust and relationships with your audience, social media is a great place to start.
Multiple Marketing Options
Other social media marketing platforms and techniques to promote your business include WhatsApp, Messenger, WeChat, Tumblr, and Snapchat.

Our social media marketing company conducts thorough business reviews, audience analysis, and competitor benchmarking.

It performs in-depth market research to identify potential competitors—your business's most appropriate and profitable social media marketing platforms and techniques.
Customer satisfaction
Social media platforms provide customers with an efficient and convenient way to connect with businesses and receive quick responses to their inquiries.

Timely responses are essential for creating a positive customer experience and maintaining a good social media reputation.
Profitability
Businesses of all sizes find social media marketing cost-effective. By utilizing various social media platforms, companies can showcase their products and services at a low cost.

Additionally, social media marketing can help businesses reach an unlimited number of prospects across locations without incurring additional expenses.
Competitive analysis
It is a key element of social media marketing. By keeping an eye on your competitors, you can learn from their successes and failures and adapt your strategies accordingly.
Targeting Audience
No matter how great your content is, you won't get conversions if it doesn't reach the right audience.

You can market your product/service through social media marketing and identify potential customers by age, location, and online activity, among other factors.

Social media marketing experts can create content and ads that address their needs by understanding your target market and online behavior.
Why Choose Oxygen for Your Social Media Marketing
We are a full-service social media agency that can help you with strategy development, content creation, and campaign execution.

Our oxygen experts have many years of experience in both social media and marketing, so we know how to create campaigns that deliver results.

We also understand the importance of responsiveness, and our team is available 24/7 to help you respond to any comments or inquiries.

Plus, Oxygen offers a wide range of services that can be tailored to meet your specific needs.

You can reach us at email address: [email protected] or you can contact us on phone number: +91-9885346295.