Oxygen is a web design company in Bangalore that believes in creating beautiful, effective, and user-friendly websites.
Web designing is one of the most rewarding and sought-after careers worldwide. It lets you provide work to people located anywhere in the world. Web Design Company in Bangalore aim to build and design appealing, user-friendly, and functional websites.

The web designer In Bangalore is responsible for laying out the website's foundational design and for developing the website's interface and content.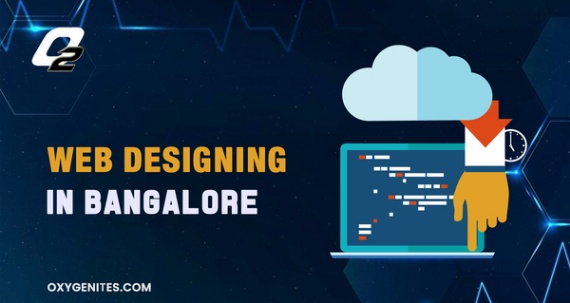 Website designers are also in charge of developing the back-end infrastructure for the site.

Oxygen is the best web design company in Bangalore that offers bespoke, high-quality web design and development services to businesses of all sizes.

We believe that every business deserves a stunning, responsive website that drives conversions and helps them grow online.

Our talented team of designers and developers uses the latest technologies and techniques to create beautiful, user-friendly websites and easy to manage.
Our web design services in Bangalore
Oxygen has the expertise and resources needed for your web design needs. Our services for professional web design in Bangalore include many benefits and more.
Graphic design
Graphic design is the art form of visual communication. The arrangement, principles, and structure of visual elements in print media and those elements stored in electronic media are involved.

Graphic design can employ in advertising, corporate identity, packaging, logos, signage, websites and other printed media. We offer royal web design, including graphic, website designing, and software development services.

We create ideas that best represent your services and products, which is the part of Marketing. Graphic Designer Coco at Oxygen is a professional graphic designer In Bangalore, working with most famous agencies.
Corporate Website Design
A corporate website is designed to promote an entire company online rather than focus on a single product or sub-brand. This kind of website serves as a pillar of a company's online presence.

A well-designed website can assist a company stand out from its competitors and communicating its unique value proposition.

We offer corporate website design and corporate branding services in Bangalore. We focus on delivering a complete solution that will enable your business to succeed online and increases your online presence. 

As a leading graphic designing firm in Bangalore, we take care of every aspect of your website.
E-Commerce Websites Design
An E-Commerce website design is a process that covers both the front-end and back-end of building an online store.

The front-end design is what customers see when they visit your store, while the back-end is how you manage products, inventory, and orders.

E-Commerce websites must be designed with the customer experience and functionality in mind and your store's overall look and feel.

An admirable website is crucial for your business. Our e-commerce web development company in Bangalore will improve your online reputation with appealing visuals.

Additionally, we'll add call-to-action buttons and multiple categories related to your business for easy navigation.
Landing Page Design
The landing page is the first page the customer will see when accessing your website. Use this page to summarize who you are and what you're about.

You can use this conversion funnel to define the person they seek, which helps us guide you through the rest of the process.

We will create a landing page for you to showcase your business's goals and achievements.
Blog Website Design
Blog websites tend to be more popular and flexible than other websites. As you might imagine, blogs are great for keeping people updated about your business.

They're also a great way to market your business and attract new customers. They're designed to look great and be easy to customize.

Oxygen is a creative blog website designer in Bangalore, India. We create beautiful and responsive websites for bloggers and small businesses.

We offer custom web design, SEO, and social media marketing services to help our clients grow their online presence.
Advantages of Web Design services in Bangalore
There are many benefits to hiring a web design service in Bangalore.

1. Perhaps the most obvious benefit is getting a high-quality website designed and launched for a selection of the cost of doing it yourself.

2. SEO services are also important to ensure that your site is optimized for search engines and targets the right audiences.

3. Bangalore's good web design services will offer ongoing support and maintenance to keep your website up-to-date and looking great.

4. With the help of knowledgeable designers, you can create a website that's both visually appealing and easy to navigate.

5. You will be informed of any change requests that arise while building your website by an expert web design provider. They will use their network of professional freelance designers to do the actual work.

6. The web design services in Bangalore give you access to their creative network of designers. You can promote their portfolios when they get a new position.
Why partner with Oxygen for website design services?
Here are some reasons to choose Oxygen as your website design company in Bangalore:
Best Web designers Experts
Our team of expert web designers and developers in Bangalore can create the perfect website for your business – regardless of size or budget.

Besides SEO, PPC, and social media marketing, we also offer a wide range of online marketing solutions to help you grow your business online.
Customized web designs
Our web design company in Bangalore believes that a personalized approach is always best. We customize every website service package to your company's unique needs.

You can choose the rapid web design option or something else, but we'll ensure your website captures your branding and meets your vision.
Fast, affordable web design services
Oxygen's team of designers in Bangalore offers affordable web design services that are completed quickly! We offer a wide range of payment options to suit your budget.

Oxygen's in-house digital developers have done everything we do.
We create mobile-friendly websites.
Don't worry about what device your customers are using, and you can ensure that your website will look great. That's because we design all of our websites using responsive design so that they can be viewed on any device without distortion.

We'll help you express your business's brand through beautiful and innovative website designs.
Your needs first
At Oxygen, we develop custom strategies that fit your specific business objectives. We consider your industry, target audience, and goals to design an experience tailored to you.

Call us today to know about our web design company in Bangalore for more information.