Get Professional Web Hosting Services In Hyderabad with Affordable Prices
OXYGEN offers amazing web hosting services in Hyderabad with more than 4000+ clients with affordable prices and premium support.

Web hosting services are an important and necessary part of having a successful website. Your website's hosting service is responsible for ensuring that your website is accessible to your visitors and running smoothly. Because there are so many different web hosting services available, knowing which one is right for you cannot be easy.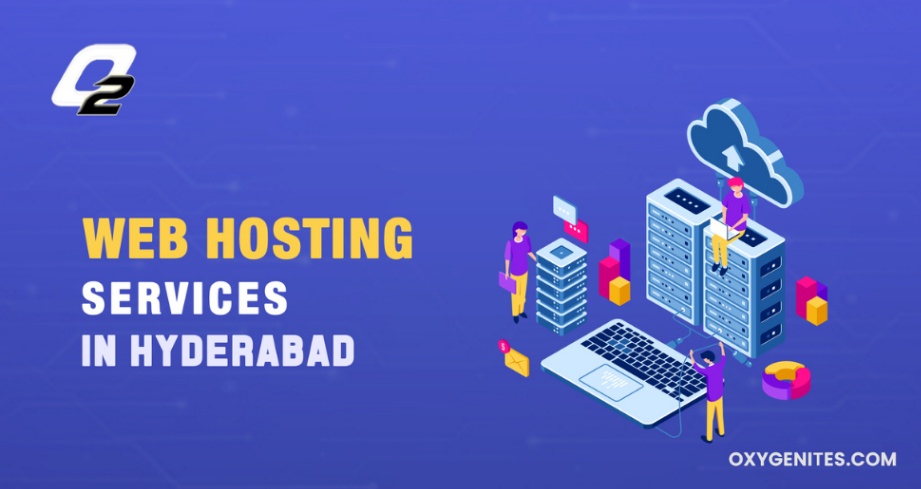 A website is essential for every business. It showcases what your company is about and helps you reach out to new customers and partners worldwide. But to have a website that functions well and looks great, you need to have excellent web hosting.

We are a leading web hosting services company in Hyderabad. We offer high-quality web hosting services to businesses and individuals all over India.

Our web hosting plans are reliable and come with many features that will help you get your website online quickly and easily.

We also offer many other services like domain name registration, website design, online marketing and web hosting. Access everything you need online to help you launch your business.
What is Web hosting services?
Web hosting services are businesses that provide space and bandwidth on the Internet so that a website can be published online. They come in different flavours, but all have the same functions. The web hosting company will give you a server on which to host your website. They will also give you an account with a certain amount of disk space and data transfer limits per month.

Web hosting services allow businesses to host their websites on the Internet. This can be done in several ways, such as shared hosting, VPS hosting, and dedicated servers. Business owners should carefully consider these pros and cons when choosing the right hosting service that fits their needs.

Oxygen provides the best web hosting services and domain names Registration, Email Services, Website Builder, Cloud Hosting and VPS Hosting. It's easy to get online using our Website Builder. Or move your website onto our award-winning cloud platform.

We also offer Fast, Reliable & Affordable Web Hosting Plans perfect for small businesses and entrepreneurs. Our easy-to-use cPanel control panel gives you all the tools to get started with your new hosting account.
Importance of Web hosting services
The Internet has been an integral part of our daily lives. We use it for communication, entertainment, and business. Small businesses need to have a website to compete with the big guys. A website is your shop window on the web. It is where people go to find out about you, your products, and your services.

Web hosting services are important to small businesses and entrepreneurs because they provide a place to store their website files. This is important because someone who wants to visit your website will need to type in the URL and access your site. A web hosting service will also help you have a professional email address, which is important for credibility reasons.

Web hosting services are a necessary part of any website. By choosing the right web host, businesses can ensure that their website is available to customers around the clock, seven days a week. Moreover, web hosts can provide businesses with a range of services and features that enhance their websites' performance and security. When choosing a web host, you should consider the company's reputation and the level of customer service.

Oxygen provides web hosting and domain name registration services. Our mission is to provide quality web hosting services at an affordable price. We are dedicated to providing the best service for our clients. Our goal is to provide secure, reliable and speedy hosting services.
Our Web hosting services
Web hosting services provide a secure and reliable way to store your website's data. When selecting a hosting web service, it is important to consider the features that are important to you. Storage space, bandwidth and support for scripting languages are some of the most important aspects. You should also choose a web host with a great reputation and outstanding customer service. Our web hosting services include:
Email Services
Email services offer a way to manage and connect with a large network of people. They provide a way to communicate with people you know and people you don't know. Email is an important part of life for most people. It can be used for personal or business reasons. It is important to use email services that offer the features you need to get the most out of email. There are many different email services available, so it is important to find the one that best meets your needs.

Oxygen is a startup focused on reinventing how can use email in business. Our mission is to make email work better for everyone by making it more intelligent, efficient and useful. We're building a next-generation email platform that provides powerful features, integrates with your other tools, and makes email easier and more fun.
Website Builder
When starting a company, there are many factors to consider. One of the most important, frequently overlooked tasks is creating a website. A website is a great way for you to show off your product or service and allow customers to find out more about you. But it can also be expensive and time-consuming to create and maintain. That's why there are so many website builders out there these days. They make it easy to create a website without having any design or coding experience.

We believe everyone should be able to build a website. It is not difficult, and we are committed to making it simple. Our platform was designed with you in mind, so you can create a website that's beautiful, professional, unique, and your own. We offer a wide range of templates and tools to simplify website building, and our support team is always here to help.
Cloud Hosting
Cloud hosting is a system in which multiple servers are connected to create a cloud. This allows for sharing resources and the deployment of applications and services. Cloud hosting is not the same as traditional hosting. Traditional hosting requires that a customer either leases or buys a physical server. With cloud hosting, providers can offer their service to multiple customers using a multi-tenant model. This means that each customer's server is not located on-premises but rather resides in the provider's data center.

Cloud hosting is a growing technology that is helping to change the way businesses operate. It allows companies to access the resources they need, when they need them, without having to invest in their infrastructure. This will save companies time and money while providing a safer and more reliable environment for their applications.

Oxygen provides reliable, secure cloud hosting services for businesses of all sizes. Cloud hosting platforms are fast, scalable and easy to use. They are the perfect solution for businesses. With Oxygen, you can enjoy the benefits of cloud hosting without the hassle. We take care of everything for you to focus on your business.
VPS Hosting
VPS hosting is great for many reasons. Perhaps you require more power for your website than shared hosting, or you prefer more control and privacy over your server environment. No matter the reason it may be, selecting the right VPS host for you is crucial.

Oxygen is all about giving people the ability to create. With our VPS hosting, it's easy to get online and expand your business.
Shared Hosting
Shared hosting services are the perfect solution for small businesses and websites that don't see a ton of traffic. The appeal of these services is their affordability and accessibility – companies can get online without breaking the bank. Because these services are shared, website owners don't have to worry about managing and securing their servers. There are some drawbacks to shared hosting plans since they can quickly consume all the allocated resources.

We offer many hosting packages to suit the needs of all our customers, small and large. We provide many domain extensions, and our email hosting service works with all major email clients.
Benefits of choosing Web hosting services in Hyderabad
Web hosting services in Hyderabad offer great benefits to businesses of all sizes. In addition to reliable and secure hosting, companies can also take advantage of the vast business infrastructure that Hyderabad offers.

This includes a well-educated workforce, ample office space, and an easily accessible location. Additionally, Hyderabad has a low cost of living and doing business, making it an attractive option for companies to expand their operations.

The advantages of hosting your website in Hyderabad are plenty. Hyderabad enjoys excellent connectivity due to its robust infrastructure, which enables you to deliver faster content to your users. Additionally, the city has a large talent pool of web developers and engineers who can help with your website development and maintenance needs. Finally, the cost of living and doing business in Hyderabad is relatively low, making it an affordable option for web hosting.
Why Choose Oxygen for Your Web hosting services in Hyderabad
Oxygen is Hyderabad's best web hosting provider. Businesses can rely on us to provide secure, reliable and affordable web hosting. offer domain registration, website design, development, and marketing services.

We can help your business reach the next level. We have the industry experience to provide web hosting services that surpass your expectations.
Takeaway
Web hosting services in Hyderabad are generally affordable and can be tailored to your needs.

Contact us today to learn more about how we can help you grow your business.