The traffic on your website speaks volumes about the credibility of your website. Everyone wants more exposure for their brand or website. Boosting your brand awareness is always helpful as it improves your business. The process can be slow and painful if you don't know how to get credible links, i.e. links that have higher authority. Once you find the correct links on the suitable platforms, your exposure and traffic to your website will boom exponentially. When it comes to link building, we always look for websites that have higher authority. When you are having too many things on your plate, often you can miss out on link building. For a while, I had been experimenting with passive link building and I found HARO. HARO links are extremely crucial for link building. In this article, I will walk you through the exact procedures of how to use HARO. This will help you to get press mentions and also build authority backlinks.
What is HARO?
HARO links: gain HARO links and build domain authority

HARO stands for Help A Reporter Out. This is for the people who are unfamiliar with HARO, it is a free platform for journalists. Journalists use this to gain more sources for the recent projects that they are working on. They use this platform to ask questions and you can answer them as a source. The categories of questions span across various industries and you can always choose what to answer. Depending on your goals, you can join HARO either as a journalist or as a source.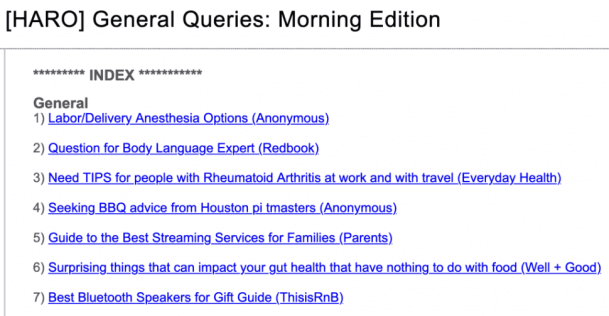 HARO links: Getting started with HARO
HARO links: Getting started with HARO and gaining more traffic
When you want to get an account on this platform, you have to sign up for emails. HARO sends emails three times every day at particular timings.
While you are signing up for the first time, you will receive a signup form. You have to fill up all your basic data that including the annual revenue of your company or organization.
Fill up all your basic details and then you can move on to your settings. Choose your preferences for industries. You will receive all your queries related to only these particular industries that are relevant to your company.
While choosing the categories, you might be tempted to choose all of them. Refrain from that and choose 2-3 categories that are relevant to your industry. 3 rounds of mails for each category per day is a lot of mails already.
HARO links: set your goal:
Before starting to answer any queries in HARO, determine what your aim is with HARO. You can use it for various purposes such as increasing traffic to your website, more leads, and conversions, or some other goals. It is also a way to get backlinks. This is the section we are going to discuss in detail in this article, i.e. how to get HARO links.
HARO links: How to get HARO links:

While you are checking out the site, you should notice two things, Domain Authority of the website and also the website traffic per month. You can use various chrome extensions that help you check the site's DA(Domain Authority). There are various tools available for checking the monthly traffic to the website.
You will see various anonymous queries on HARO. These can be from some high-profile resources or just something that'll waste your time. There are many professionals who remain anonymous, and they do not disclose their contact info. They will definitely catch up or respond to you later if they find your response useful. In the case of such anonymous queries, please click on them and land on the source website. Check their domain authority and monthly traffic. If it is too low, then it is not worth your time and effort.
HARO link: How to write your HARO pitch:
Identify the good and relevant queries and now it's time to pitch your answer.
Before you write your HARO pitch, it is important to do the following:
Check the content o the publications and see what type of content they are expecting
Take a look at how they quote people. For example, some publications include short quotes and several others prefer in-depth replies.
Pay attention to their writing style as well as intonation. Try to match it when you are replying to any query.
You can write your pitch after this. Here are a few tips for crafting your pitch for getting a HARO link.
Write the name of the journalist correctly
Include all the points that are required by the journalist
A small introduction of yourself is always appreciated. Write a little about why you are eligible for writing the answer to the query.
Try to offer more controversial points or opinions. Consider the inclusion of more unusual and different points of view while you are answering.
Load your answer with relevant details. Most of the journalists do not take much time to make a decision on whether to move on or not.
Add more bullet points. As it makes it convenient for the journalists to scan and skim through your queries and conclude whether it is relevant or not.
Last but not the least, make sure that there are no typos or grammatical errors.
Key ingredients of your HARO pitch:
There are a few key ingredients that are compulsory while you are crafting your HARO pitch.
Add a bio that is relevant to the pitch and shows that you are qualified enough to answer that
Attach a link to a headshot. It is considered better than an email attachment as email attachments do not show up often in HARO.
Add a link to your blog or a relevant article link that was written by you
Add any contact point such as a contact number or email id
If the journalist has mentioned some other details, try to add them as well.

Tips to help you to excel with HARO:

Now that you already know how to use HARO for backlinks, you should explore how to get the best results out of it. HARO is indeed one of the best ways to get exposure for your business. At times, it can get really tricky to find leads that are credible. Here are a few expert tips that will help you leverage the capacities of this powerful tool. Use these pro-tips to make the most out of it.
Tips for writing better:
Go through all the emails that you receive.
As I mentioned formerly that you will receive three emails for each category per day. You should try going through all of them before you decide which queries you want to fill up for. Make sure that you go through all the lists and filter out the most relevant queries. Catch the best opportunities for representing your business.
Know the rules.
Check out all the rules of HARO before you respond to any queries. Try not to go against any of these rules. Neglecting these rules can get you banned from HARO.
Get good leads.
You can use HARO for getting immediate exposure as well as gaining leads. Getting fruitful leads will be helpful for you in the longer run. You can help reporters by responding to their queries and make good connections and these relationships can be helpful in the future.
Be quick to respond.
HARO reporters or journalists expect quick replies. Do not delay your replies. There will be deadlines attached to each query. Try to meet those deadlines. When you respond quickly, the likelihood of getting a placement increases.
Try to stay on the topic.
One of the most important suggestions is to stay on the topic and not getting off the context. You should not pitch off-topic. Going off-topic has high chances of hampering your credibility. It can also get you banned from HARO. Always make sure that you make a relevant and on-topic pitch that will be helpful for the reporter or the journalist. Relevant pitch is always helpful for getting you a placement as well.
Abide by the instructions.
Several queries will have various rules or instructions laid out. Follow these specific instructions while you are responding to any queries. This makes your answers more desirable. The responses that do not follow these particular requirements or instructions are usually discarded. You should follow the instructions very carefully before you are answering to the queries.
Set yourself apart.
You have to come up with creative and unique answers for the queries. It should make you stand out from the rest of the responses that the journalists receive every day. You can use a catchy title that grabs the attention of the journalist. Personalize your content a little as that can garner a positive response.
Build connections.
Once you get a placement, you can go ahead and ask for the journalist's social media connections such as Twitter, LinkedIn or Facebook. Building and maintaining such relations with reporters or journalists are very important and can be helpful in the future. Cultivating such relations will help you and your business getting featured in other stories.