Earlier in the 2000s, the demand for Reciprocal links or in other words Link Exchange was quite common. It helps to grow the authority and ranking of a website and also gives valuable information to readers. Link Exchanges in SEO is still popular in the present day and the stats confirms the same. As per Ahrefs, only 26.4% of the domain authorities are not using reciprocal links.
This simply means that 73.6% of them are using the link exchange method. But there is a big risk and you must follow some measures if exchanging the links. If failed to do the same and came on the radar of Google webmaster, then they will put a heavy penalty on you. Now, you may be in a dilemma, whether Link Exchange is Good Or Bad? Is it a Legitimate one? If yes, then why Google is imposing a penalty.
Well, your all sorts of question will be resolved once, you will go through the link exchanges in SEO and measures to follow.
Link Exchanges in SEO:
Reciprocal or Link exchange is the process of trading links from one party to another. It is just like the give and take system where each party gets a profit by sharing the links.
Statistics of Link Exchange: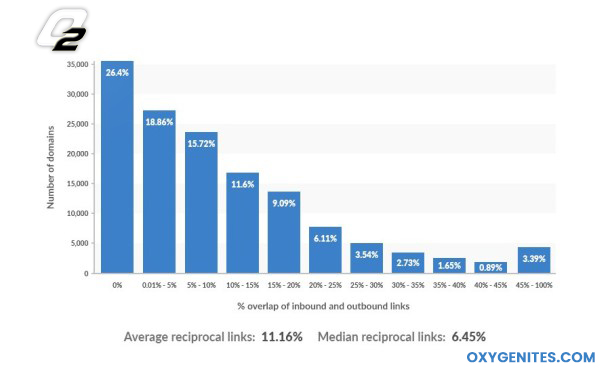 Many websites are having no backlinks and the proportion is around 66.31%.
The average age of the websites retaining the top page is more than 2 years.
The more you create backlinks, more the organic traffic you will get from Google.
Trading a link is costlier and the amount is $361.44.
Guest posting is quite common and the per guest post costs $77.80.
The domains having reciprocal links are higher than others and the figure is around 73.6%.
Today's scenario of Link Exchange
To know the present status of link exchange, you must know the situation of reciprocal link a decade ago.
In 2010, many businesses use reciprocal links to promote their business on multiple websites. Even there was a deal between the two parties to mutually promote their business via link exchange process.
The above process was a nasty one because it drops the popularity of a website and even the domain authority significantly falls.
Google updated its policy and now it is not giving much importance to the link exchange. Even the previously build reciprocal links on the websites will be devalued. Moreover, Google webmaster will impose the penalty on the one who will violate links rules.