Recently, discussions have focused on User Experience (UX) design, and companies must focus on this area to provide the most experience to their customers.

UX design covers everything from the initial planning stages of a product to the final stages of development. Good UX design ensures that products are not just easy to use but also visually appealing and efficient. This makes customers happy and more likely to return, thus increasing profits for companies.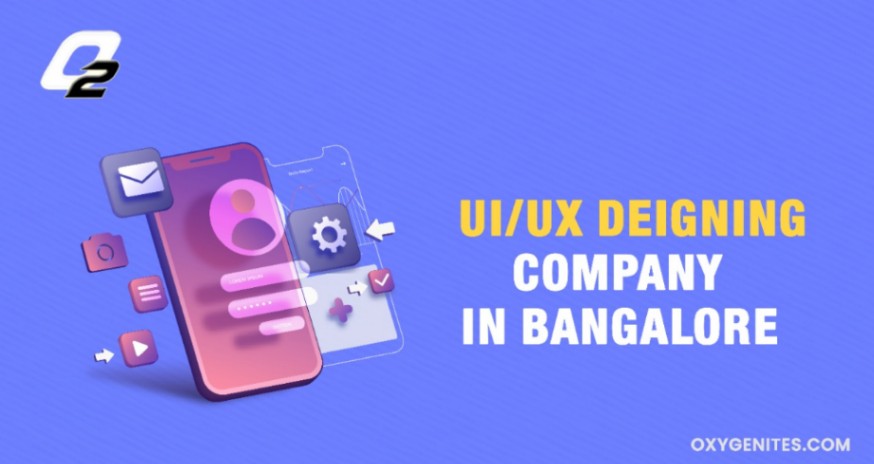 UX/UI design company Oxygen based in Bangalore, provides the best experience for their clients. Our UX/UI design company in Bangalore has a huge team of skilled and expert designers to give you the best possible experience. 

Oxygen is UI/UX designing company in Bangalore that provides an assortment of quality services, which you can utilize to build your brand image. 

We provide both print and digital solutions. The UI/UX design company in Bangalore offers the best experience for clients and thus helps them deliver the best services. 
UI/UX Designing Services
We believe that the design of a product should be thought out elegantly. It shouldn't just be about the graphical aspects. Our experience-driven team can create a plan that connects with users, create engaging visual experiences, and drive critical thinking in the user experience.

Our company Oxygen is the best UI/UX designing company in Bangalore based in Bangalore. It offers various web designs, logo designs, mobile app designs, graphic designs, etc.
Mobile app design
Mobile app design is one of the most important aspects of developing a successful app. With over two billion active app users, creating an engaging user experience that will keep people coming back for more is essential. 

We design and build beautiful, intuitive, user-friendly mobile apps for iOS and Android. We work with startups and established companies to help them create amazing digital experiences that users love. 

Our team has experience designing and building apps for various industries, including retail, healthcare, finance, transportation, and more. We believe that design should be simple and elegant and that usability is key to creating a great user experience.
Graphic design
Graphic design refers to visual communication and problem-solving through illustration, typography, and photography. It can be used to communicate ideas and feelings.

Graphic designers employ various methods to combine symbols and words to create visual representations of ideas and messages.

Our process begins with understanding our clients' business and their customers. We then develop creative solutions that help them stand out from the competition and communicate their message effectively.

UI/UX design services in Bangalore are tailor-made to better the user experience and provide a unique selling point for your product. We use the latest software platforms such as Sketch, InVision and InVision Studio. 

Our talented UI design service professionals will suggest the most suitable design for the type of product you wish to launch. Web application developers work hard to create a great product and make sure the design is user-friendly.
Web design
This website uses a DIY approach for user interface design. It showcases the work and passion of people all around the world.

You can run your business more efficiently with platform-specific adaptive web designs that are responsive and responsive to every device, environment, and need. 

UX design services can help you design a UX design service that adapts to every device, type, and need.

We present a complete range of services, including website design, development, search engine optimization (SEO), and online marketing. We work closely alongside clients to create websites that reflect the business and meet their requirements.
Product Design
The product design process is an important part of creating successful products. It is important to take the time and design a product that meets customers' needs.

There are several steps in the product design process, and each one is critical to the success of the final product. 

Designers must understand the customer's needs and come up with creative solutions. They also need to know how to make a product cost-effective and affordable.

We make things that people use products, apps, websites, and more every day. Our team of designers, engineers, and researchers is passionate about making great products. We help companies of all sizes create meaningful and beautiful products that make a difference in people's lives.
HMI design
Human-machine interface design, or HMI design, is the process of designing systems that allow humans to interact with machines. 

User interfaces can be graphical (GUIs), text-based interfaces, voice commands, or any other interface that allows them to communicate with computers.

HMI design is an important part of many different systems, including industrial control systems, transportation systems, medical devices, and consumer electronics.

Oxygen creates human-machine interfaces (HMIs) for the modern age. Our award-winning designs are intuitive, efficient, and look great – making them perfect for any industry, from medical devices to smart homes.
Why Choose Oxygen For your UI/UX designing company in Bangalore
Oxygen helps its clients build great user experiences from start to finish, whether working on mobile, web, or other interactive products. The agency is committed to working hard to create world-class UI/UX designs for its clients. We desire to be your first option for UI/UX design company in Bangalore, India. 

Our UI/UX designers work with clients of all sizes, from startups to established brands and across industries. We know what it takes to create a great user experience.

Our company is passionate about designing for the better. We care passionately about our clients and communities. Our goal is to help our clients succeed.

Oxygen recognizes the substantial efforts of its clients, who are willing to put in all the steps for better designs for the user. The company prioritizes teamwork and comprehensive planning before and after the development process.
We're experts in UX/UI design.
We have a team of designers, developers, and business strategists who work together to create products. We strive to meet our clients' goals and objectives with every product we make.

Along the way, we evaluate what works best for them and what doesn't. No two projects are alike, and we're not your typical "cookie-cutter" type agency. 

We take a genuine interest in your needs and will provide you with the perfect solution to meet your needs.
Get to know our process.
We're a process-driven company that believes it's important to stay grounded in best practices. We will create a plan that is tailored to your business. 

It includes user research, wireframes, design (UI/UX), prototyping and testing, and changes and revisions until you are satisfied with the product.
Designing for your needs
We create designs to meet your needs, including wireframes, prototyping, and full UX/UI design. We also offer design consultations and brainstorming sessions to ensure the success of your final product before development begins.
Your needs first
At Oxygen, we work with you to develop a strategy that fits your business objectives. We consider your industry, target audience, and goals to design an experience tailored to you.
Superior quality services
We are proud of our work and will deliver high-quality designs at a reasonable price. Our experts thoroughly evaluate every step of the process to provide a better result.

For more information, contact us to know about our UI/UX designing company in Bangalore.