Consider using Facebook Verification Service to achieve a genuine business from your audience.
Social media verification or Facebook Verification Service is of utmost importance to both the established and growing brands. That Verified blue checkmark beside a profile is nothing less of a status symbol. It is especially important for Facebook which tops the list of all other social media applications and websites. Facebook is reportedly used by millions of people worldwide. After reading this article you will understand that getting Facebook verified badge is normal (not an easy or hard method).
Verifying your Facebook Page and earning the blue check mark or symbol next to your business's name makes you more authorized and credible. It's only fair that most businesses have a huge competition to earn the Facebook verified badge.
Perks of verification:
As content creators or service providers using Facebook, we put a lot of time and effort into creating our brand or advertising our products. The effort to maintain authenticity signal's a Profile/Brand's image and reliability in the market space. The verification check mark works along the same lines.
When the audience sees the check mark, they know that they are viewing at the official page and not an imposter or fan page. This means that the user/customer can contact you for customer service, feedback etc. The transactions and communications thus happen transparently and securely. Another perk of having the verification badge is that it will help your Page/Profile rank higher everywhere on the internet.
Blue and Grey Checkmarks:
There are two different colored check marks that appear next to pages and profiles on Facebook. The blue check mark indicates the confirmed authenticity of a page, public figure or brand. Both Pages and personal profiles can get this type of verification.
Gray Verification Badge Facebook:
The facebook gray verification badge (gray check marks), on the other hand, indicates a confirmed location for a specific business. While this one isn't quite as difficult to get or as noticeable, it can still help your business gain credibility on Facebook. If your business belongs to a big brand or corporation, the main account will be the one with the Facebook blue check mark. If you have taken up their franchise, your individual local location could earn the gray check mark.
Who can get verified on Facebook?
Local Business, organizations, companies, and public figures are pages that can obtain Facebook verification. The gray badge is much easier to obtain than the blue badge. So, having a physical location mentioned helps a lot since the gray badge is location-based and much easier to obtain. Obtaining Facebook verification for a personal profile is significantly harder. In order to do so, you must have a quite a lot of people and pages that follow you.
Facebook mentions the following criteria for a verifiable page:
Facebook has a number of parameters when evaluating accounts to determine if they are in the public interest and meet their standards. In addition to abiding by the terms of service, Facebook also look at:-
Facebook mentions the following criteria for a verifiable page:
Original: Your business must represent a real person, registered business, or entity.
Unique: Your business must represent the original and unique features of the person or entity it represents. Only one account per person or business can be verified except language-specific accounts. Facebook doesn't verify general interest accounts (ex. dank memes)
Active: Your account must be complete in its basic details such as having an about section, profile photo, and at least one post. Your account must be an active one and up to date.
Popular: Your account must represent a well-known face, a popular brand, or an entity. These are usually accounts covered by multiple media sources. Note: that Facebook doesn't consider paid or promotional content as sources of review.
How to get a Page verified on Facebook?
Before starting the Facebook blue verification badge process, ensure that your page is in its best form. Facebook doesn't have a strict list of requirements, but make sure that your Page looks great and credible when you're being reviewed for verification. These simple steps will lead to a verified profile on Facebook.
The basic must-have's for your page are:
A website
Contact information
An "About" and long-form description
Plenty of native content.

Steps of Verification:
To verify a Facebook page you need to follow belong instruction
Start by visiting and reviewing your own page. Go to page settings, and then go to "General." Here, tap on "Page Verification".

You'll then have the option for instant verification or a relatively lengthy verification process. The former gives you the option to have Facebook call your Page's publicly listed phone number. You'll be given a verification code, which you'll enter into the box Facebook provides you with. Then Facebook will award you with a gray check mark and potentially a blue one.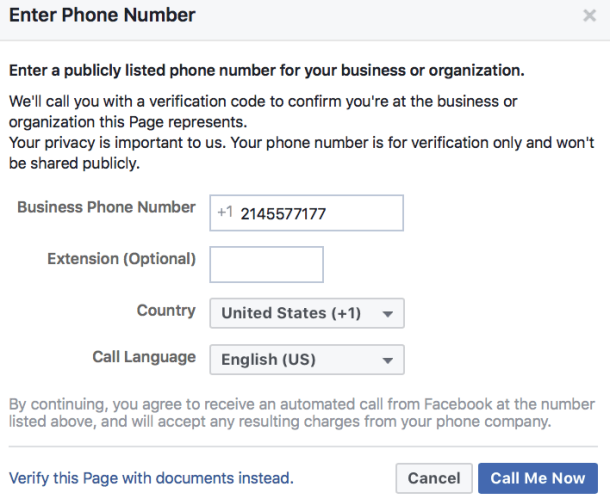 Getting verified depends on a number of factors such as the type of page, number of followers, your social media skills/team. Facebook takes longer when approving businesses than celebrity profiles. Facebook verification can take anywhere between 48 hours to 45 days. This is specifically true for the blue badge verification; the gray badge typically takes much less time.
To get Facebook page verify has become easy with the instructions have been provided by the Facebook link. As you know Verified page on Facebook means alot to your profile or Business.
What if Facebook page verification Fails?
If Facebook doesn't verify you, don't take it as an ultimatum. After all, aren't there a ton of millions using Facebook! To get verified you may just need to revamp your page, optimize all your resources especially social media and digital marketing. Then just give it another shot!!
Make sure that your Page is active and up to date. Give out all the authentic history and information of your profile/brand make to ensure credibility. For example, journalists can add publications to their "Impressum" section or Youtuber could upload their most-viewed and viral videos. Most businesses and entrepreneurs put a ton of work into making their online and social presence visible and heard. It shows that you're active and lively. Engaging with and catering to your customers or viewers is of paramount importance. It shows that you care about them as much as they about you! You can get a blue checkmark on Facebook with the process that has been explained in this article.
You can also reach out to Facebook for more support or information in case of rejection. Getting your Page verified just takes a few easy steps, so head over to your Page now and get started.
Getting a Facebook page verified means it will be easy for you to get verified for Instagram and other platforms too.
We provide our clients with multiple social media verification services and you could buy a Facebook verification service from us. We are up to date with all relevant information and processes to verify Facebook. Our services include a thorough review of your Facebook page or profile and organizing a team to look into it. This is followed by optimization of content, catering to legal and copyright aspects, etc. We then apply for getting the verified badge.
If you ever think to buy Facebook blue badge verification then contact us for a quicker reply.