YouTube video SEO services are an important piece of any branding and marketing strategy. By optimizing videos for search, businesses can increase their visibility and reach new audiences. 

As a result, video SEO can help drive traffic and conversions, resulting in a better return on investment.

We need experienced video SEO companies in Mumbai who can help businesses maximize their YouTube marketing campaigns.

Oxygen is the leading video marketing agency in Mumbai, India. We provide a full suite of video marketing services that help businesses harness the power of video to reach and engage their audiences.

Our professionals have years of experience creating effective video content that helps businesses achieve their marketing goals. 

We use the latest video marketing technologies and strategies to help our clients create videos that are engaging and result in better ROI.
Why Are YouTube Video SEO Services Important?
When done correctly, video SEO is one of the most cost-effective marketing channels available — it is free to post and watch! For any business with a great video, the benefits of YouTube SEO are obvious. 

Because it is so accessible and easy to use, a significant portion of the population visits YouTube.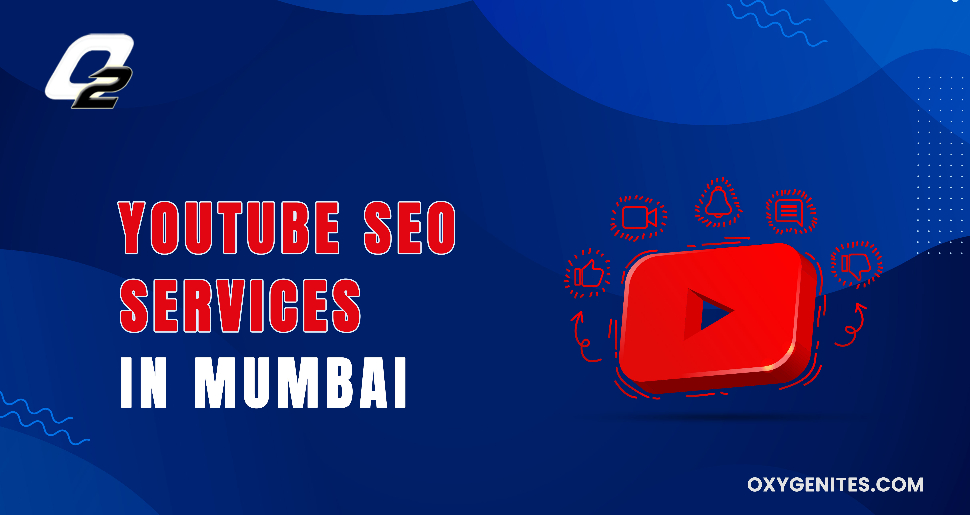 Anyone can upload content to YouTube in minutes, creating an endless supply of potential videos for businesses to watch. 

The combination of increased visibility reduced costs, and greater audience engagement means that seeing your video repeatedly in the search results is a no-brainer. 
How YouTube Video Become a Success with Our YouTube SEO Services
The competition to make your YouTube video stand out from the rest is high. There are many videos on YouTube, so you need to work hard to make yours stand out.

It can be your video's best chance to rank higher and achieve success through our YouTube SEO services in Mumbai.

Our team has extensive experience in optimizing videos for YouTube, and we know the right techniques to use to help your video rank higher. Contact us today to learn more about our services!
Keyword Research of Video
When it comes to online marketing, video has become one of the most popular and effective mediums. 

Creating a high-quality video that effectively communicates your brand's message can help you attract new customers and increase traffic to your website. 

However, for your video to be successful, you need to ensure that it is properly optimized for search engines. The important factor of SEO is keyword research. 

It is the best way to ensure that your videos appear as top search results is to identify the right keywords.

The words and phrases that people are likely to use when searching for information about your product or service.

At Oxygen, we focus on video keyword research. This is the process of finding important words or phrases that people typically use when searching for video content.

We strive to make your video stand out by importing keywords that match the content of your video and are trending on YouTube.
 Video SEO Audit
How does a video SEO get done? A video SEO audit goes through the video on hand and finds the data that YouTube and Google Analytics capture about the video. 

The goal is to find keywords, phrases, and other big words that may have a good search ranking. 

You need to have this data before you begin to identify the most optimized time to release your video. 

At Oxygen, we have a team of video SEO auditors who are experts in their field. They can help you optimize your videos for better search engine visibility and ranking.

Our SEO experts work with one video at a time, ensuring that each video is thoroughly checked.
Video Thumbnails Optimization
Thumbnail images play a significant role in online videos' success (or failure). 

It's important to make sure you're capturing attention and enticing people to click when browsing videos for a video.

Our graphic designer team at Oxygen understands the importance of creating appealing images that grab the user's attention.
Video Titles Optimization
Video title optimization is one of the most effective techniques for improving video SEO. 

When it comes to video titles, you want to include your target keyword as close to the beginning of the title as possible. 

It helps if you also aim to make your titles catchy and interesting so that people would want to click on them.

Oxygen is the world's leading video optimization company. We help businesses better use their video content through titling, transcription, and search engine optimization (SEO). 

Our mission is to help businesses get the most out of their video content to reach a larger audience and achieve their business goals.
Video Description Optimization
Video description optimization improves the accuracy and completeness of video descriptions for the blind and visually impaired. 

There are various ways to transcribe the content, including using voice recognition software or having someone transcribe it manually. implem

Optimizing video descriptions makes videos accessible to a larger audience, increasing content owners' potential reach and engagement. 

Additionally, optimized video descriptions can improve video search engine optimization (SEO) results, as they are more likely to appear in relevant searches.

Oxygen can help you create optimized titles that are more likely to be found and clicked on by potential viewers. A catchy title is always eye-catching, so we focus on delivering titles that will grab attention and make your content more visible.
Optimized Video Tags
As online video becomes more popular, it becomes more important to optimize your tags.

By using the right tags for your videos, you can ensure that they're discovered by more people and show up in the right searches. 

At Oxygen, we have professionals to handle all the trending and most searched hashtags.

What benefits of hiring us as a Youtube SEO Company?

We at Oxygen ensure you end up being the new YouTube sensation within days. With our experienced team, we optimize your video in the best possible way. 

Visibility

To get your Youtube channel the visibility it deserves, you need to work on your SEO. Fortunately, you can do little things to ensure more people see your channel. 

First and foremost, be sure to fill out all of the information in your profile. This includes creating a catchy and descriptive title and having keywords in your description. It would be best if you also thought about adding closed captions to your videos, as this can help with searchability.

If you want to increase your YouTube channel's visibility and your ranking on the platform, consider hiring a YouTube SEO company. With years of experience in the field, we can help target visibility for your channel and improve your ranking.

Conversion

As a leading provider of YouTube services, we focus on delivering increased conversions and brand revenue. Our out-of-the-box strategies are designed to help you achieve your business goals.

Increased Click-through rate (CTR)

At Oxygen, we guarantee an increased click-through rate for your channel. We create strategies and implement them to get the right results, then regularly modify them to stay updated for the market.

At Oxygen, we're here to help your business succeed. To learn more about our YouTube SEO Services in Mumbai, contact us today.