Link Copied Successfully
In this article, You will learn how to optimize Google my Business for local Business in Hyderabad.
You can see many people are looking to learn how to optimize google my business for local Business in Hyderabad.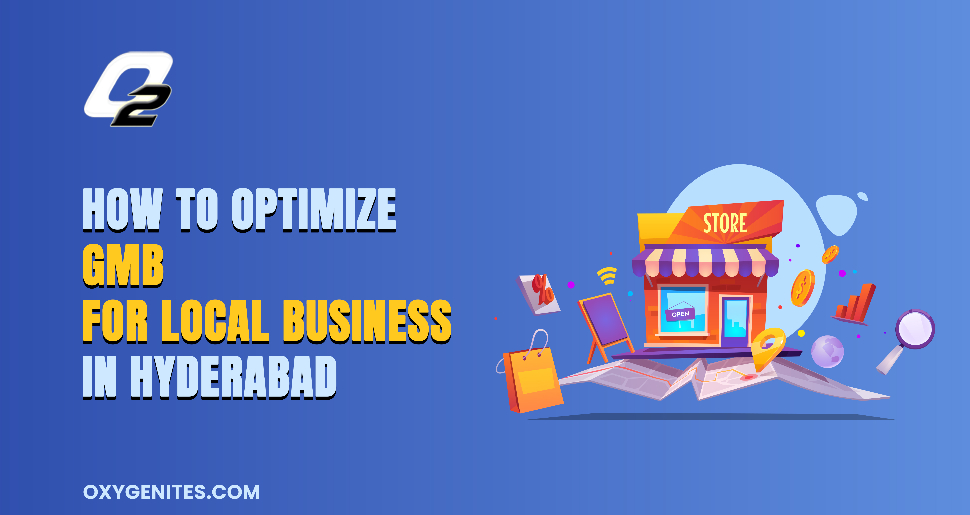 Google My Business (GMB) is a powerful tool for businesses of all sizes. For local businesses, it can be especially valuable, as it allows you to control.

And how your business appears on Google Maps and in search results. In this article, we'll show you how to optimize your GMB listing for maximum visibility and traffic.
What's Google My Business?
Google My Business, also known as GMB, is a tool that helps you create and manage your business listing online. If you serve local clients, it is important to have your presence on Google to be found by potential customers. The reason is that all the searches on Google are for local searches.

GMB also allows companies to add photos and videos and post updates about special offers and events. Companies that want to optimize their GMB listing should ensure that all of the information is accurate and up-to-date. They should.

Small stores find it difficult to focus on their website because of the manual work involved. Google My Business can be useful in these cases.

Google My Business listings will increase the store's chance of being displayed in the "Local Pack," "Google Maps," and "Search Ranking." Registering local business listings with Google My Business is important.
For Google My Business, you will need to fill out the following details:
Name of the business Address of your Business Website URL Phone number Social media accounts (Facebook, Twitter, etc.) Hours of operation Images and videos Specialties in your business.

This is an easy process that can be done in less than 15 minutes. Once you have filled out all the information and are satisfied with it, click Publishing. To edit your Google My Business listing, click on the pencil icon in the top right corner of your business listing.

This intention fetches you to a page where you can make changes to all of the information listed about your business. When making changes, keep in mind that Google is constantly updating their search algorithm.

So it's important to ensure that all of your listings are accurate and up-to-date. Also, be sure to include relevant information about what you do.

This is a service for businesses that want to improve online and offline visibility. Local SEO is the process of optimizing your website so that it appears higher in search engine results pages for a specific local area.
Fully optimize your google my business (GMB) page
Do local citations in high DA sites (NAP)

Map citations

Provide high competitive keywords

Optimize SEO friendly meta description

Do quality backlinks for local SEO
Here's what you get:
Business growth

Rank higher on Google

More visibility

Increase in website ranking

Manual citation

Organic results
Why should you optimize your GMB page?
Local businesses can benefit from optimizing their GMB (Google My Business) pages. Companies can make sure their clients can easily find them online by filling in all the fields, including adding photos and responding to reviews.

Additionally, Google My Business pages appear in the local 3-pack in search results, resulting in more website traffic and leads.

There are multiple reasons why it's important to optimize your GMB page.

Firstly, it allows you to establish the best possible presentation and guide first impressions.

Secondly, Google My Business optimization boosts your local SEO. And finally, you get great social proof and credibility, with your overall star rating and customer reviews visible.

You can now receive email messages and phone calls directly through your Google My Business profile. This makes it easy for clients to contact you. People often search for businesses on Google Maps.

As a business, you need to be listing on Google Maps so that people can find you. GMB (Google My Business) has become more popular in recent years as a way to get your business information out there. It's important to claim your listing and ensure all of your data will be correct and up-to-date.
It's a free and easy way to manage your business information on Google.
Google My Business is an important channel for local businesses to manage their online presence. Once you claim your listing, you can edit your business information, add photos, and get reviews.

The GMB dashboard allows you to access the most important metrics regarding your listing. It's easy and quick to see how many visits your profile has had over time.
How to Optimize Your Google My Business Page?
Google My Business is essential to your local SEO and online presence. A well-optimized page can increase traffic to your site, help improve your website's ranking, and even help you get more leads and customers.

At Oxygen, we can help optimize your GMB page so that you can get the most out of your local SEO.
You want more customers/clients
You want more reach. At oxygen, we specialize in customer relationship management (CRM). We understand that acquiring new customers is vital to the success of any business.

We offer a complete suite of CRM tools that allow you to easily connect with potential clients and turn them into paying customers.

Oxygen also offers a wide range of marketing services that can help you attract more customers and grow your business. With oxygen, you'll have everything you need to connect with more customers and increase your bottom line.
You want more web traffic
There are many ways to increase web traffic. Some methods are more effective than others. Paid advertising is one way to generate more web traffic.

It can be expensive, but it can also be very effective. SEO is another way to get more web traffic. It takes time and effort, but it can be worth it in the long run.
What makes us Special at OXYGEN:-
We are At OXYGEN, and we help businesses breathe life into their websites. We know the challenges that businesses face when driving traffic to their website and generating leads. That is why we offer comprehensive solutions.

Search engine optimization, content marketing, social media marketing and everything in-between are all solutions offered by oxygen. Contact us today and let us show you how we can help your business grow!
You want better conversion rates
Conversion rate optimization is one of the most important aspects of online marketing. A high conversion rate means more customers, and more customers mean more revenue.

But how can you improve your conversion rate? There are a number of steps you can take, but one of the most effective is using mood boards to define your brand aesthetic.

Oxygen is the simplest way to increase your website's conversion rate. We help you understand how people interact with your site and make it easy for them to do what you want them to do.

We provide tools that make it easy to collect feedback, measure customer satisfaction, and track conversions. Our goal is to help you create a website that is both beautiful and effective.
Visit oxygen and optimize your GMB page to rank #1 on Google.
Why choose Oxygen?
Oxygen is a local SEO company specializing in helping bridge the gap between local businesses and prospective customers. By optimizing the content on Google My Business (GMB) and other platforms, we can ensure that your business is accessible to potential customers.
Professional support
Our team is dedicated to providing top-notch services to help businesses thrive online. We offer skilled and professional support for all clients, from start-ups to enterprises.
Quality you can trust
Oxygen has been awarded a "Top-Rated" seal from the Better Business Bureau due to our high standards of quality and accountability. We're also an authorized Google Partner agency with the skill set needed to optimize GMB for local businesses.
Gain new customers with GMB
Oxygen is a digital marketing agency that specializes in Google My Business services. We help you drive leads and make a bigger impact on your business in Hyderabad, India.
Our knowledge of GMB
We Google My Business experts. We can help you stay ahead of your competitors by researching the most recent updates, understanding their impact and designing customized strategies.
We're here to help
Our team of experts can take care of managing your Google My Business account while you focus on other important factors of your business. With us by your side, it will be easier to manage your account and optimize it to attract more customers!
Conclusion:
You can do many things to optimize your GMB listing for local businesses. In this article, we've outlined some of the most important steps.

Our team at Hyderabad, SEO Services in Hyderabad can help you optimize your GMB listing, improve your website's search engine rank and more.
Get started today
Schedule a free consultation with us right now, or call us for more information. Contact us today to learn more! Thanks for reading!