What is content writing?
The art of planning, writing and editing web content for various marketing purposes on digital platforms and mediums is content writing. It includes a plethora of things such as writing blog posts and articles, scripts for videos and podcasts. It consists of content on various other platforms such as Twitter, Reddit, WordPress and so on. The professionals who pursue writing for various websites or publications, etc are content writers. There are various types of content writers. They specialize in a specific niche.
What are the different formats of content?
types of content writers: different formats of content writing
Different formats of content:
Video scripts
Email newsletters
Keynote speeches
Social media posts
Podcast titles
White papers
Web page copy
Landing pages
YouTube video descriptions
Importance of content:
Engaging content is the cornerstone of a successful online marketing campaign. Crafting high-quality content is extremely crucial for your organization as it helps in portraying the credibility of your company. For establishing yourself as a trustworthy expert in the industry, you should be offering rich and authentic content. Content helps in communicating, informing, persuading as well as educating your readers for purchasing a product or service over your competition. Providing high-quality content is one of the most crucial things that you can do. High-quality content helps for attracting clients and creating interest in your business or organization.
Categories: Types of content writer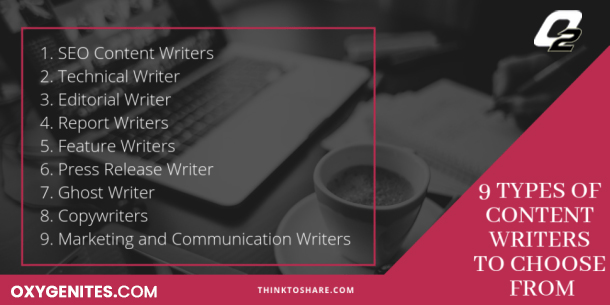 types of content writers: 10 types of content writers
There are primarily 10 types of Content writers. It's separate for different sectors. There are various types of content writers who are experts in specific fields.
SEO content writer:
Content writing is a fundamental part of SEO(Search Engine Optimization) as well as online marketing. A freelancer or a team of content writers in the company carries out keyword research at first. It is extremely crucial for crafting optimized content such as articles, blogs description, and so on. SEO professionals research keywords that are relevant to the topic and make informative content. SEO content has to be precise and lucid. You should divide them into smaller paragraphs and simple lines. Use attractive headlines.
Technical Writer:
Computer hardware and software, consumer electronics, robotics, biotechnology, engineering, chemistry, and aeronautics require Technical writing. User manuals, technical modules, user documents, admin manuals, help files, technical literature, and reports use Technical content. You have to have some technical knowledge for being a technical writer.
Communication and Marketing writer:
One of the most challenging sectors for content writing is marketing and communications.
Some of the most common kinds of contents to write in this sector are the following:
Articles, Blogs, Social media content, Newsletters, Internal and External communications.
You can Also use them for e-mail campaign, e-books, Audio and Video Content and marketing collaterals such as brochures and flyers.
Writing up for marketing and communication is very different from that of SEO writing. This requires a lot of research unlike SEO writing as Communication and Marketing content attract, persuades or compels customers for taking an action.
Publication based and editorial writer:
The writers in this sector are responsible for writing books for various academic publications. The books for schools, colleges or higher education are writing by these writers. While crafting this kind of content, the professionals should keep in mind the curriculum of the school or college.
Research and report writer:
Reports and research papers are generally very long format of writing. The content has to be of high quality based on various researches across a plethora variety of industries and sectors. The writers from these sectors also have to be well versed with the current trends and their effects on people. As a research and report writer, you have to be able to overcome various challenges regarding subjects and deadlines, and so on.
Feature Writer:
Feature writing involves various types of write-ups such as writing columns in Print Media. As well as, Digital space, short stories, satires, poems, features on food and lifestyle and so on.
You have to have a rich vocabulary to be a feature writer as your writing has to cast a spell on the readers. Feature writing consists of various topics such as food, travel, lifestyle, seasonal festivals, personal care and things like that. The readers should be able to connect with the writing. It is necessary to make it sound more personal. Prefer using catchy headings and sub-headings. You must have deep knowledge about the subject that you are writing for.
Business writer:
This type of writing is very similar to marketing and communication writing. This sector has a huge scope of growth for writers
If you are interested in business writing, you must have knowledge of things like:
How to write sales proposals, memo, official emails, manual writing, concept writing, concept papers, summaries, RFPs(Request for Proposals), etc.
It can be more advantageous for you.
You can acquire knowledge in business development and analysis if you pursue business writing for a significant period of time.
Press Release Writer:
Press Releases are developed for making customers aware of various new developments and updates in the industry or within the organization or company.
In simple terms, Press Releases were used for making announcements such as launching a new product, opened departments, signed new mergers.
Press Releases play a role in disseminating news of organized events as well as expanded business. These have undergone a lot of changes although the primary application remained the same. Press Release is an integral part of the sales initiative.
If you are developing a Press Release for any small, medium or large business house, you should focus on sales and marketing your content.
Ghost Writer:
In ghostwriting, the content is developed by a person and it is used by other people by his or her name. In the online marketing world, several agencies offer SEO web content writing under the category of ghostwriting. As a ghostwriter most of the time you will be working under a CEO or CTO.
Of various companies across the industry.
Main challenge you will be facing as a Ghostwriter. You must be able to think like CEO, CTO of top-notch official of a Company.
To be a successful ghostwriter, you have to be well-informed on the topic and craft a state-of-the-art style of content.
Copywriter:
One of the most interesting types of content writings is copywriting. It is an extremely competitive field as it is demanding. You have to give your creative best if you wish to be successful as a copywriter. The category of copywriting is extensive. Copywriting comprises writing plethora varieties of advertisements for various mediums such as television or radio advertisements. As a part of your copywriting assignment, you may have to develop appealing punchlines for banners, billboards, flyers and newspaper advertisements. There are various kinds of copywriting but with all the types one thing remains constant that is creativity. You must have innovative imaginations and unique ideas for converting them into reality. As a copywriter, you must have an exhaustive vocabulary and there should never be a dearth of words while churning out catchy phrases.
Types of content writers: 5 skills you need to be a successful content writer?
Do you wish to be a successful content writer? Here's a list of 5 skills that you must master to stand out in the crowd. We have jotted down a few points for your reference.
You must master different content styles:

Each of the writing formats has its own writing style. News is delivered in AP styles i.e. it consists of a summary lead or a descriptive lead. That in itself offers the meat of the story at the very top of the article. Blogging and feature writing is more personal and opinionated whereas ad copy is short and persuasive. Long descriptions of problems and solutions to those are white papers. Each of them has a different style and as a successful content writer, it is necessary to master various formats or styles of writing.
Identifying a suitable topic:
A successful writer is also effective in identifying a suitable topic. You shouldn't be picking up any random topic. 'Ideation' is the marketing buzzword that vividly demonstrates the creative process of finding a subject, title as well as angle to write about.
Craft original content:
It is extremely necessary to craft original content. Everyone expects authentic or original content. There's a lot of content up there on the internet. As a successful content writer, you have to be a unique voice offering different perspectives. Also plagiarized content is bad for SEO.
Software skills:
If you wish to be a successful content writer, you have to have a few software skills. The most commonly used software by various content writers across various industries are HTML, CSS, SEO, and WordPress. Updated SEO knowledge is highly critical for all types of content writers.
Social media presence:
Successful content writers have an active social media presence. Recognition is highly valued and social media is a platform that brings everything within your grasp. The more active you are on social media, the more you will gain followers. People will recommend your content more. Successful content writers are active, public and friendly as well. In a nutshell, Content writers are marketing experts, SEO specialists, on-page coders as well as social media butterflies.
Conclusion:
Choose the Content Writer according to your requirements, and they will surely deliver you desired results.