Geting a YouTube verification badge for your channel isn't easy. This post will show you how.
A YouTube verified badge is of huge importance for anyone who wants to make money from this video-sharing platform. But it's not easy to get the verified badge (gray checkmark) and maintain it. Maybe you've already tried to get your YouTube channel verified, and you were rejected. Or maybe you just don't know where to start. Let us show you exactly what you need to do to become verified on YouTube.
What is YouTube verification?
A YouTube verification badge is a gray check mark or a gray music note. It shows next to the channel name of a YouTube creator or artist once they are verified.
This verification badge assures authenticity and credibility. It tells the audience that your YouTube channel is run by an established creator or a credible and verified brand/organization.
Two features of the YouTube verification badge:
No exclusive features: Being YouTube verified doesn't mean you'll get access to any exclusive features or perks or awards. As mentioned earlier, it just gives you or your brand authenticity. YouTube viewers will likely trust this channel the very first time they see their video on the feed.
Prevents stolen traffic: Being verified on YouTube prevents copycats or impersonators from stealing any traffic that should be getting directed to your channel.
A YouTube verification badge and YouTube account verification: Are they the same?
Often misunderstood and seldom clarified; Now a YouTube account verification and a YouTube verification badge are different things.
YouTube account verification
Like all social media platforms, YouTube asks you to verify your account by adding a phone number the first time you create an account. This lets YouTube know you're a real human, not a bot trying to spam the site.
Once you have verified your account, you'll be given the access to use multiple features. These include a facility to upload videos over 15 minutes long, add custom thumbnails, live stream, and appeal content ID claims.

That's a vital step to create a valid channel. Anyone who wants to monetize their YouTube channel must verify their account.
YouTube verification badge
The YouTube verification badge is a symbol of authenticity. As YouTube has stated:
"If a channel is verified, it's the official channel of a creator, artist, company, or public figure. Verified channels help distinguish official channels from other channels with similar names on YouTube."
By using your phone number, you can verify your YouTube account in a second. But it takes time and effort to get a verification badge because you need to achieve all the standards. Keep reading to see if you meet these parameters.
Why get verified on YouTube?
On almost all social media platforms, verification gives a profile an additional advantage. It confirms two things; first, the person who owns that account is who they claim to be. Secondly, the person is serious about sharing social content. You're considerate towards what you'll say and how you appear o your audience.
Getting a verification badge helps protect your channel from being confused with other fake or fraudulent channels on YouTube. These channels exist and might have as many followers like you. But your channel is verified by YouTube, and potential audiences can identify you as a credible entity.
Understand YouTube verification requirements
Previously, if a channel had over 100,000 subscribers, you could quickly get a verification badge. This led many people to think of a YouTube verification badge as a way of content endorsement. YouTube updated their verification policy in 2019 and to get their verification badge now, your channel must meet the following criteria:
Have at least 100,000 subscribers.
Be authentic, meaning your channel must represent the real creator, brand, or entity you're claiming to be.
Be complete, meaning your channel must be public and have a description, channel icon, and content, and be active on YouTube.
Is there any shortcut to getting YouTube verification?
Spammers or fraudulent entities always sell you shortcuts that promise immediate results. You may see these offers everywhere on the internet!
However, the truth is that you need to comply with all the requirements YouTube has established to get your channel verified. The best way to quickly get a YouTube verification badge is following proven tactics to grow views for your channel and increase your subscribers.
Some tips we give prospective YouTubers are:
Be transparent with your content: Creating incredible video content is good to attract viewers, but be sure it's honest and real. Don't exaggerate or fluke the benefits of your product/service. A good thing to do is; go behind the scenes, tell the story behind your website/product etc.
Respond to comments: It's a great way to show you're invested in your customers, and you value audience opinions/feedback. It also helps if you start a conversation with new audiences. You introduce yourself/brand and get to learn about them. This encourages potential audience and subscribers.
Share videos consistently: It's recommended that you upload at least one video per week. This is especially important if you're just starting out and building an audience.
How to get verified on YouTube
If you meet the criteria above, take these two simple steps to get a YouTube verification badge:
Step 1: Go to Google support page
Click on this URL: https://support.google.com/youtube/answer/3046484?hl=en, or copy and paste it into your browser. Hit Enter.
Scroll down to Apply for channel verification section, and you'll see a text box like this:

Notice Apply now text in the text box. You need to click on it to access the application form.
Note: If your channel isn't eligible, you can't see the link. Instead, you'll see a message as below:

Step 2: Fill in the form
Click Apply Now to access the application form. All you need to do is to fill in the information.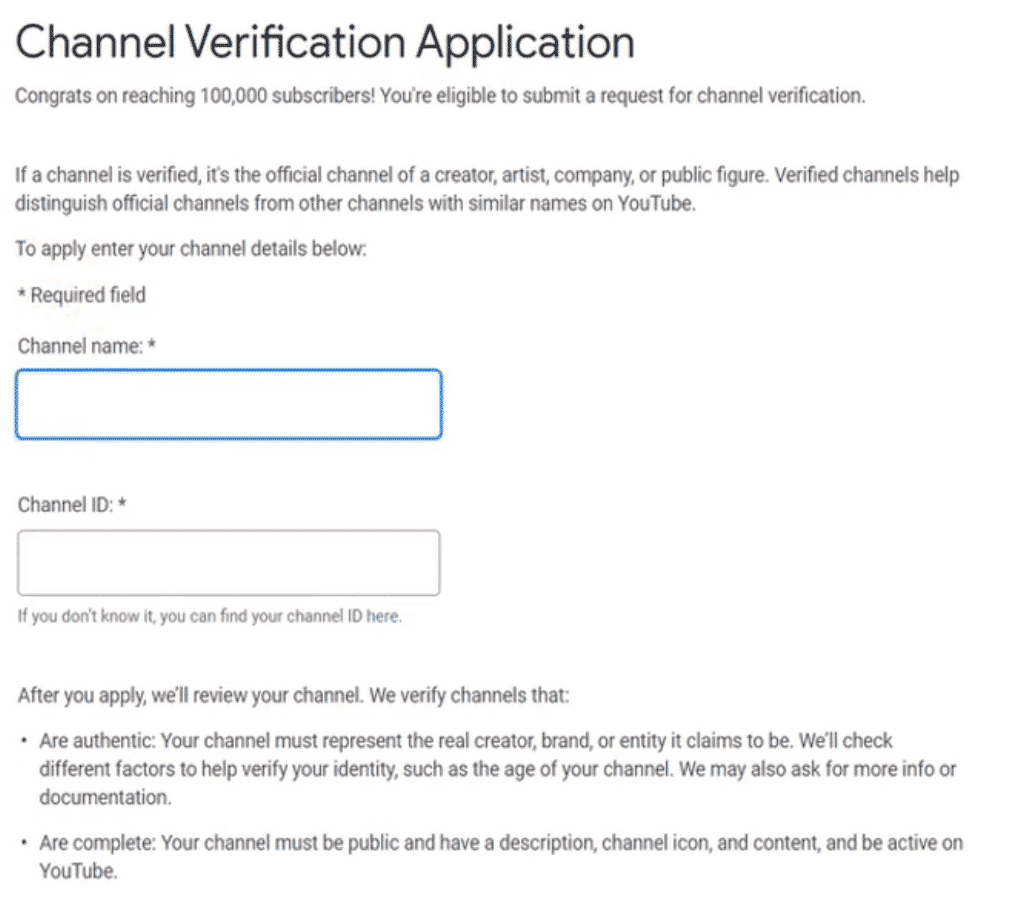 To know your Channel ID, sign in to your YouTube account > Settings > Advanced settings. It will look something like this: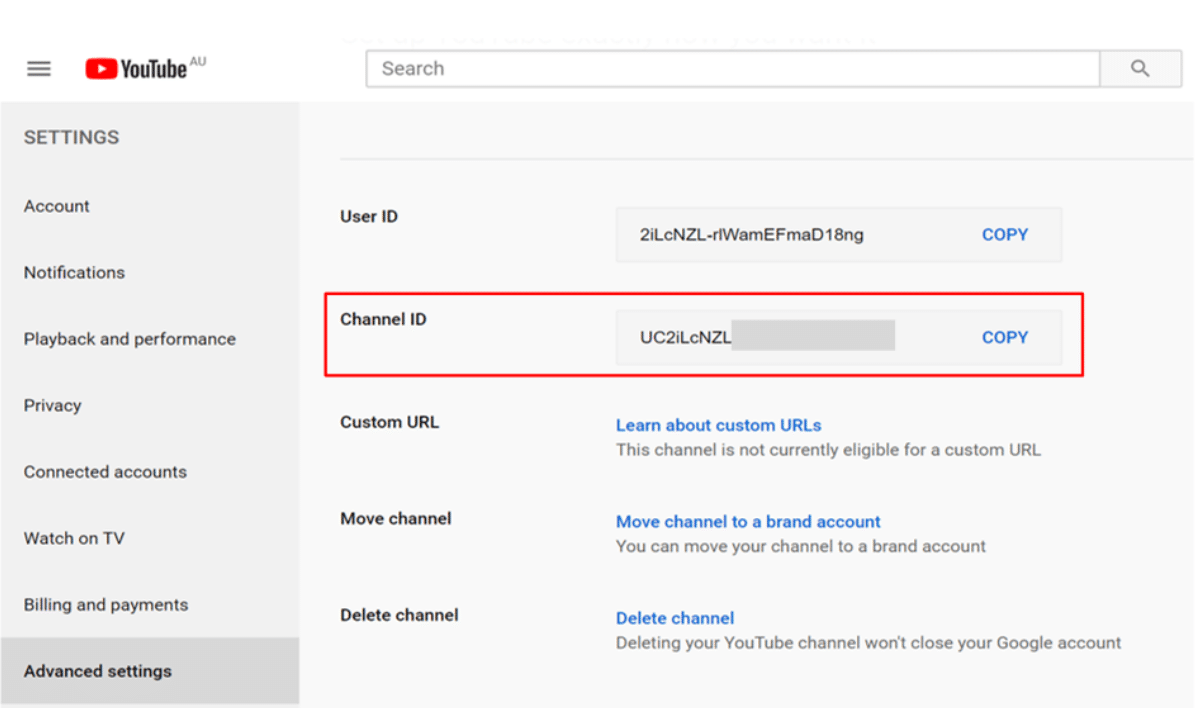 Once you're finished, just click the submit button, and you'll see this notification:

YouTube will also email you for confirmation:

#Note that you may have to wait some weeks for results.
How to stay verified on YouTube
Don't violate Terms of Service
It's one thing to get verified on YouTube; it's another thing to stay verified. Even when you have a verification badge, YouTube can revoke your status if you violate their Terms of Service or Community Guidelines.
Don't change your channel name
If you change your channel name, you lose your badge as well. Getting a Youtube verification badge is a lot of work. We recommend you settle on one channel name once you're starting or just before applying for verification. As long as you follow YouTube criteria, you should have no trouble achieving that badge. Good luck!
Want to grow your YouTube audience so you can quickly reach the 100,000 subscriber milestones? Try our premium YouTube verification service to easily schedule and share videos. Let us help you manage and track your performance from wherever you are.