We are one of the best leading Real Estate SEO Servies In Hyderabad

Real estate SEO services in Hyderabad are a field that is growing rapidly. The sector has seen a lot of growth in the past few years, and this is only expected to continue in the future. This is because more people realize the importance of owning a property and seek ways to invest in it. Additionally, real estate has become one of the most reliable sources of income, which is why so many people are investing in it.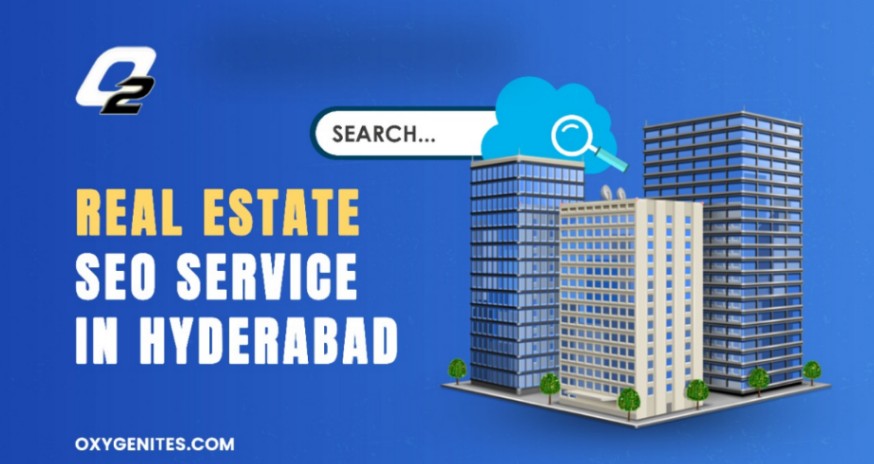 Property prices have been skyrocketing, and there is a lot of demand for residential and commercial properties. However, not everyone who wants to buy or rent a property in Hyderabad can do so because of the heavy competition.

This is where real estate SEO services can help. Real estate SEO involves optimizing a website or property listing to appear higher up on the search engine results pages (SERPs).

Oxygen, a Hyderabad-based real estate SEO company, offers comprehensive services to help realtors rank higher on search engine results pages.

Our team includes experienced professionals who employ the most recent techniques and tools to increase website visibility and organic traffic.

We are dedicated to delivering measurable results that help our clients grow their businesses, and our services are tailored according to their specific needs.
What is Real Estate SEO?
Real estate SEO is optimizing a real estate website for Google search to earn higher web traffic levels and improve the site's visibility. An SEO technique that follows how people search online for information, then develops or tweaks website content and code to match those searches. The ultimate goal of real estate SEO is to improve the quantity and quality of leads generated from organic search engine traffic.

Google search can increase web traffic and visibility for real estate websites. Online marketing uses link building, on-page optimization and keyword research to improve a website's ranking in search engine result pages (SERPs). Real estate SEO can increase web traffic, leads, and sales when done properly.
Importance of Real Estate SEO
Your website must rank high in relevant searches when a real estate agent. 70% of buyers begin their search online for their homes. If your website is not listed at the top, you miss out on potential business opportunities. Real estate SEO refers to increasing your website's visibility on search engine result pages and ranking higher. This involves optimizing your website's content, including keywords and titles. Backlinks can also be developed.

There is no doubt that real estate SEO is important. It is one of the most important aspects of marketing any real estate business. However, many real estate agents and companies struggle to understand exactly what it is and how to implement an effective SEO strategy. 

It's not enough to create a website and pray for the best. To ensure your website appears high on search engine results pages (SERPs), it is best to use various methods.

Real estate is one of today's most competitive and dynamic industries. Effective marketing strategies are crucial for real estate agents to keep up with the competition and stay ahead.

Search engine optimization is one way to market your real-estate business. SEO can help boost your website's visibility in search engine results, so more potential clients will see your website and make an informed decision.

Oxygen is a full-service digital marketing and SEO agency for real estate professionals. The best strategies for growing your business include website design and optimization, search-engine optimization, paid per-click advertising and social media promotion.

SEO is critical for real estate professionals. Our experienced online marketing team is dedicated to helping clients achieve the highest search engine rankings possible for their target keywords.
Our Real Estate SEO Services
SEO for real estate businesses is a unique and complex process. When it comes to ranked higher than your competitors, you should have a strategy that will help you compete in the real estate industry.

Our team of experienced real estate SEO specialists can help you achieve that. We will create a customized SEO plan to suit your business, and we will provide regular updates, so you can follow progress.
KEYWORD RESEARCH & STRATEGY
Keyword research is the process of uncovering, analyzing, and selecting the best keywords for your website or blog. It's a necessary step in any effective online marketing strategy. Search engine ranking can be improved by targeting the right keywords, driving more traffic to your site, and ultimately increasing sales or conversions.

The internet has fundamentally changed how businesses reach their customers. To capitalize on this change, companies must have a web presence and be easily found by potential customers.

Keyword research is the first step. This allows you to identify relevant phrases and keywords that people will use when searching for your product. These keywords can be used to create advertising and content that will help you rank higher in search engine results.

Oxygen is a company that specializes in keyword research and strategy. Our focus is on helping businesses find the right keywords to target, as well as creating a strategy to rank for those keywords.
CONTENT WRITING
Quality content is the key to a successful website and blog. However, what does it mean to write quality content? Good content is original, informative, and interesting to read. It provides value to the reader and helps solve a problem or meet a need.

Quality content is also well-written, accurate, and properly formatted. It's important to remember that creating good content takes time and effort, so be patient and do what you can to produce something great.

Oxygen is a leading content marketing agency that helps businesses capture the attention of their target audiences with well-crafted, engaging content. We create content that tells stories, whether blog copy or website posts.
LINK BUILDING
Link building is one of the most important and challenging aspects of SEO. It refers to creating and promoting links to a website from other websites to increase its visibility and rank in search engine results pages.

A successful link-building campaign can improve website traffic, increase brand awareness, and increase conversion rates. However, poorly executed link building can lead to penalties from Google and other search engines.

We create high-quality, relevant backlinks through guest posting, skyscraper content, etc. Our expert team knows how to rank in today's online competitive landscape. We are dedicated to helping our clients succeed.
The benefit of Real Estate SEO Services in Hyderabad
The real estate sector in Hyderabad is growing at a rapid pace. Quality real estate services have lured many people into investing in this city. However, the vast number of options available makes it difficult for people to choose the right service provider.

Real estate SEO services can be of great help in such a scenario. By optimizing their website and online presence, real estate SEO service providers can make it easy for people to find them online.

Online marketing for real estate companies is a key part of real estate SEO services. Real estate companies need to be visible online as customers search for properties online.

Search engine results pages may rank websites higher, while other areas of SEO optimization can grow customers and convert them into paying customers.

Oxygen is the go-to Real Estate SEO company in Hyderabad. Our skilled professionals use the latest techniques and tools to help you rank higher and get more leads. Our success track record proves our ability to help you reach your online marketing goals.
Why you should Choose Oxygen As Your Real Estate SEO Agency
Oxygen has the experience and knowledge to get you the results you need. Worked with many businesses in the real estate industry, and we understand the unique needs of this sector.

We are dedicated professionals who are experts within their field. We offer a wide range of services, from search engine optimization, website design and development, pay-per-click (PPC) management, and social media marketing.

Our clients can get a complete range of services to help achieve their online marketing goals.
Takeaway
Improve the search engine ranking of your real estate website by using SEO. Search engines send an infinite amount of traffic. Show your real estate website using SEO.

Contact us today to learn more about our services or get a free consultation!